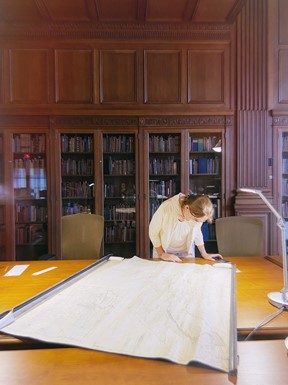 The William L. Clements Library invites applications for week-long, short-term, long-term, and digital fellowships to support research in the library's rich collections. Our Fellowships Program enables researchers at all levels of study to make use of our world-class materials related to the history and culture of America and the Caribbean before 1900. 
We are proud that the Clements will continue to prioritize research support by offering four new fellowship opportunities in addition to those provided in previous years. By doing so, we remain dedicated to supporting a continually expansive breadth of fields, disciplines, foci, and approaches to historical materials. We believe that much of history remains to be written. Our Fellowship Program consciously commits to provide funding for projects sparked by intellectual curiosity, ongoing critical evaluation, and a strong desire to discover and present new knowledge about the past.
As in previous years, researchers pursuing topics related (but not limited to) the United States and the Caribbean and/or Atlantic World, Native American history and culture, African American history and culture, the history of science, health, technology, and medicine, material culture, the history of cartography, graphics and visual art, disability studies, and more will find ample and rich source material in the library's holdings.
Applications for these visiting research opportunities are now open. In order to be considered for a fellowship, applicants must submit their materials by January 15, 2023. If awarded, fellowships will be completed between June 1st, 2023 and May 31st, 2024.
Descriptions of each fellowship, including new offerings listed below, are detailed on the Fellowships page or below. With a few exceptions, all Clements Library fellowships are open to doctoral candidates, faculty, independent researchers, and scholars in public history institutions. We support research for books, articles, dissertations, creative projects, and digitization projects, among others. While descriptions of each fellowship are listed on the Clements website, applicants do not need to specify a particular fellowship in their application. The selection committee will match each candidate's project with the award for which it is best suited. We encourage applicants to review projects funded in previous years. Staff welcome any questions, large or small, about whether our resources may appropriately support your project's scope and interest. Please feel welcome to email mhappe@umich.edu with inquiries.
New Fellowships Offered in the 2023-2024 Cycle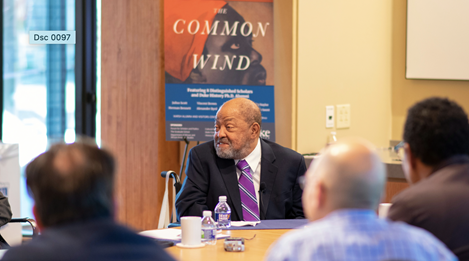 Julius S. Scott III Fellowship in Caribbean and Atlantic History
This short-term fellowship is named for Dr. Julius Scott, a Lecturer in Afroamerican and African Studies at the University of Michigan who passed away in December 2021. Deeply rooted in archival research, Dr. Scott's scholarship has been widely influential in reshaping how histories of the Atlantic and Caribbean are told, and how the role of people from Africa is understood within those histories. The fellowship provides $2,500 to support early-career researchers (postdoctoral researchers and Ph.D candidates) working in the fields of Atlantic and Caribbean history, broadly construed, for one month in residence at the Clements Library.
Dorothy & Herman Miller Fellowship in Great Lakes History
Established in honor of Dorothy Miller (1923-2018) and Herman Miller (1924-2021), this long-term fellowship provides $15,000 to support four months of residency for scholars conducting research on topics related to the history and culture of the Great Lakes Region. A completed Ph.D or equivalent qualifications are required at the time of application.
John W. Shy Memorial Fellowship
This short-term fellowship honors Professor John Shy, the preeminent American authority on the military aspects of the Revolutionary era. He taught at the University of Michigan from 1967 until 1995, and received the Distinguished Faculty Achievement Award in 1994, and was a frequent researcher at the Clements Library. Professor Shy's legacy will continue in the form of this fellowship, which provides $2,500 in support of graduate students researching any topic supported by the collections.
James E. Laramy Fellowship for American Visual Culture
This week-long fellowship provides $1,500 for any researcher working on a topic supported by the library's collection of visual and graphic materials. Creative projects welcome.
For more information and to access the application, please visit the
Fellowships page.