Mr. Clements began his Americana collection focused on exploration and he enjoyed the camaraderie and knowledge of other collectors and libraries around the country.  Clements Library staff continue to forge such alliances and to offer opportunities for continued learning.  Curator of Graphics Clayton Lewis is a member of the American Historical Print Collectors Society (AHPCS) and is currently serving as the Regional Activities Chair.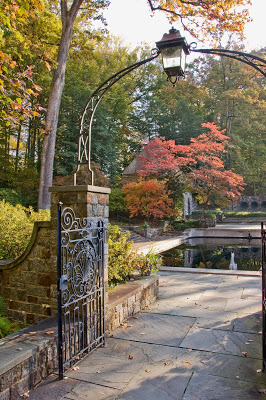 Out of this collaboration, we developed  "A Day at Winterthur – Friday, September 27, 2019."  Participants will be hosted by Clements Library Associates Board of Governors member Catharine Dann Roeber who is the Brock W. Jobe Associate Professor of Decorative Arts and Material Culture and AHPCS member Stephanie Delamaire who is the Associate Curator of Fine Arts.  They have helped us plan an exclusive program at Winterthur Museum, Garden & Library in Delaware featuring a behind-the-scenes look at Winterthur's renowned collections with curators and expert staff, print-focused museum tours, and customized experiences in the conservation labs, library, and gardens. After a group lunch, guests can browse in the gift shops or choose to explore the gardens and galleries exhibitions including a special print display and Costuming THE CROWN, featuring 40 iconic costumes from the beloved Netflix show.  Tickets are $65 and you can register online here.
Guests are responsible for booking their own travel to Winterthur and overnight lodging.  A block of rooms at a rate of $199 per night is available at Hotel Du Pont until Aug. 29. Book online or by calling 800-441-9019 and refer to CLEMENTS group. The Hotel Du Pont can provide transportation to and from the train station with advance notice. Long-time Associates might be interested to know that former director John Dann worked at the Hotel Du Pont as a young man.  He has some delightful stories about his time there including meeting Vincent Price who was selling art!  Apparently Price worked as an art consultant for Sears-Roebuck from 1962 to 1971 offering the "Vincent Price Collection of Fine Art", selling about 50,000 fine art prints to the general public.
Additional opportunities to gather
We will be flying in to Philadelphia on Wednesday, September 25 and at 5:30pm Clements Director Kevin Graffagnino will present "The Pioneer Americanists: Early Collectors, Dealers, and Bibliographers" at the The Library Company of Philadelphia, 1314 Locust Street.  If you are in Philadelphia on Wednesday and want to join a group for a meal, you can indicate your interest in lunch at the City Tavern, 138 South 2nd St at Walnut St, or dinner after Kevin's talk at a location to be determined.
On Thursday, September 26 Clements Library Associate Board of Governors member Clarence Wolf invites guests to visit the rare bookstore George S. MacManus Company, at 12 Water Street in nearby Bryn Mawr, PA.  Come to learn more about rare book collecting or add to your own collection.
Our friends at the U-M Club of Philadelphia invite all to stay on Saturday, September 28 to join them for a football watch party at Fox & Hound, 1501 Spruce Street, Philadelphia, to cheer on the Michigan Wolverines as we take on Rutgers in football.
We look forward to meeting many old and new friends at Winterthur and enjoying the early autumn season on the east coast. Please feel free to spread the invitation to anyone who may like to join us!