Recently, Clements Library Curator of Manuscripts Cheney J. Schopieray brought Conservator Julie Fremuth a six-leaf manuscript document written on both sides. This document was a generous donation by former Clements Library Director John C. Dann. The manuscript, which measures approximately 20 inches by 26 inches, had been folded in two places for a very long time and was badly deteriorated. Together they discussed treatment possibilities and considerations. Cheney suggested that this document, attested in the Province of South Carolina, 1737, may have particularly interesting content for research, but the item was so badly damaged from being folded that it couldn't be handled or studied further without risking damage to the paper and loss of text. The visible words indicated that the manuscript dealt in some way with the prominent Wright family and the personal property of a wealthy woman and so a fuller, more intensive treatment was agreed upon. Julie created "fills" from modern paper that matched in paper type, weight, and color to fill the voids in the pages. Once that was complete, she reinforced each page by sandwiching them between two pieces of incredibly thin Japanese paper. Here are some photos from that project.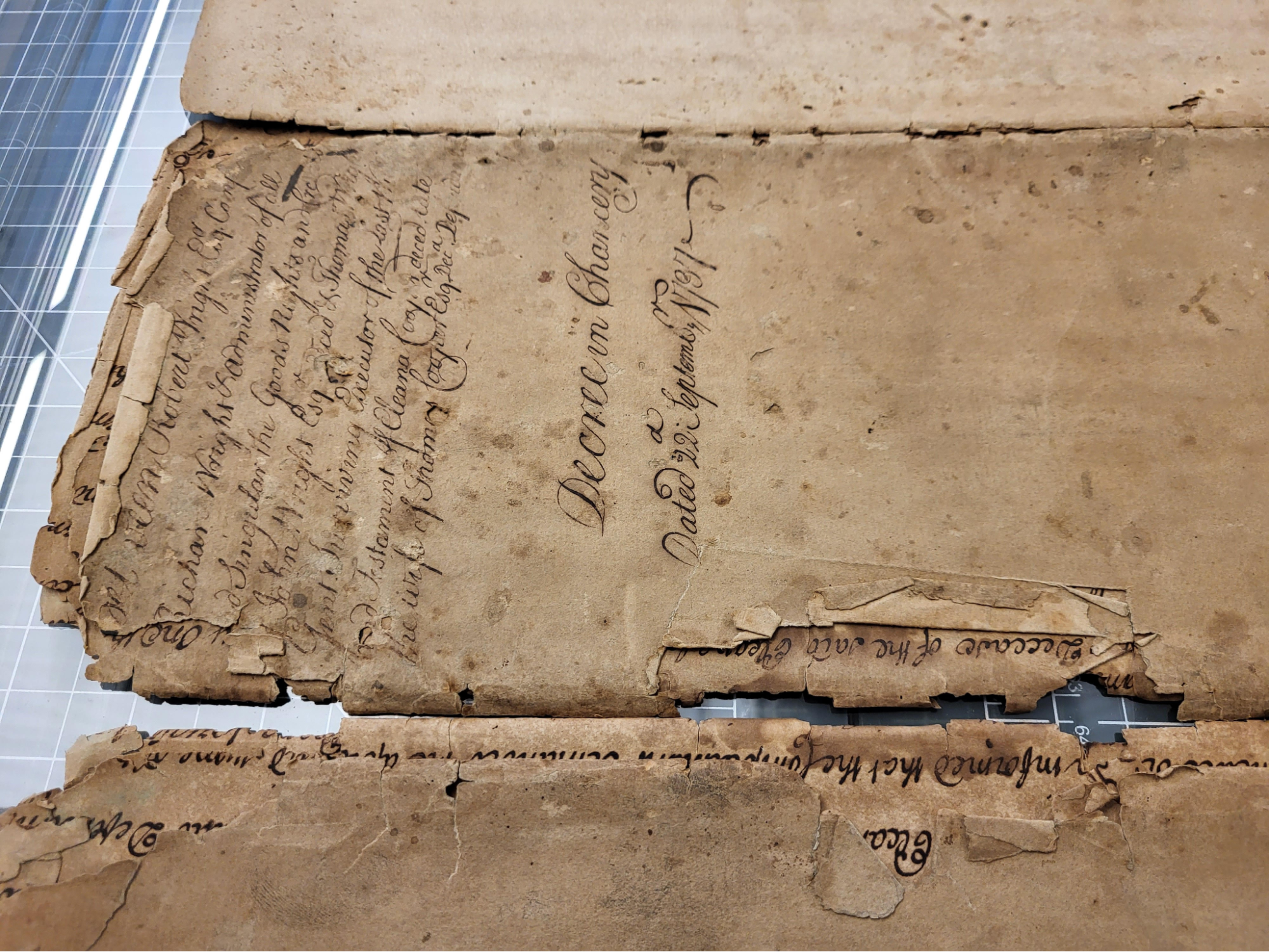 Here is what the document looked like when it arrived at the William L. Clements Library.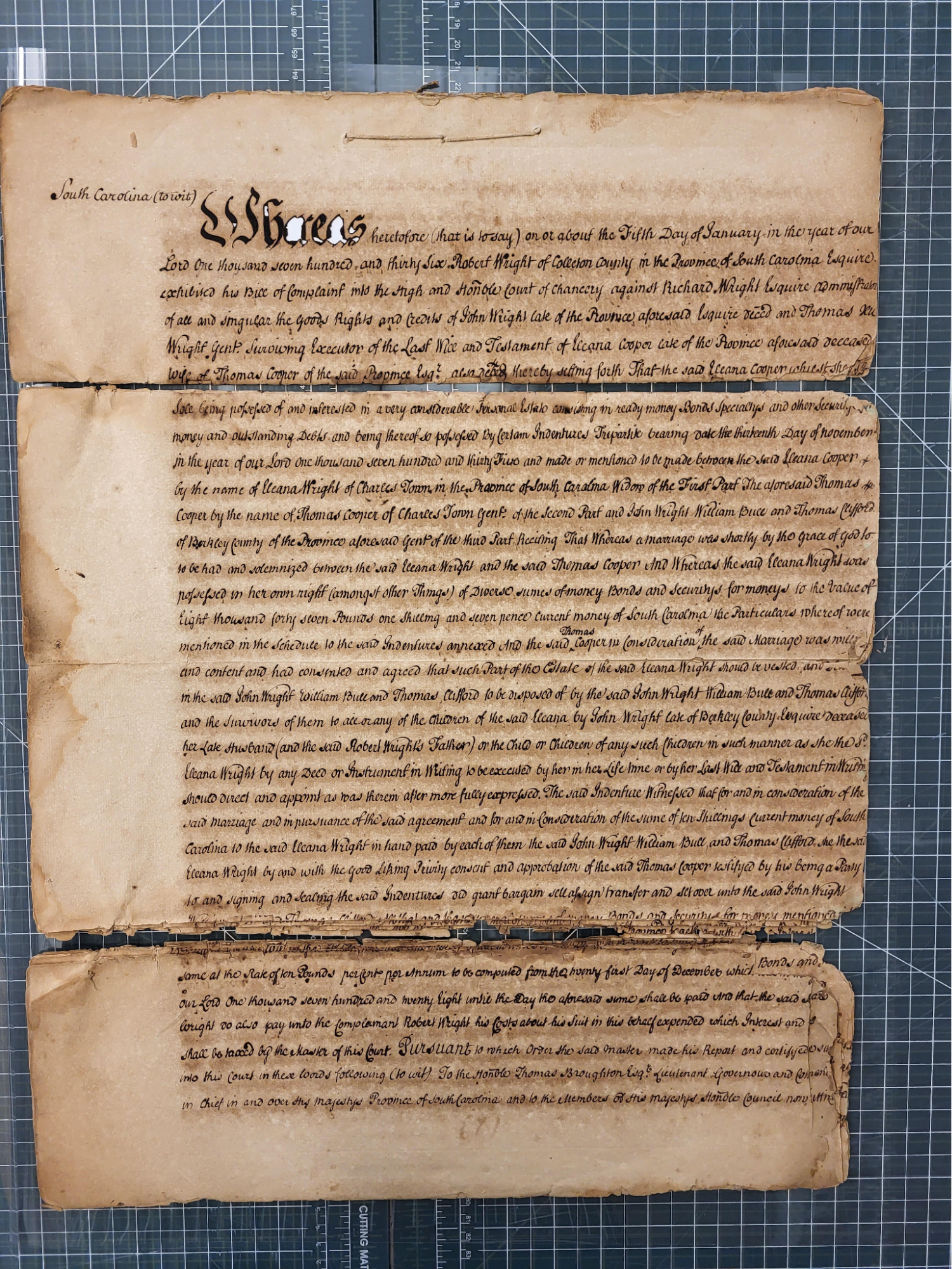 The document was unusable in its chipped, separated, and brittle state.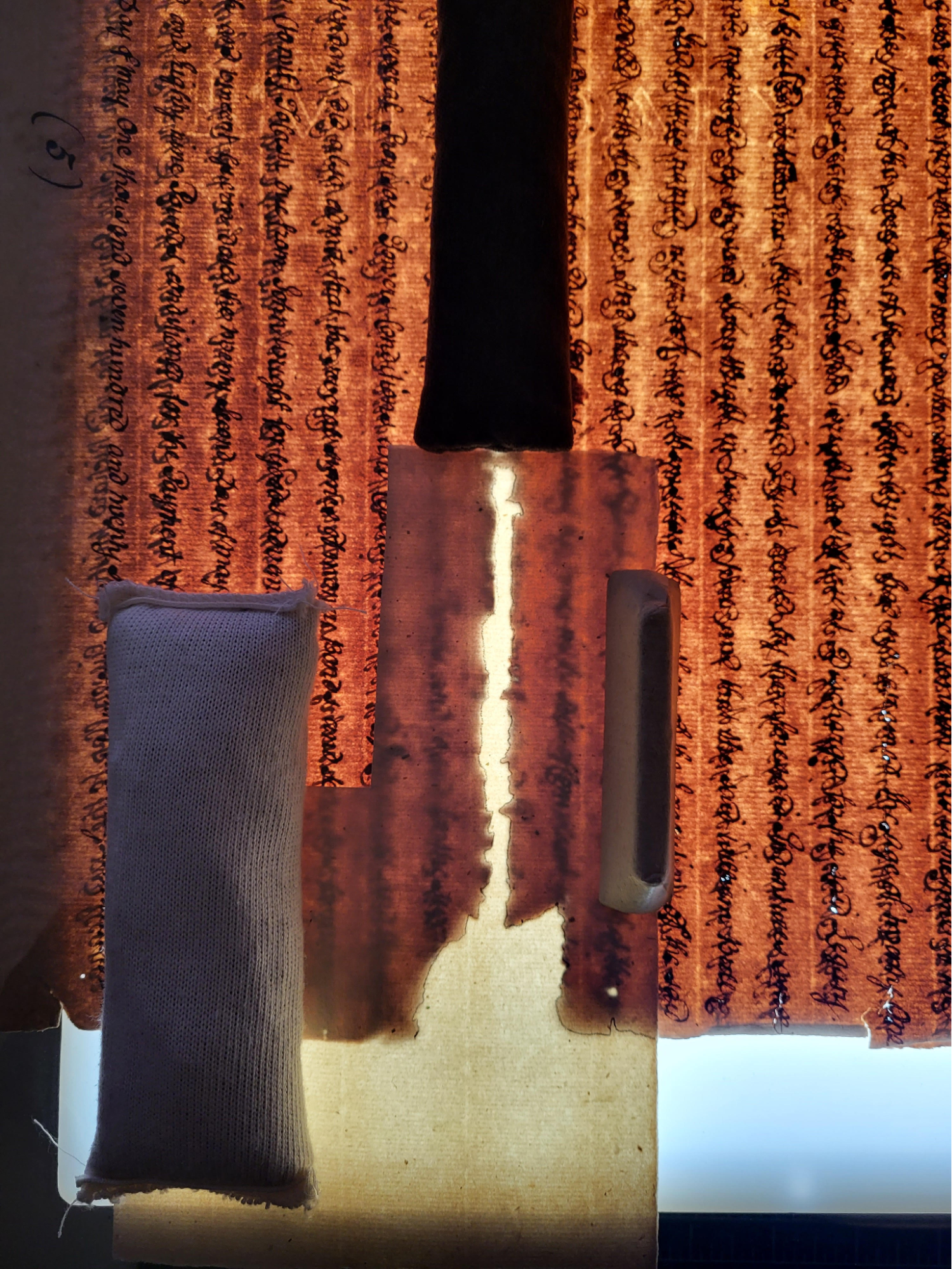 This image illustrates the use of a lightbox to trace the exact shape of each paper fill.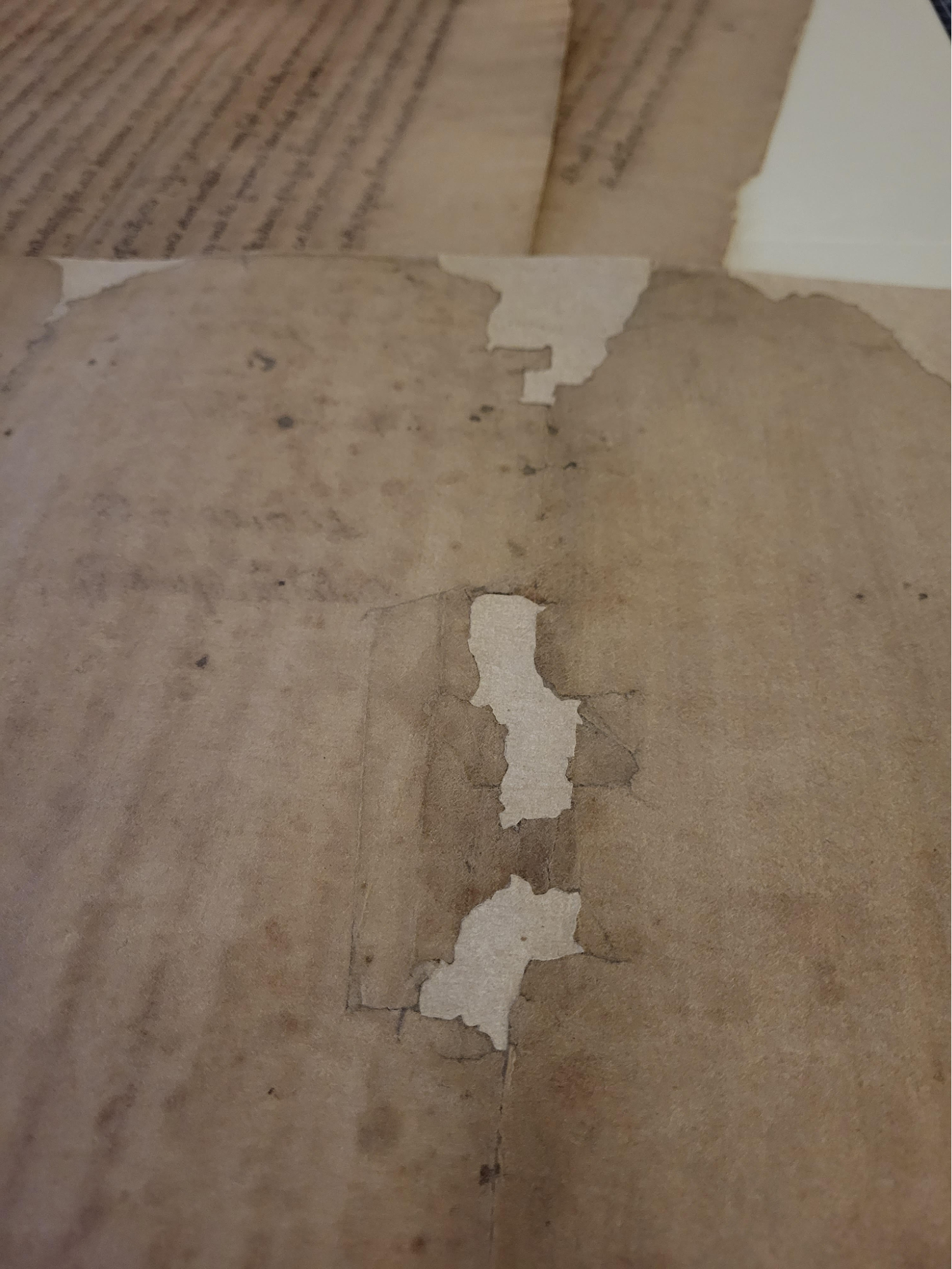 This detail shows the fill in place, sandwiched between full sheets of Japanese paper at the completion of the project.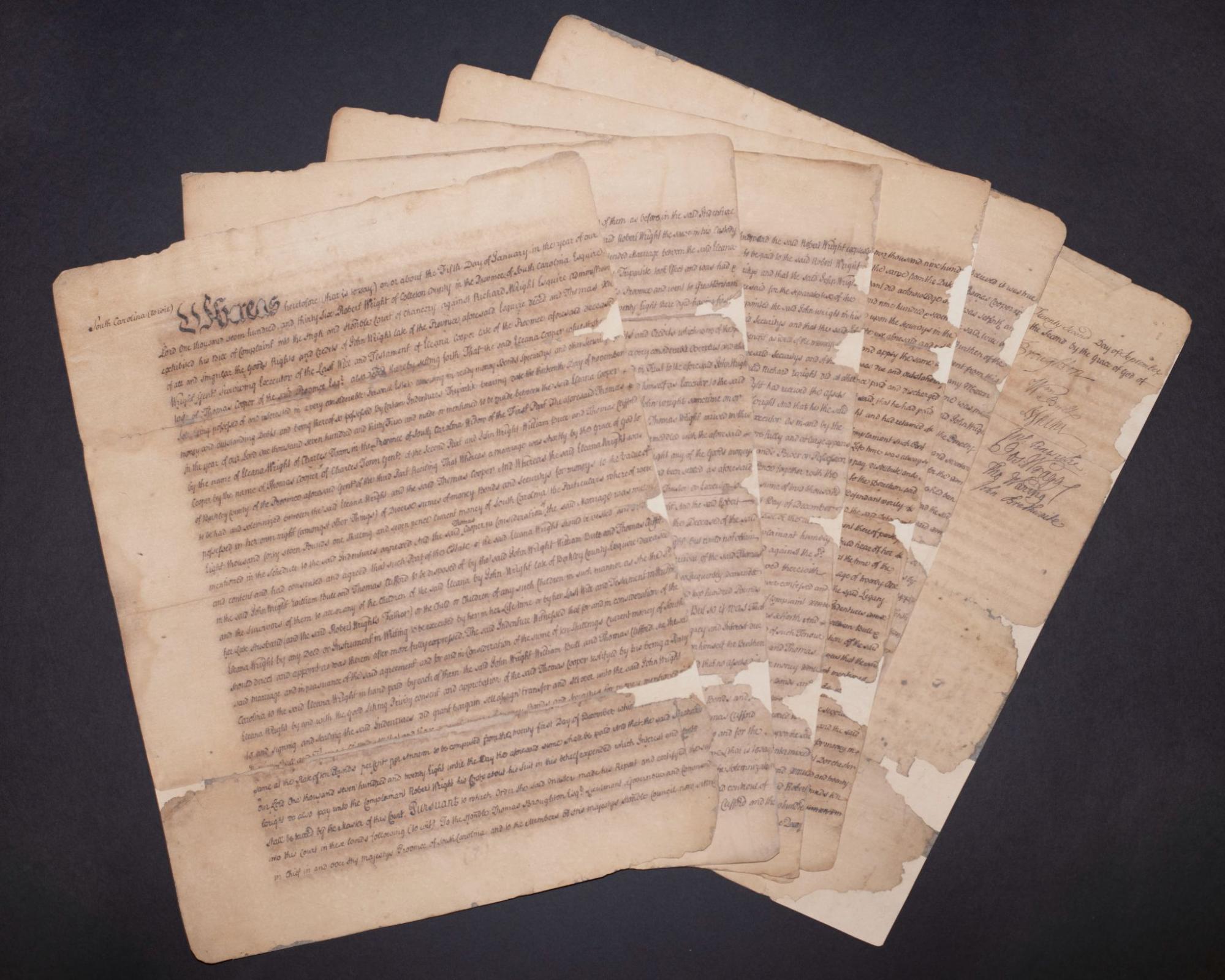 This is the manuscript after treatment. It is now in a usable state for archival housing, accurate description, research, instruction, display, and other forms of access.
The generosity of donors allows us to purchase the materials needed for proper housing and safe storage of all collection items. Donor support impacts all the stages collection items go through once acquired, such as incorporation into the collection, conservation, housing and storage, description, technical aspects of making descriptions available to a worldwide public, promotion to scholars and other researchers, instruction and engagement, online and physical exhibition, and more. As well, donor contributions support more intensive conservation treatments such as paper mending, washing, lining, rebinding, and boxing of selected collection items. Thank you for your help in the conservation of our collections so that they can be examined for generations to come.