Earlier this year, I was spitballing some ideas with my colleague Louie Miller in the Reference Division office, and we chatted about how interesting it would be to bring together a historical item from our collection with the modern-day perspectives of people currently working on related topics. With the help of our supportive Development team, we were able to bring this idea to fruition, and we hosted our first Contemporary Issues Discussion event on May 9, 2019, in collaboration with the Eisenberg Institute for Historical Studies. The spirit of this type of event is twofold. First, we want to provide an opportunity to consider how an issue that is relevant to us in our modern lives played out in the past and to reflect on how our personal experiences relate to that history. The second goal is more community-minded, as we celebrate the ways we're connected through these stories and welcome the chance to learn more about those who join us in conversation.
Our discussion on May 9th focused on the topic of new motherhood, using a letter from our Bradford Family Papers to center the conversation. Maria Bradford had married a schoolteacher, Claudius, in 1830, and the following year the young couple moved westwards from Massachusetts to Cincinnati. She got pregnant shortly after their move and the letter we considered was written by Maria to her mother back home, relating the story of her recent labor, childbirth, and postpartum recovery. Maria described who was in the room while she labored, how she burst into laughter upon first hearing her child cry, and how the doctor admonished her that doing so "would disturb her whole system." She told of conflicting advice coming from her female nurse and male doctor, hinted at common breastfeeding woes and her relief that she escaped them, and signaled towards a network of female friends and a nurse who were present to support her. Her husband resumed teaching two days after the birth of the child, and Maria admitted that her "nerves were weak," that she cried during the long nights and longed for her mother's advice. "My time is so entirely occupied," she lamented, "that it seems as if I had no time to do anything." This letter is striking in how it gives us a glimpse into childbirth and healthcare norms as well as the emotional, interior life of a new mother in the 1830s.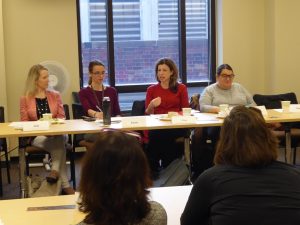 On its own, the letter is fascinating. But the conversation it spurred was even more so. We were fortunate enough to have three invited guests open our discussion — Dr. Lisa Harris, an ObGyn at the University of Michigan; Jodi Long, a practicing doula and herbalist; and Barbara Robertson, a certified lactation consultant and owner and director of the Breastfeeding Center of Ann Arbor. They offered insights into the medical experience of labor, the power of one's birth story, breastfeeding challenges, and the complicated and powerful relationships with mothers– all themes that we confront in Maria's letter that also resonate with their daily work. We had a full room, including many new mothers who were just starting their own journeys in parenthood. Much of our time was spent hearing about the group's personal stories and how they compare to Maria's account written some 188 years earlier. We mused on all that has changed, all the medical advances and social shifts that make our moment so different from Maria's. But we also reveled in all that still felt so present and familiar– who else cried and felt overwhelmed when facing those early sleepless nights with a newborn, who else longed for their mother's advice.
Here at the Clements we are invigorated and inspired to continue this type of discussion, to explore what we can learn about our collections as well as our community when we put them in more immediate conversation. What do we gain when we see a historical document as an entry-point to engage, celebrate, and interrogate the stories of the past as well as the present? I don't have a clear answer yet, but it feels important, pressing, and empowering. We hope you'll join us as we hold more of these Contemporary Issues Discussions, learn more about American history and how it relates to our own personal ones, and try to figure this out, together.
Jayne Ptolemy
Assistant Curator of Manuscripts