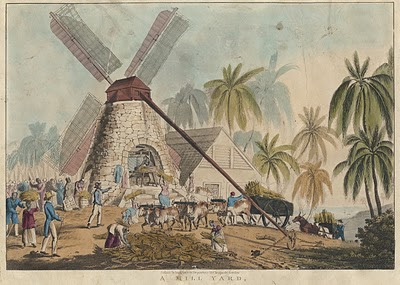 Sugar in the Altantic World: Trade and Taste
October 18, 2010 – February 18, 2011
Main Room, Clements Library
909 S. University Ave., Ann Arbor, MI
Monday through Friday, 1:00-4:45 pm
Curated by JJ Jacobson
A new exhibit at the Clements Library showcases a selection of its materials for studying sugar's social, economic, political and culinary history. "Sugar in the Atlantic World: Trade and Taste" opened to the public on October 18, 2010 and will be on display through February 18, 2011.
Sugar was originally known to Europe as a rare and costly spice, but the growth of sugarcane production, first in the Mediterranean and then in the Atlantic regions, made it ever more available. Between the middle of the 1600s and the middle of the 1800s, sugar was transformed from a luxury to a widely consumed commodity in Great Britain and the United States. By the late 1800s, it was a thoroughly common article of diet, even a necessity, for most consumers.
This exhibit examines sugar two ways: as a commodity and as a consumable. The first part, using materials from the library's book, graphics, map, and manuscript collections, tells the story of the colonial sugar trade in the British West Indies: production, business, and politics. The second part uses cookbooks, confectioners' equipment catalogs, and advertising ephemera to tell the culinary and gastronomic story of how sugar (as ingredient and foodstuff) was consumed as its availability grew, thereby driving the sugar trade.
Open to the public in the Main Room of the Clements Library Monday through Friday from 1:00 pm to 4:45 pm. The Clements Library is located on the campus of the University of Michigan at 909 South University Avenue, Ann Arbor. For further information please call 734-764-2347.