Pair 13: Voyageurs and Furs
Contemporary books, pamphlets, and maps in the Clements Library provide rich source materials on French colonial Canada from the sixteenth to eighteenth centuries. Early French exploration and settlement of trading posts were conducted with an eye to the profitable trade in furs, largely beaver pelts. Original fur trade manuscripts reveal the lives, activities, and material culture of individual French and indigenous traders, laborers, and sometimes panis (enslaved Native American persons).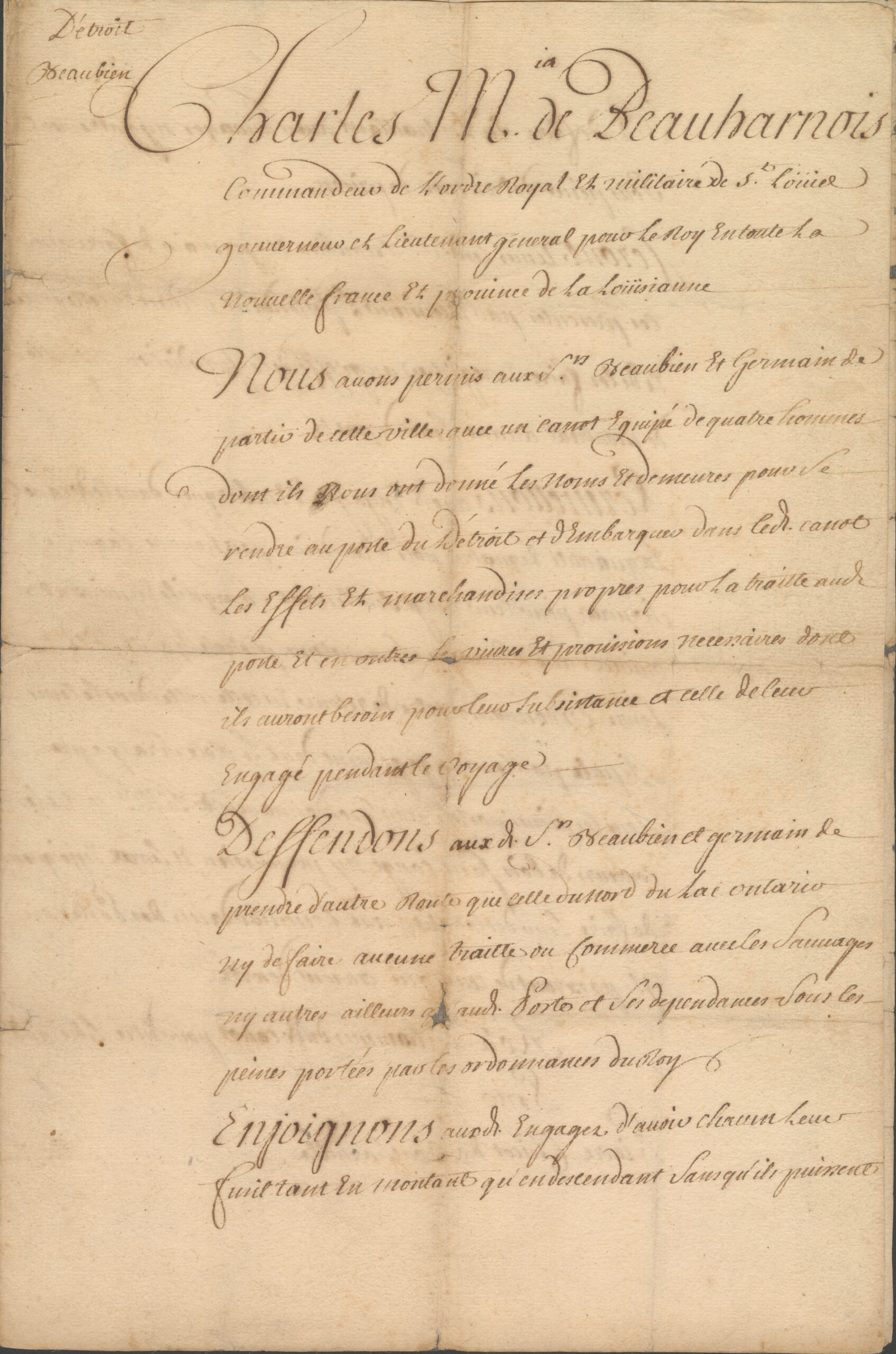 [Charles de la Boische, Marquis de] Beauhernois manuscript license signed to Beaubien and Germain, August 17, 1737; Montreal, [Québec]. Finding Aid.
Pen and Ink. Riopelle Family Papers, gift of Elizabeth Love Heavenrich in honor of her mother Irene J. Riopelle Love, 1942.
Entry 25 in 101 Treasures is a French fur trader's congé or license, signed and approved by Canadian Governor General Charles de la Boische, Marquis Beauharnois (1671-1749) on August 17, 1737. These licenses were difficult for traders to secure, since Beauharnois was only permitted to issue 25 per year. This congé shows the remarkably detailed set of restrictions and permissions that were customized to the voyage of a single canoe belonging to the Detroit traders Beaubien and Germain. They were to depart from Detroit and travel along the Northern shore of Lake Ontario, with only the supplies and goods necessary for trading and sustenance. Buried in this regulatory paperwork, we find the names of the laboring voyageurs that made the trip possible. The men who paddled and portaged the canoe and carried the stacks of beaver pelts they acquired were Pierre Chicot, Louis Clairemont, Bouron, and "Pierre Panis de Nation." This document represents a rare glimpse of the working people who performed the actual labor of the early Great Lakes fur trade.
Rarely does the Clements Library have an occasion to expand our handwritten documentation of the 17th and early 18th century fur trade. In 2020, Maggs Brothers in London supplied such an opportunity, and the library was able to purchase a very scarce contract for a fur trading voyage. Associate Map Curator Mary Pedley and University of Michigan doctoral candidate Jonathan Quint skillfully transcribed and translated this manuscript, which was penned by Montréal notaire Antoine Adhémar, who is recognized for "abbreviations of his own invention [and] impossible scribbles" (Theodore Calvin Pease and Raymond C. Werner, eds. The French Foundations 1680-1693, in Collections of the Illinois State Historical Library, vol. XXIII, French Series, Vol. I. Springfield, Ill.: Illinois State Historical Library, 1934: xii).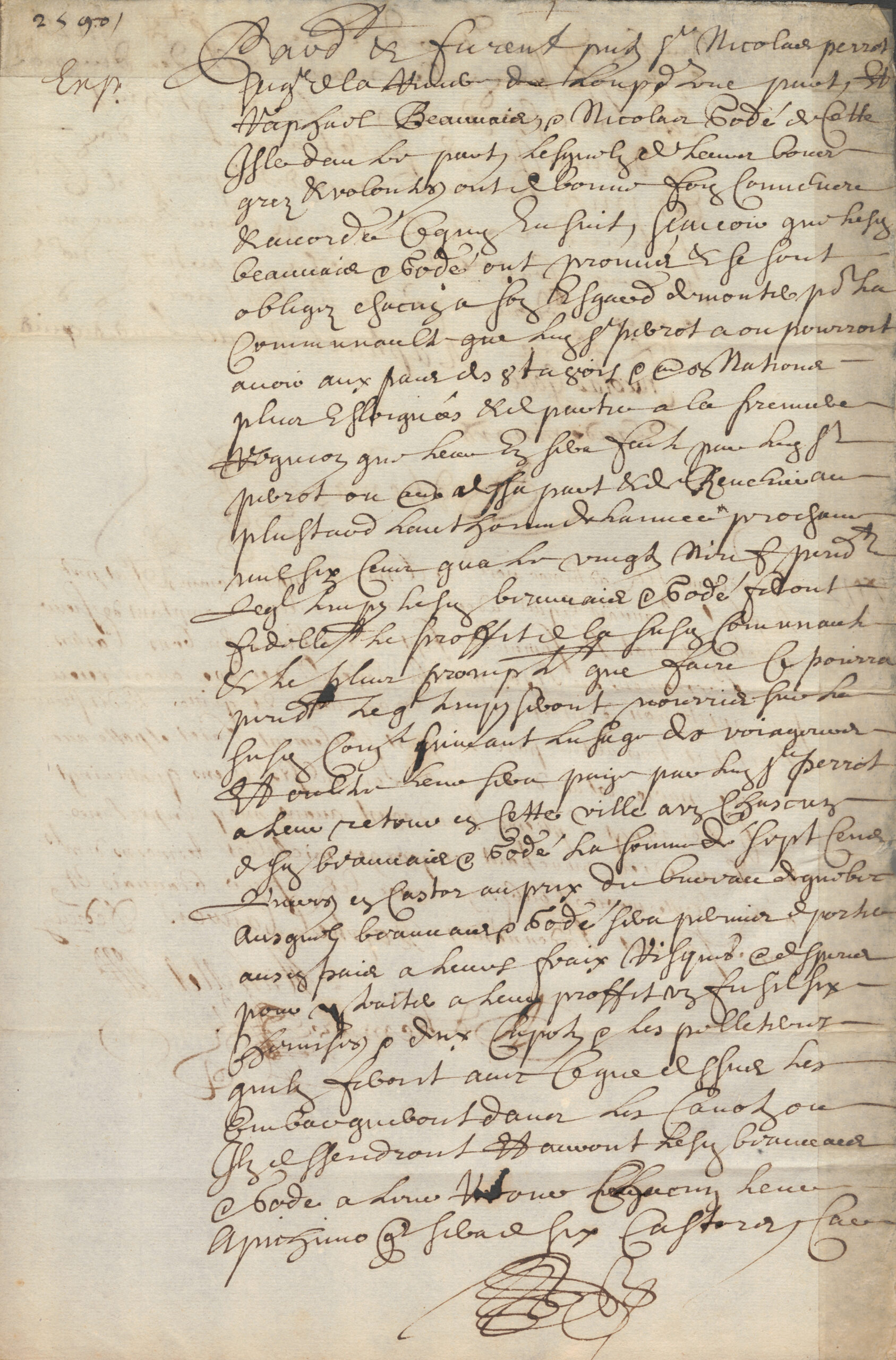 N[icolas] Perrot manuscript contract signed with Raphael Bauvez and Nicolas Gode, July 1688; Ville Marie, [Montreal, Québec].
Pen and Ink. Native American Collection. Finding Aid.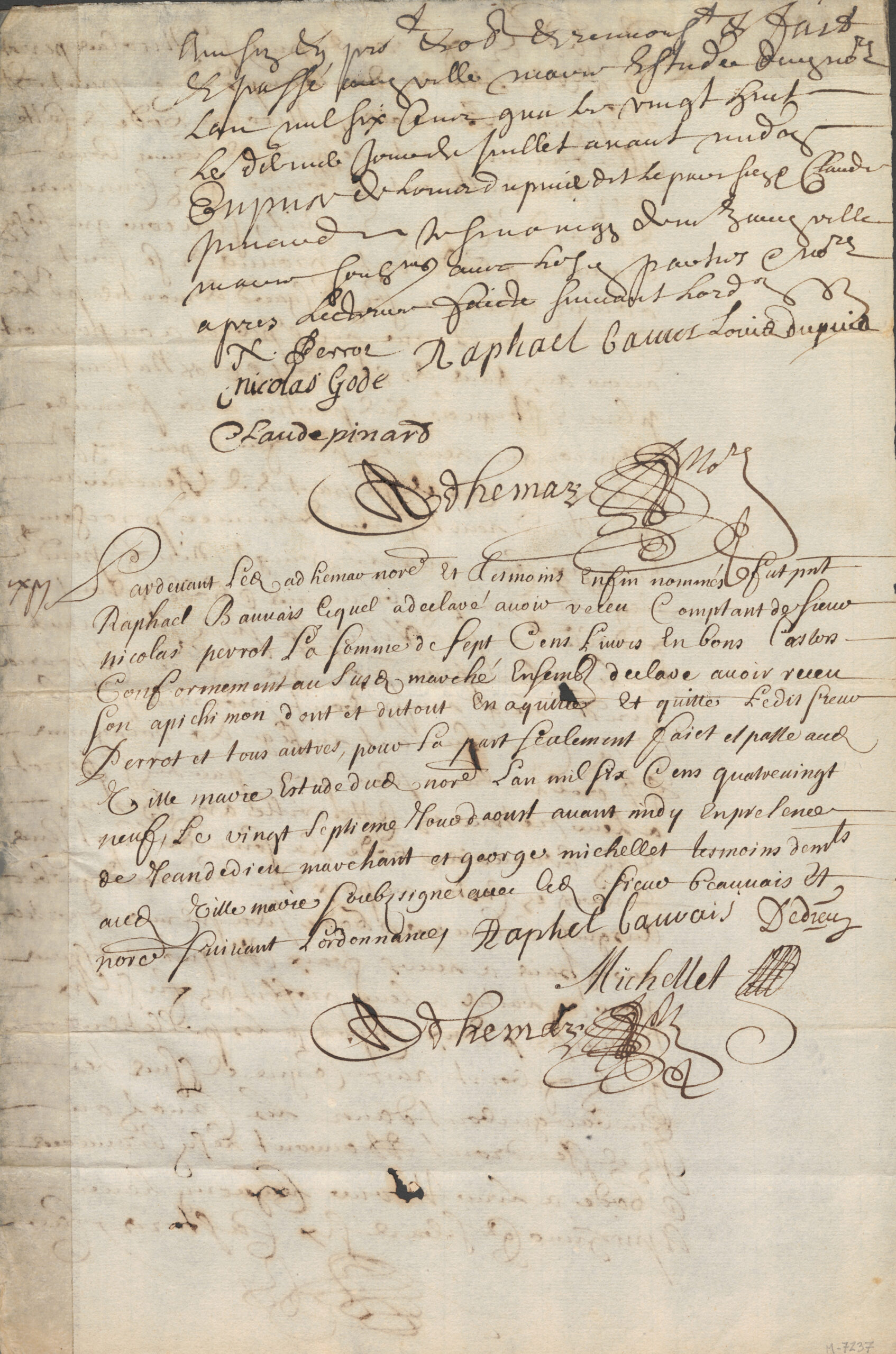 The manuscript is a record of the terms of a contract between Nicolas Perrot and voyageurs Raphael Beauvais and Nicolas Godé to undertake a trading journey from Montréal to Odawa lands to the west. In turn, the men would each receive 700 livres worth of good beaver skins and an apichimon (a tip) of six additional skins. Like the Beauharnois license in 101 Treasures, this contract gives us an understanding of the needs of a single trading voyage. What are they expected to have in their canoe(s)? In this case, Perrot provided them with a gun, six shirts, two hats, and pelts to trade for their own profit.