Pair 16: Women Writers and Intellectuals
Anne Bradstreet was born around 1612, emigrated to Massachusetts Bay Colony at the age of 18, raised eight children, and wrote poetry all the while. William L. Clements added Anne Bradstreet's The Tenth Muse Lately Sprung up in America (101 Treasures, Item 15) to his personal collection for good reason. The work, published in London in 1650, is an exquisite example of literary production from early America. It highlights the ever-present undercurrents of gender, race, and class and how they informed the reading public's reactions to poetic works. It raises questions of consent and publicity, as her brother published her work without her knowledge. And Anne Bradstreet wrote powerfully of her own awareness of the bias and skepticism her work would elicit:
I am obnoxious to each carping tongue,
Who sayes, my hand a needle better fits,
A Poet's Pen, all scorn, I should thus wrong;
For such despight they cast on female wits:
If what I doe prove well, it wo'nt advance,
They'l say its stolne, or else, it was by chance
Since the time Mr. Clements donated our copy of The Tenth Muse in 1923, the library has placed increasing priority on collecting materials that reflect women's long-standing engagement with books, writing, and the arts. Consider three examples among the hundreds that represent the intellectual lives of women in the 19th century. What weight does a book carry when it is held in a woman's hand, when it was her hand that created it, or intentionally poses herself beside it?
Grace Adele Pierce was a lecturer, poet, educational writer, and playwright, who composed her early work on the farm where she grew up in Cattaraugus County, New York. She moved to San Francisco in 1902, where she added cinema screen writing to her skills. When her friend Helen A. Winsoe sketched this portrait, she chose to present her reading a book, a reflection of Grace's passion and occupation.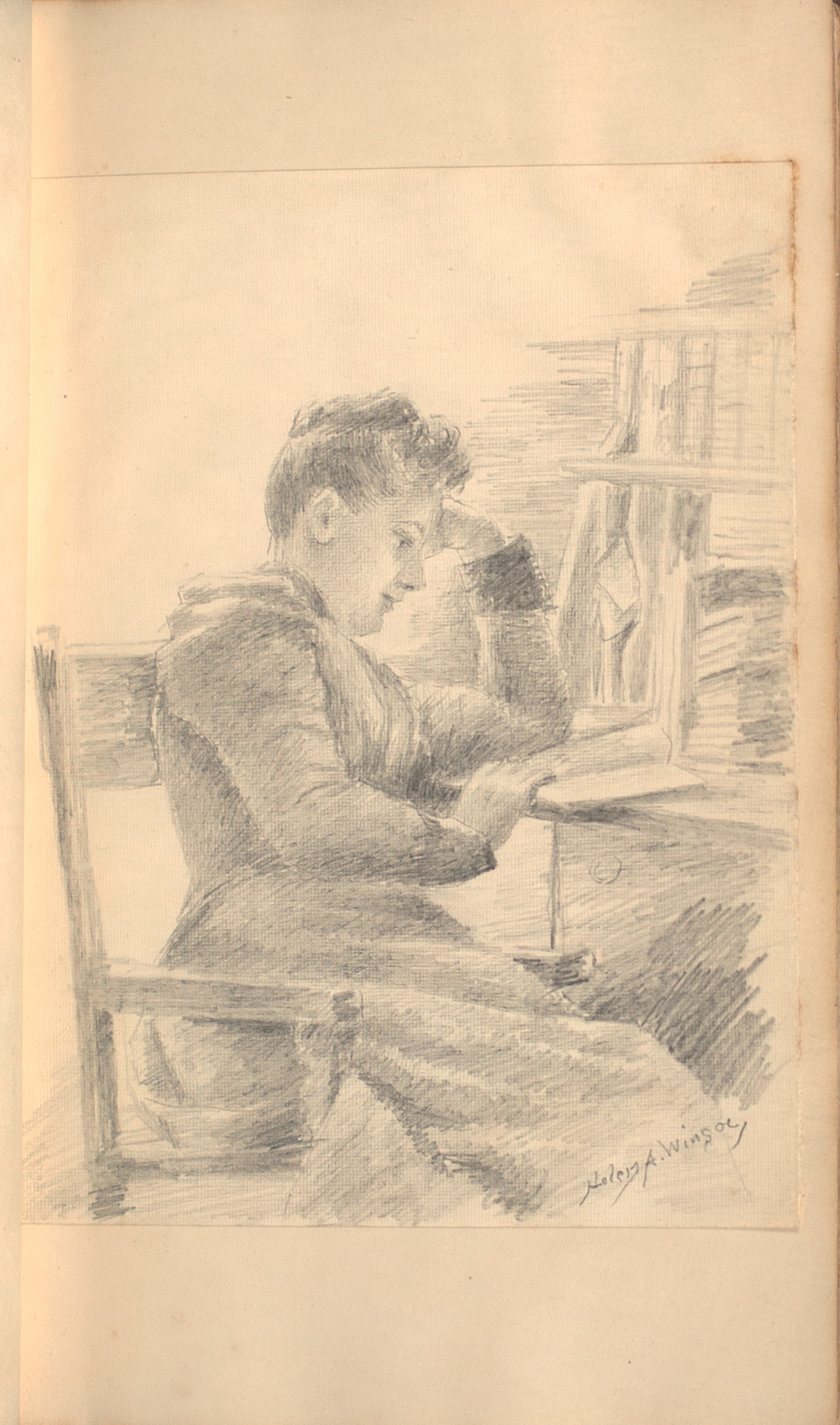 Helen A. Winsoe, Portrait of Grace Adele Pierce, likely Randolph, New York.
Pencil on Paper. Grace Adele Pierce Scrapbook. Finding Aid. 
Educator and intellectual Anna Julia Cooper (1858-1964) published A Voice from the South: By a Black Woman of the South in 1892, in which she argued for the importance of education for women in order to improve the lives of individuals and African-descended communities. Seated beside a stack of books in the frontispiece, Cooper underscores her authorship and agency.
A photograph from the Bird Family Papers shows Nancy Bird (1828-1914) seated with pen in hand, surrounded by books, letters, and papers of various kinds. Bird was a religious teacher and avid supporter of the Women's Christian Temperance Union. This image of her at her desk provides a glimpse into the material, sometimes messy, world of women's intellectual, family, and social lives. Taken together, these works sketch the long arc of women's intellectual and artistic engagement with print culture, and indicate the power of visual representations of this engagement.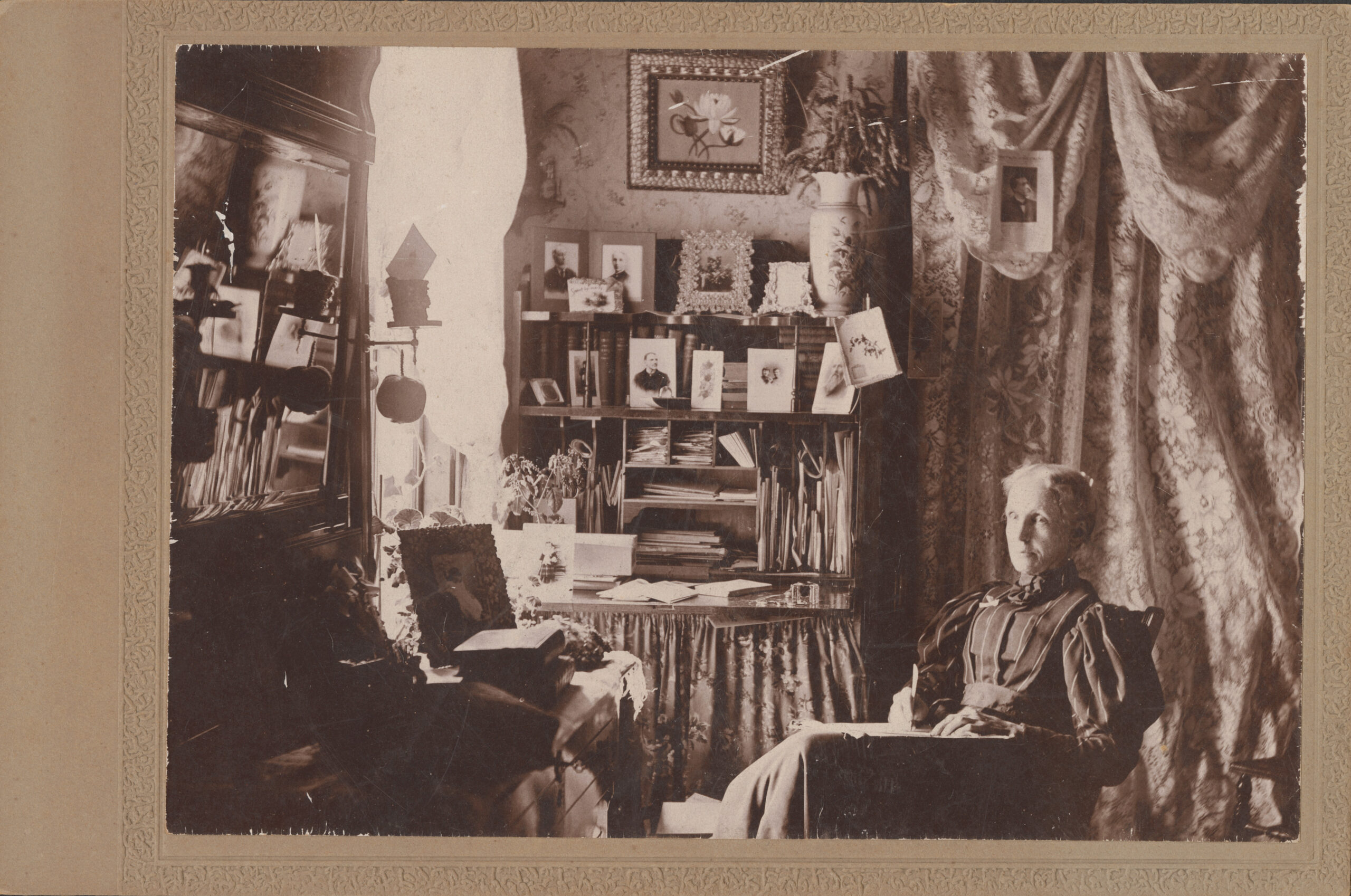 "Room of N. L. Bird on Bird farm", Portrait of Nancy N. Bird at her desk, Smithfield, Pennsylvania.
Cabinet Card Photograph. Bird Family Papers. Finding Aid.