Pair 25: Eyewitnesses to War
The experiences of American soldiers have long been a strength of the Clements collections in words and images. The sketches created by ordinary soldiers often reveal conditions that photographs, prints, and the work of official combat artists overlook. Heroism is measured by a different scale by those down the ranks. Common concerns with food, dry shelter, relief from both boredom and terror mix with an awareness of the epic events being witnessed.
101 Treasures featured the remarkable sketches of Civil War participant Private Edgar Klemroth (1837-1934), Cavalry Corps of the Army of the Shenandoah. In the years since, the Clements has added several important World War II art collections. Among them are materials representing the War in Europe as seen by Master Sargent John "Jack" Keenan (1919-2019) of Patton's Third Army, 7th Armored Division, and the Pacific Theater, through the eyes of Electricians Mate William A. Lewis (1918-2020) of the U.S. Navy.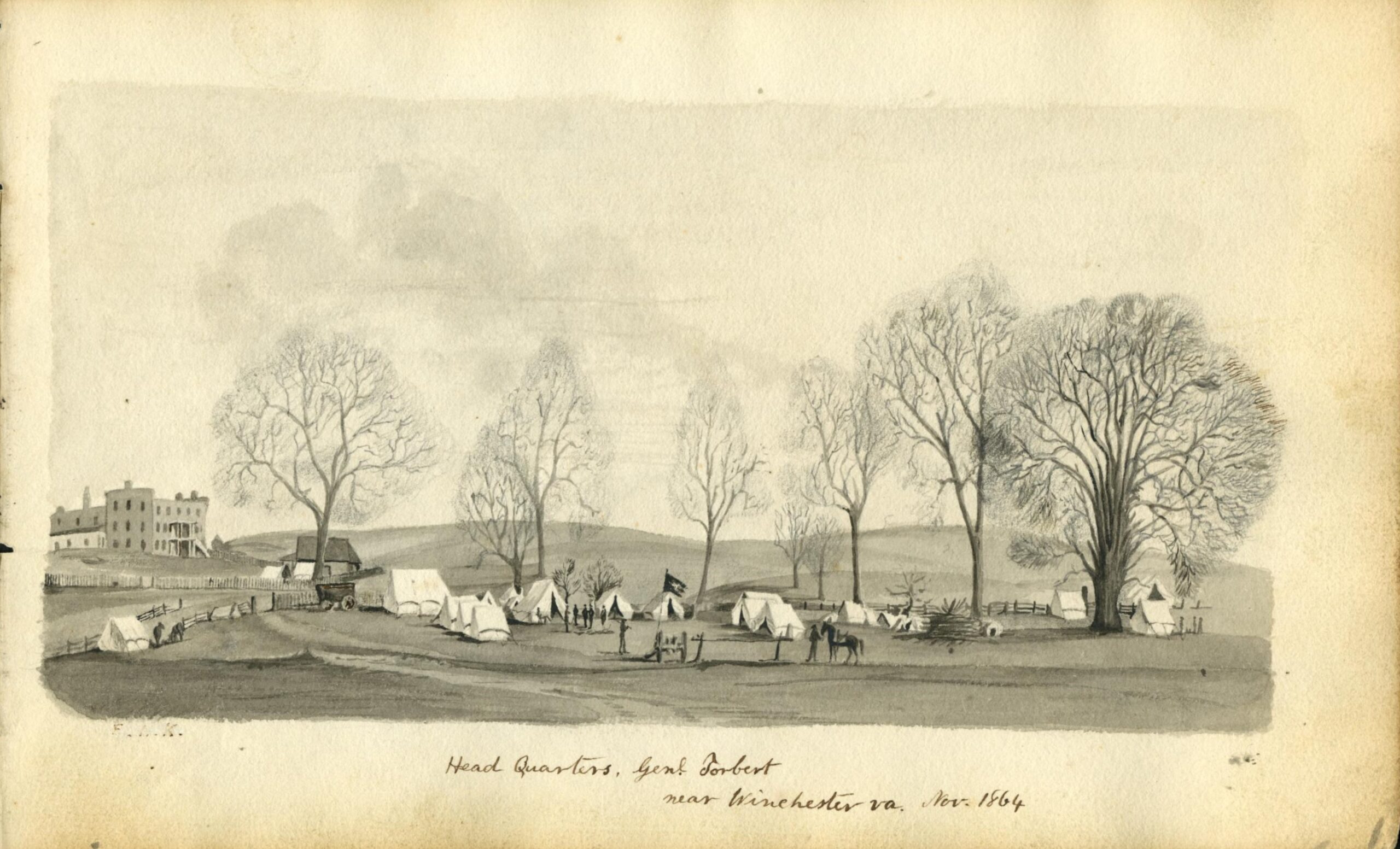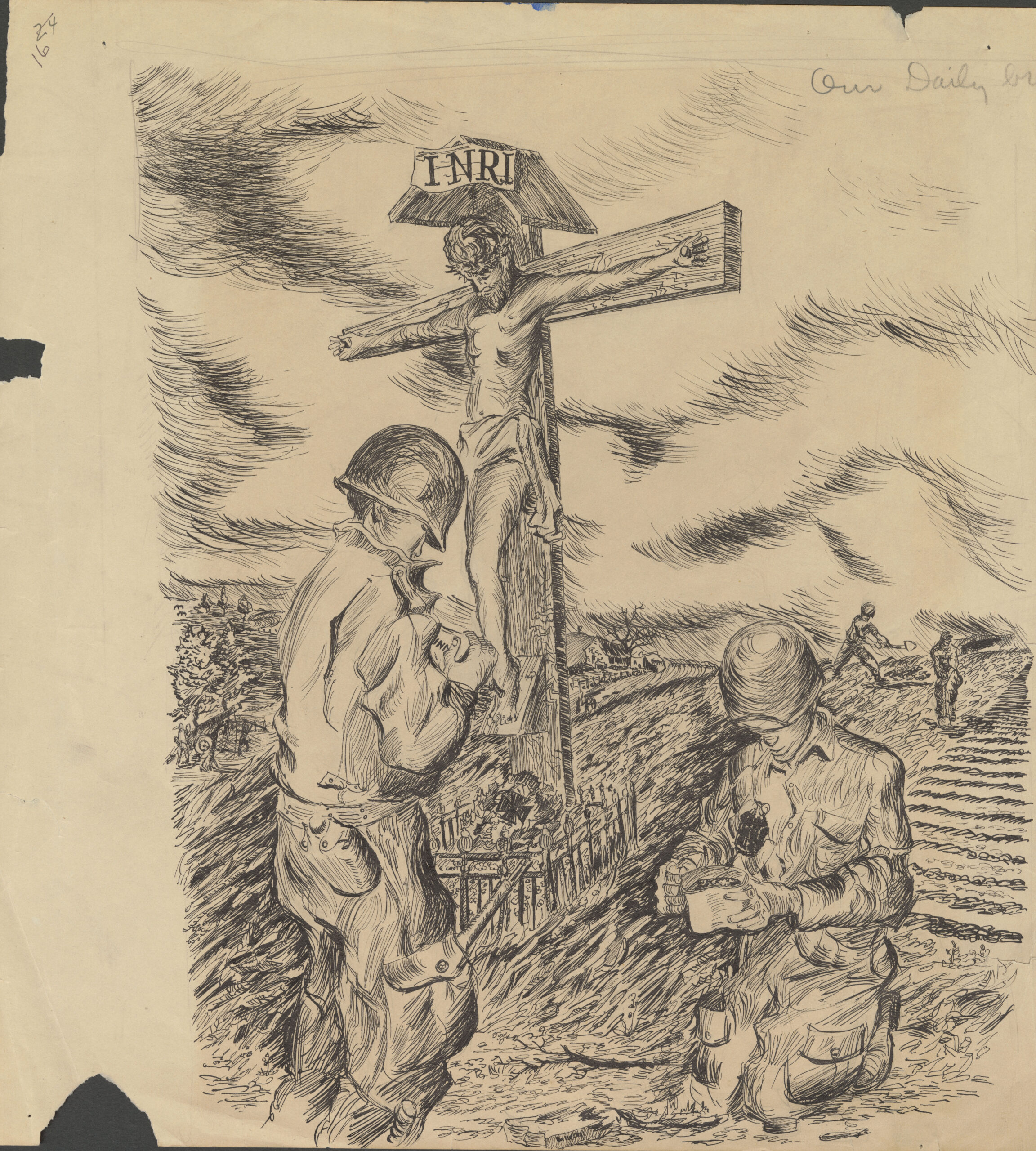 John "Jack" Keenan
"Our Daily Bread"
1944
Ink and pencil on paper
Two disheveled American soldiers consume canned rations alongside a roadside shrine in France. A stylistically adaptive sketch artist, Keenan worked in watercolor, ink, pencil, chalk — with whatever art supplies he could scavenge as the 7th Armored Division raced across France and into Germany.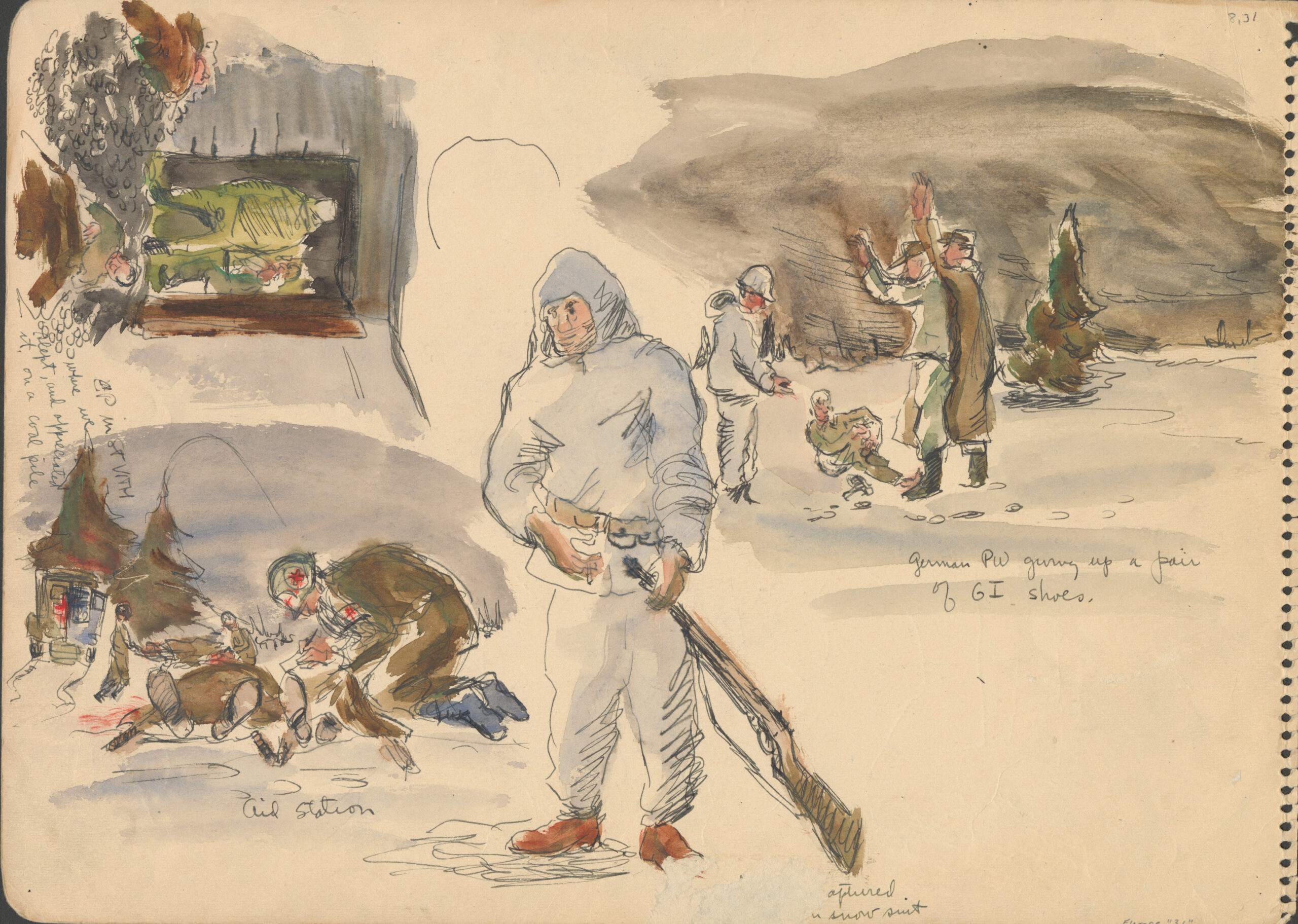 John "Jack" Keenan
[Winter warfare near St,. Vith, Belgium]
December, 1944
Ink, pencil and watercolor on paper
The aftermath of the German Ardennes counteroffensive known as the Battle of The Bulge. Keenan's artwork and supplies were in a vehicle abandoned in blizzard conditions during the battle as German forces overran Allied positions. Jack was greatly relieved to have survived and recovered his art when the Allies regrouped.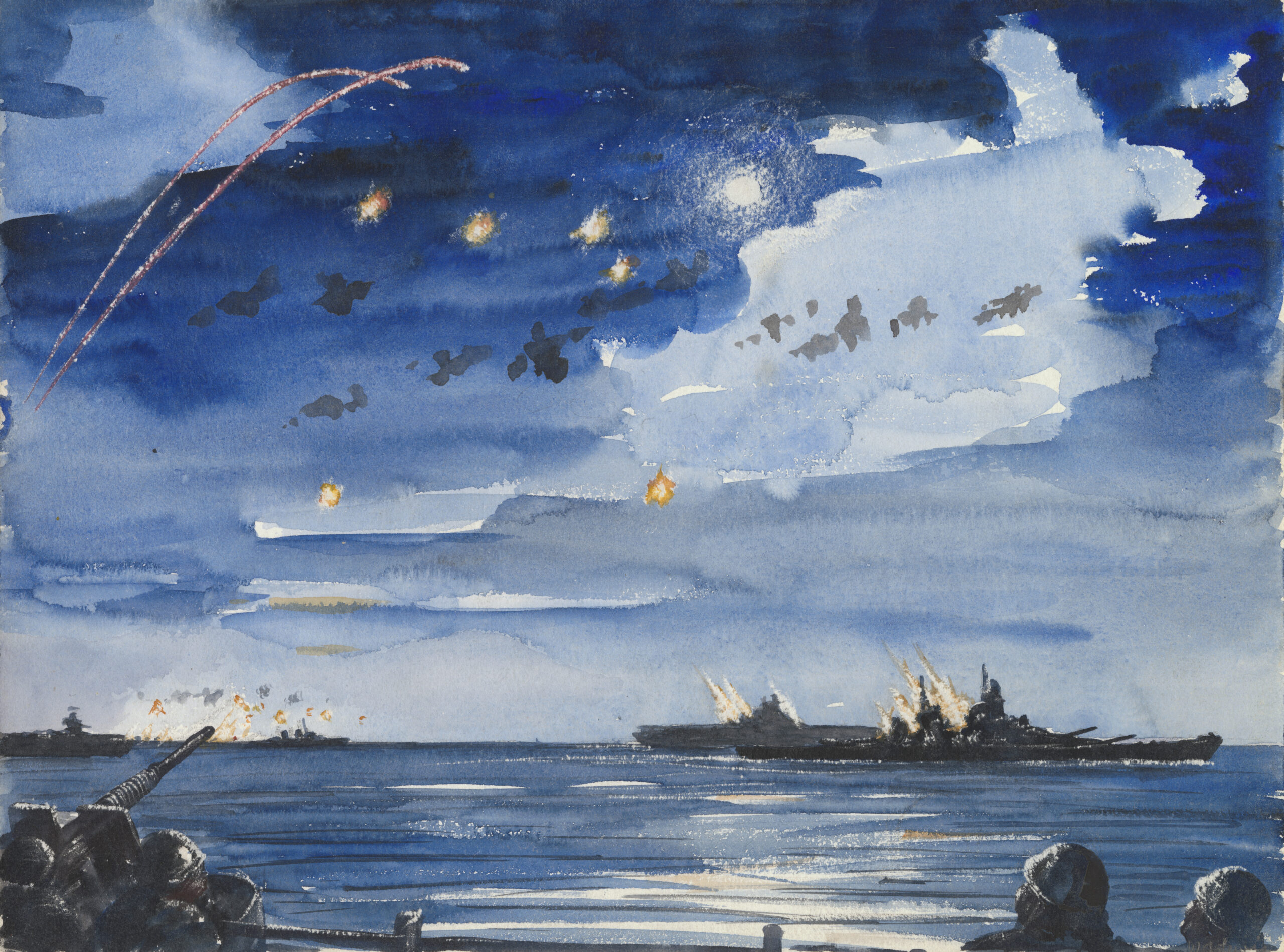 William A. Lewis
"Kamikazis. 1:30 am April 30, 1945. Off Okinawa"
Watercolor on paper
Events of the Second World War demonstrated the vulnerability of mighty battleships to air attack. Likely painted from memory while on board aircraft carrier U.S.S. Shangri La.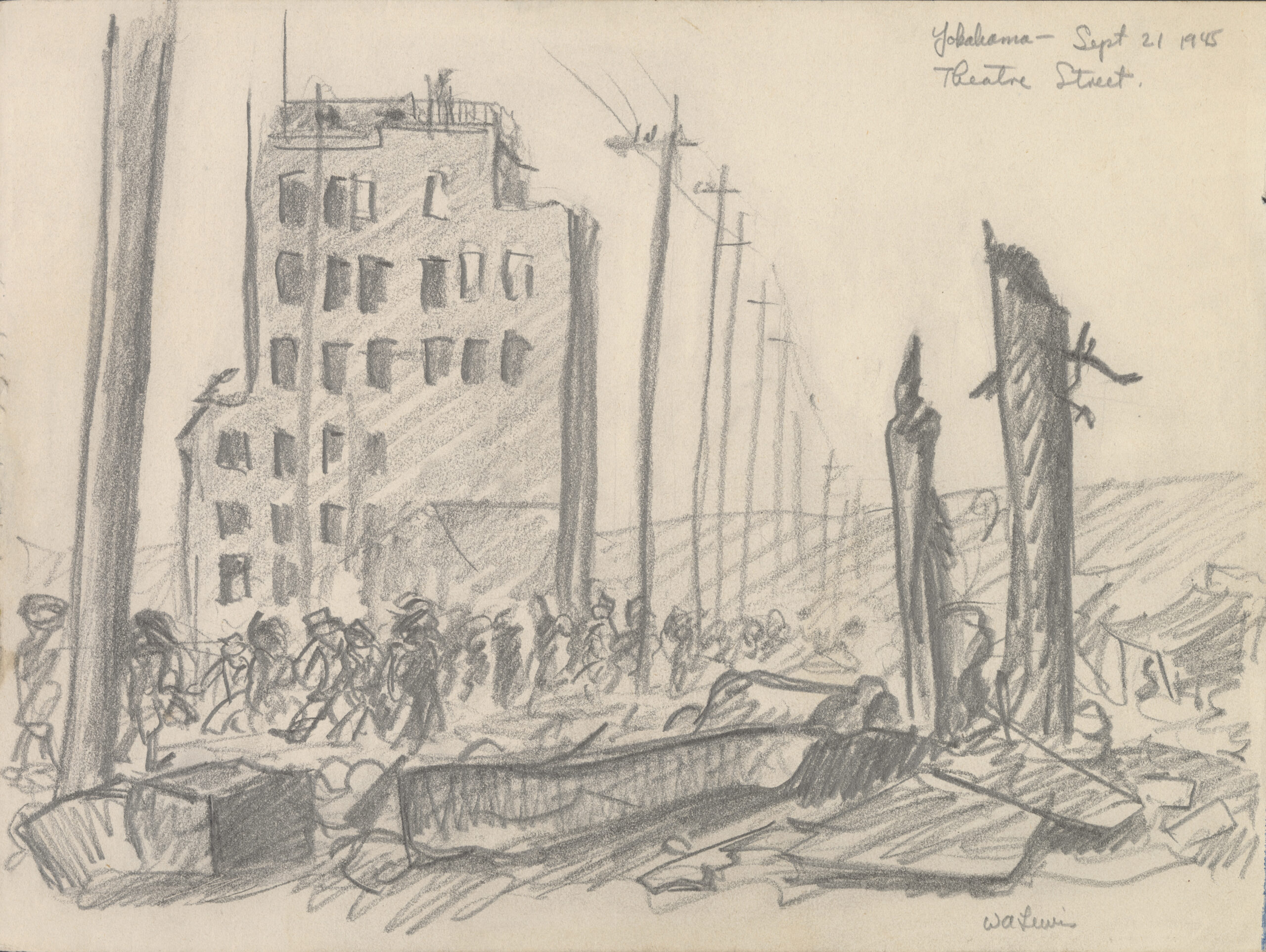 William A. Lewis
"Yokahama – Sept. 21, 1945. Theater Street"
Pencil on paper
After the surrender of Japan, Lewis saw the aftermath of the overwhelming destructive power of modern warfare on a large city, a grim experience that Lewis often recounted later in life.