Perhaps no image is more synonymous with Halloween than that of the witch, a woman dressed in black with a pointy hat and a broomstick. But this seemingly innocent costume has roots stretching back to the colonial period when being called a witch was a serious, often deadly, accusation. While some historians like Paul S. Boyer and Stephen Nissenbaum focused on geographic and economic factors in such accusations, the important connection between gender and witchcraft in America has since been analyzed by many historians, including Carol Karlsen in her 1987 publication The Devil in the Shape of a Woman. In her book, Karlsen found that women who threatened the patriarchal social order, especially in areas such as land transfer or nonconformance with societal gender norms, were more likely to be accused of witchcraft. Karlsen's findings make any male accused of witchcraft in colonial New England an intriguing "outlier" worthy of further study.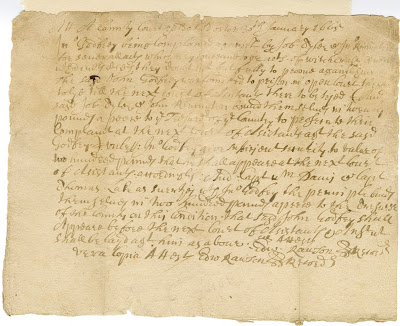 This 1665/66 deposition for the trial of Jonathan Godfrey calls for his arrest on charges of witchcraft. Citation: Jonathan Godfrey document, Jan. 30th 1665/66,GS Box 1.
The Clements Library holds a 1665/66 court order concerning charges of witchcraft against one Jonathan Godfrey. Except for those accused during the infamous Salem trials of 1692-93, Godfrey was one of only two men to be tried for witchcraft in New England who were not related to a woman also accused of witchcraft. The document reads as follows:
Att a County Court held at Boston 30th January 1665
Jno Godfrey being Complained against by Job Tyler & Jno Rimington
for severall acts which they conceave to be acts of witchcraft &
wth divers others they doubt not but fully to prove against him
The sayd John Godfrey was Committed to prison in open Court there
to lye till the next Court of Asistants there to be tried (and
sayd Job Tyler & John Rimington bound themselves in twenty
pounds a peece to ye Tresurer of the ye Country to prosecute their
Complaint at the next Court of Asistants agt the sayd
Godfrey) unless: Jno Godfret give suffisient security to value of
two hundred pounds that he shall appeare at the next Court
of Asistants: accordingly and Capt Wm Davis & Capt
Thomas Lake as sureties wth Jno Godfrey the prensiple binds
themselves in two hundred pounds apeece to the Tresurer
of the County on this condition – that sayd John Godfrey shall
appeare before the next Court of Asistants & Ansr wt
shall be layd agt him as above. as attests; Edw. Rawson Recorder
Vera Copia Attests Edw Rawson Recorder.
The two men accusing Godfrey of witchcraft, Job Tyler and Jonathan Rimington, were both involved in prior legal cases with Godfrey. In 1659 Job Tyler claimed that Godfrey had accused his wife of witchcraft (the verdict is not known). Four years later, Jonathan Rimington was successfully sued by Godfrey for slander. As the above document held at the Clements Library shows, the animosity between Godfrey, Tyler, and Rimington continued into 1665/66. Godfrey's trial was held on March 6, 1665/66 and while the court found him "suspitiously Guilty of witchcraft" they did not find him "legally Guilty." This verdict did not stop future litigation over Godfrey and witchcraft. In 1669, Godfrey sued another individual, Daniel Ela, for accusing Godfrey of being in two places at one time. The court found in favor of Ela and ordered Godfrey to pay the court costs.
The numerous charges of witchcraft against Godfrey raise an interesting question about why he was so frequently accused of what was almost always viewed as a woman's crime. Godfrey's own accusations of witchcraft against the wife of Job Tyler add another intriguing element to this already fascinating incident.
Louis Miller
Reading Room Supervisor and Curatorial Assistant