By Emiko Hastings, Curator of Books
In honor of Flag Day, we share a variety of U.S. flag-related imagery from across the Clements Library collections. Flag Day, established by President Woodrow Wilson, in 1916, commemorates the adoption of the flag of the United States on June 14th, 1777.
The Book Division includes a variety of printed materials about the history of the flag and its uses. One such example is The Story of Our Flag, Colonial and National: With Historical Sketch of the Quakeress, Betsy Ross, by Addie Guthrie Weaver (Chicago, 1898). In the foreword to this second edition, the author writes, "It is gratifying to note the cordial welcome extended the first edition of this work, it having been exhausted in a few months' time. The many kind letters received from appreciative readers have been an incentive to publish this second edition, to which has been added some new features making the historical data more complete."
John Wallis' map of the United States includes a cartouche in the lower right corner, depicting George Washington as military leader and Benjamin Franklin as diplomat beneath a rendering of the U.S. flag. Printed in 1783, it is one of the earliest impressions of the new United States flag, with thirteen stars and stripes.
From the print collections of the Graphics Division, we find a great number of patriotic images, including a recruiting handbill from the Civil War with the John Brown Song lyrics ​and a recruiting pitch ​on the verso. This item was published by the Supervisory Committee for Recruiting Colored Regiments in Philadelphia, 1863 or 1864.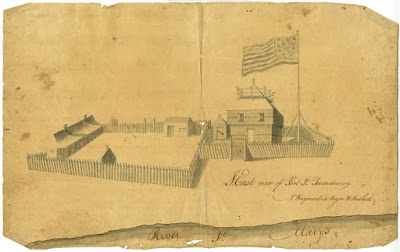 Hayward, Nathan. S. East View of Fort St. Tammany: N. Hayward to Major H. Burbeck. ca. 1792. From the Henry Burbeck Papers.
The Henry Burbeck Papers, 1735-1866, include a noteworthy view of Fort St. Tammany, on St. Mary's River on the Georgia-Florida line, given to Burbeck by Surgeon's Mate Nathan Hayward. Burbeck personally oversaw the construction of Fort St. Tammany in 1790, and this item contains a detailed depiction of the garrison, complete with an American flag. It is now housed in the Map Division with other manuscript maps from the Burbeck Papers.