Betty Bishop's history with the Clements Library actually started before she was born.
My grandfather was recruited to Michigan by Mr. Clements, who was on the Board of Regents at the time. Clements arranged to go down to the Library of Congress where my grandfather was a librarian of the reading room, and asked for a private tour with him being a fellow University of Michigan alum. It turned out, not that my grandfather knew it at the time, but he was being looked over as a possible candidate for the University of Michigan Librarian. So Clements then came back to talk to the other regents and said "he's the guy we want.

I've had some sort of involvement with the Clements since a young child, and being a Martha Cook resident while at UM, I looked out across the street at the Clements Library daily. So it's always been a part of my life.
In 2018, Betty brought a document to the "What's In Your Attic" event held at the Clements where attendees are encouraged to bring their own paper treasures, such as letters, journals, photographs, prints, books, and maps, for discussion with Clements Curators and guest Americana collectors.  
She had discovered this document after her father's death in 1988. At that point, in her life she was too busy to have someone review it so she put it away in her safe deposit box. Jump ahead 30 years, while reading an advertisement about the Clements upcoming What's In Your Attic event, she decided that this would be a good opportunity to have someone review. She knew it was a Civil War Commission and that Lincoln signed it but wanted to learn more.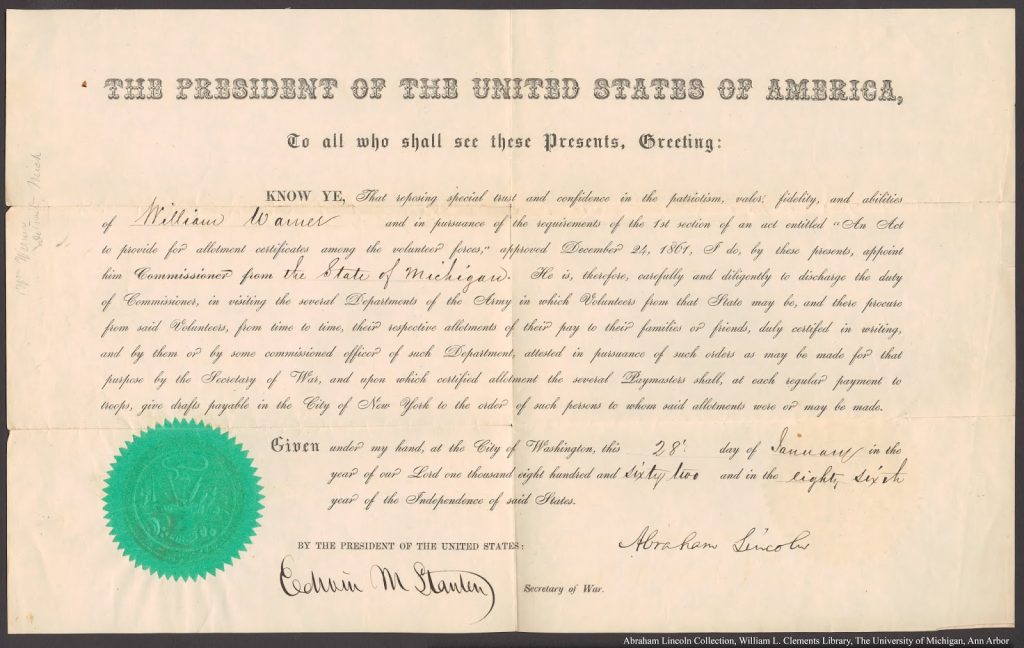 What she learned surprised and delighted her.
It was a rare document–an appointment for William Warner to serve on the allotment commission for the state of Michigan. On December 24, 1861, the United States Congress approved an Act to provide for Allotment Certificates (12 Stat. 331), which authorized President Lincoln to appoint up to three commissioners from each state to manage a voluntary program, by which soldiers could assign a percentage of their pay to be disbursed directly to specified family and friends. The commissioners were unpaid volunteers, who sought out the soldiers of their respective states and procured documents certifying for allotments to be drawn from their pay for the benefit of those at home. William Warner's appointment bears the signatures of President Abraham Lincoln and Secretary of War Edwin M. Stanton, and an embossed seal of the U.S. War Department.
I thought why not donate it to the Clements and not risk that it might be destroyed after my death. That way I know where it is, that it is being cared for and it can be used for research. If I want to see it anytime, I know I have access to it.

 

For those individuals with family letters or collections that they're not sure what to do with, I would encourage them to get someone at the Clements to look at it. They can probably tell you some background information on what it is you have that you may not have.
"I know where it is, that it is being cared for and it can be used for research."