No commemoration of Bad Poetry Day would be complete without a nod to the (in)famous poet (and native Michigander) Julia A. Moore.  The Clements Library is the proud owner of several editions of her collected poems.
Born in Plainfield, Michigan, in 1847, Julia Moore found her poetic voice in recounting mostly local—and usually tragic—events. Known as the Sweet Singer of Michigan (after the title of her first published volume), Moore received much praise initially, but later became an object of ridicule. Below is an excerpt from the poem, "Libbie," from her volume, A Few Choice Words to the Public (Grand Rapids, 1878). One must judge for oneself.
One morning in April, a short time ago,

Libbie was active and gay;

Her Saviour called her, she had to go,

E're the close of that pleasant day. 
While eating dinner, this dear little child

Was choked on a piece of beef.

Doctors came, tried their skill awhile,

But none could give relief. 
She was ten years of age, I am told,

And in school stood very high,

Her little form now the earth enfolds,

In her embrace it must ever lie.
Although Julia Moore's poetry is unrivalled in many respects, it shares with other 19th-century literature its mournful sentimentality and Christian piety. Moore often writes about death, which takes many forms in her verse. In addition to the insidious piece of beef, death arrives by drowning, by fits, by fire and yellow fever, in battle (Civil and Revolutionary Wars), and sometimes in sudden and mysterious swoons. The immediate experience of death was no doubt shared by many of Moore's readers and contemporaries, but the public grew tired of her repetitive efforts.
While on tour, Moore drew crowds of mocking detractors (shades of present-day viral Youtube shaming). She initially interpreted their jeering as cheers. Belatedly realizing that the crowds had gathered to ridicule her, she is said to have stated, "You have come here and paid twenty-five cents to see a fool; I receive seventy-five dollars, and see a whole houseful of fools." One has to admire her sangfroid if not her poetic talents.
A notch down (or up?) from the under-appreciated published poet is the professionally aspirational one. Louella Styles Vincent (1853-1924) re-located from Georgia to the town of Glen Rose, Texas, and offered her reflections on her rural upbringing and love of "goober peas" to the editors of The Current. Below is an excerpt from a poem she copied into a letter sent in December 1885, along with the comment, "The Current has rejected two of my Mss. but I intend to continue sending them until it recognizes my worth, or I am convinced of my worthlessness as a writer." Whether The Current ever recognized her talent is unrecorded.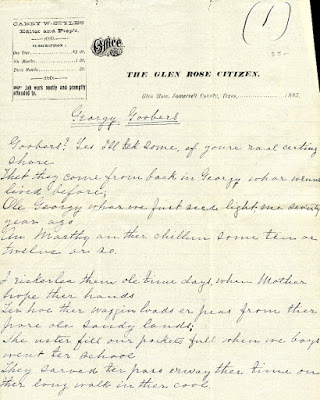 [Transcribed]:
Goobers! Yes I'll tek some, ef youre ra-al certing shore

That they come from back in Georgy whar weuns lived before;

Ole Georgy whar we first seed light, me sev'nty years ago

An Marthy an ther chillun some ten or twelve or so. 
I rickerlec them ole time days, when Mother hope ther hands

Ter hoe ther waggin loads er peas from ther pore ole sandy lands;

She uster fill our pockets full when we boys went ter school

They sarved ter pass erway ther time on ther long walk in ther cool.
Louella Vincent and her husband later started a private academy in Meridian, Texas, and Vincent later founded several journals which were vehicles for her poetry—they were short-lived.
Lastly we have the truly amateur attempts. Although they occasionally elicit a slight wince, they perhaps merit more tolerance from the (unintended) audience. These poems were often included in correspondence, frequently as light-hearted items intended for the amusement of the recipient. In the verse below, an unidentified poet described an unfortunate encounter by our hero, Poughie, with a mysteriously belligerent female while walking down the street on New Year's Eve.
The victim Poughie on his way did walk

Harming no one by thought or talk

Never once thinking that this venomous snake

Was slipping up behind him his head to break.
She slipped along with the speed of light

As she gave him a blow with her bony right,

She never stopped, nor looked around,

Nor seemed to care that she'd knocked him down. 
He picked himself up without the greatest of ease

And felt of his head while he knelt on his knees,

His head it was broken and his clothes were all torn

And he sighed, when he thought – all this must be born 
For as for striking a she

Such a thing could not be

And he very much respected her strength & her size

And who could tell but the next lick might cause the loss of both his eyes….
Another epistolary poet in the Clements collection is Wm. H. Ireland, Jr. Ireland wrote to his cousin in 1857, providing a rhyming account of a steamboat journey to New York and Perth Amboy, New Jersey, to visit relatives. He traveled with his faithful dog, Rove, and included several illustrations.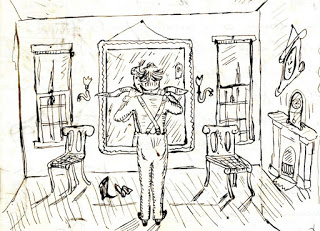 William Ireland preparing for his journey
On the 3rd of October Eighteen fifty seven

I arose very early and went to Mott Haven

And in spite of the weather, and prospect of rain

I soon had Rove rig'd up with collar & chain.

With the dog I then took but a very short walk,

Ere I came to the boat, which was bound for New York.

The dog I then tied in the bows of the boat

And up to the chin I button'd my coat

Determined to stand by poor Rove to the last

And that nothing should part us (the boat holding fast).
An adventure onboard: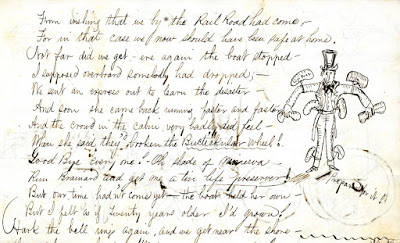 [Transcribed]:
Not far did we get – ere again the boat stopped –

I supposed overboard somebody had dropped; –

We sent an express to learn the disaster –

And soon she came back running faster and faster

And the crowd in the cabin very badly did feel –

When she said they'd broken the Buctickular Wheel!

Good Bye every one! Oh shade of Minerva –

Run Brainard and get me a tin life preserver!
Finally, Ireland and Rove arrived at Perth Amboy, met by relatives for the final leg of the journey to Metuchin, N.J.
When glorious sight – with a carriage and two –

I saw Cousin William and Rove I then drew

To the carriage and tied him, then turned round to greet

Mary Anna who had come all the way us to meet.

I was in exstacies [sic] – so was the dog –

He hopped and frisked and jumped like a frog.

Our perils recounted we each took a seat –

In the carriage (but not till I run up the street;

And catching my cousins had bid them goodbye.)

And then put Rove in front where he sat good as pie;

Until we were passing some cows on the way

When he growled barked and cut up, nor quiet would lay …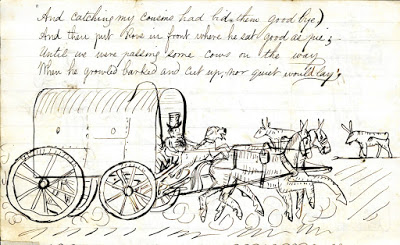 Ireland ended praising the country life and the town of Metuchin – and how can one help but admire a poet who manages to find a rhyme for that place?
I left on that tree, my name and escutcheon

That people may know I have been to Metuchin.
When evaluating these efforts – amateur and otherwise – the generous-hearted will keep in mind the sentiments (if not the wording) of William Ireland, our steamboat Odysseus, as he closed his letter and introduced his poem:
For finis – prepare yourself – reader of this

I know that you at it are ready to hiss.

But still when a fellow like me feels inspired

You still ought to listen, even if you are tired.
Terese Austin
Head of Reader Services