In honor of International Talk Like a Pirate Day, we offer several examples from the pirate-related materials at the Clements Library. The library has a variety of books, pamphlets, manuscripts, and maps related to the history of pirates, buccaneers, privateers, and other folks on the high seas.
Did pirates really say, "Arrrr, matey"? Probably not, but you can find accounts about real pirates in the Clements Library. The picture below is from the 1699 English translation of The History of the Bucaniers of America, by A.O. Exquemelin. This book is a collection of writings from or about several different pirates, including the one depicted in this portrait, Captain Henry Morgan. The Clements Library has several different editions of this work in different languages.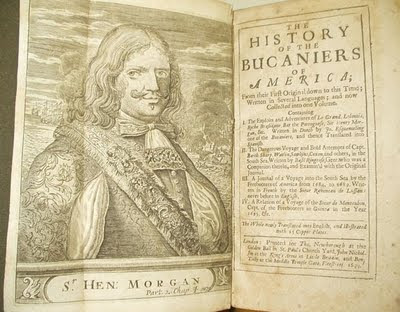 In the Lyttelton Papers at the Clements Library, there is a handwritten letter of marque issued by the government of King George the II in 1756. Letters of marque were used by governments to authorize someone to seize property from a foreign party. Such documents were issued to privateers to legalize activities that would otherwise have been considered piracy. This 4-page letter, of which the first page is shown below, has blank spaces on the later pages to fill in the names of the captain and ship.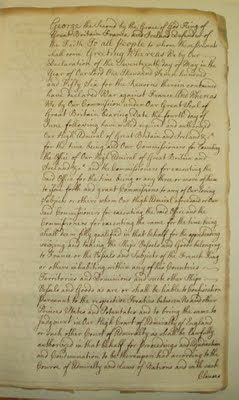 There are also a variety of "true confessions" of pirates, based on testimony given at their trials. Some of these are quite sensational and possibly exaggerated, such as that of Charles Gibbs in 1831. Charles Gibbs was one of the last people to be executed for piracy in the United States. His exploits were marked by exceptional violence and cruelty; before his death, he confessed to participating in the murder of over 400 people. This is described in "Mutiny and murder : confession of Charles Gibbs, a native of Rhode Island" (1831).
His story is also recounted as a cautionary tale for youth in the song "Charles Gibbs: The Pirate's advice to those who witnessed his awful end," sung to the tune of "The Rocks of Scilly."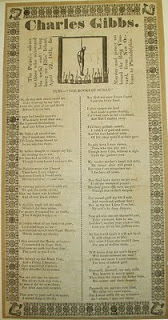 The song begins:
"Oh, all that now stand round me,
Take warning by my fate,
Avoid the path of sin and death
Before it is too late.
I once had tender parents
Who dearly loved their son;
But I proved disobedient
And into follies path did run."
…
Stanzas 10 and 11:
"We hoisted up the Black Flag,
And a Pirate I became;
I then committed cruelties
Too dreadful for to name
No sex nor age we spared
But all we took was slain;
No mercy did we ever show,
For dead men tell no tales."