We are excited to announce our mission and the festivities that we will be holding for Giving Blueday, November 29, 2016. Please join us in supporting the Clements Library's long lasting mission to collect and preserve primary source materials, to make them available for research, and to support and encourage scholarly investigation of our nation's past.
What is Giving Blueday?
Giving Blueday (GBD) is the University of Michigan's Day of Giving, and it is a day for everyone who loves Michigan to join together to combine their support and maximize impact.
The Clements Library's GBD Mission
We are asking you – yes, you, reading this right now – to make a gift towards supporting acquisitions, conservation, lectures, and digitization at the Clements Library. Your support goes a long way to sustaining the Clements Library and keeping the mission to make historical materials accessible to the public, alive. You can make a gift to support the Clements Library here: bit.ly/GBDClements
Our goal this year is to increase student membership at the Clements Library to encourage students to support acquisitions. Students, by becoming members, have access to the following benefits for an annual fee of just $5:
Invitations to programs, lectures, exhibits, and seminars
Library publications free of charge or with substantial discounts
The Quarto, a magazine published each Spring and Fall, keeps members informed about the acquisitions which have been made through their generous giving, and offers informative articles drawn from the Library's rich collections
Annual field trips to historic sites
New member reception
What You Can Do:
Become a member, or support the Clements by making a gift towards acquisitions, conservation, lectures, and digitization here: bit.ly/GBDClements
It only takes a few minutes to make a long lasting contribution to the Clements Library's mission to preserve history. We thank you for all of your support.
Join us for a special student event ​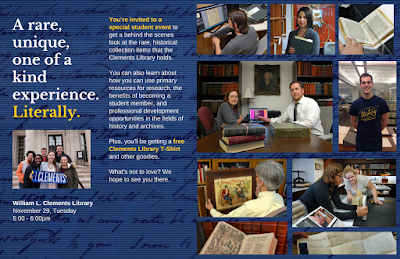 A rare, unique, one of a kind experience. Literally.
William L. Clements Library
November 29, Tuesday
5:00 – 6:00PM
You're invited to a special student event to get a behind the scenes look at the rare, historical collection items that the Clements Library holds. You can also learn about how you can use primary resources for research, the benefits of becoming a student member, and professional development opportunities in the fields of history and archives. Plus, you'll be getting a free Clements Library T-Shirt and other goodies. What's not to love? We hope to see you there. For any questions, please contact Anne Bennington-Helber at abhelber@umich.edu.
Follow our Social Media for GBD challenges!
You will be able to participate in exciting social media challenges throughout the day. We'll be challenging everyone to different things, such as creating a caption for the Clements Library, telling us what you love about the Clements Library, and showing off your artistic side using #GivingBlueday. Please make sure to like our Facebook Page and follow us on Twitter to see the challenges. We hope you'll join us!
Facebook: facebook.com/clements.library
Twitter: @ClementsLibrary
We hope to see you interact with us online, or at our special student event. Have a great Giving Blueday!