In October 2021, the Clements Library obtained a cabinet card portrait of one of the famous late-19th-century "Oregon Long-Haired Wonder" horses.  It is a beautiful photograph, showing this chestnut-colored Clydesdale with his hair braided and done up with ribbons, standing beside a currently unidentified man.  On its own, this photograph has something valuable to say about horses and their appearance in the late-19th-century United States, the value of unusual animals to entrepreneurs and show persons, the interest of the public in sideshow-type exhibitions and visual memorabilia, and other subjects
The horse was born in Marion, Oregon, on May 20, 1883, and according to newspaper accounts he was raised by a Mr. Adams near Millers in Linn County, Oregon. Cattle dealers named the Rutherford brothers owned Oregon Wonder and sold him to Charles H. and Herbert W. Eaton of Calais, Maine, and Lexington, Massachusetts, for $30,000 in 1890. Newspaper accounts of the length of the horse's hair differed, though according to this photograph's mount, his foretop was 10 feet, his mane 14 feet, and his tail between 12 and 13 feet.
The Eatons changed Oregon Wonder's name to Linus and immediately began to exhibit him along the eastern coast of Canada and the United States. The Eatons were notoriously offered $50,000 for Linus after their purchase, but the brothers stated that they would only consider selling him for $100,000.  Over the next three years, various advertisements described him as Linus, "The $100,000 Oregon Wonder" (despite having actually paid $30,000 for him). Linus sired two children, including Linus II, who was born shortly before the death of Linus in 1894 at Calais, Maine.  
To the good fortune of the Clements Library, in April 2022, we had the opportunity to acquire an account book kept by the Eatons during their eastern seaboard tour of 1893-1894.  The photo and the account book came to us from two different sources located in different States.  The Charles H. and Herbert W. Eaton Horse Tour Account Book contains expenditures for Linus' needs, transportation, advertising and costume items, practical needs of the touring persons, wages for unspecified work, telegrams and newspaper advertisements, and musicians.
The two items working in tandem give us a richer understanding of Linus' world. In the photograph we can see the ribbons in Linus' hair, while the account book gives us the cost of some of the horse's ribbons.
Apart from touring profits, the account book specifically notes proceeds in the way of "picture money"—almost certainly, documentation of the sale of photographs much like or exactly like the Clements Library's cabinet card.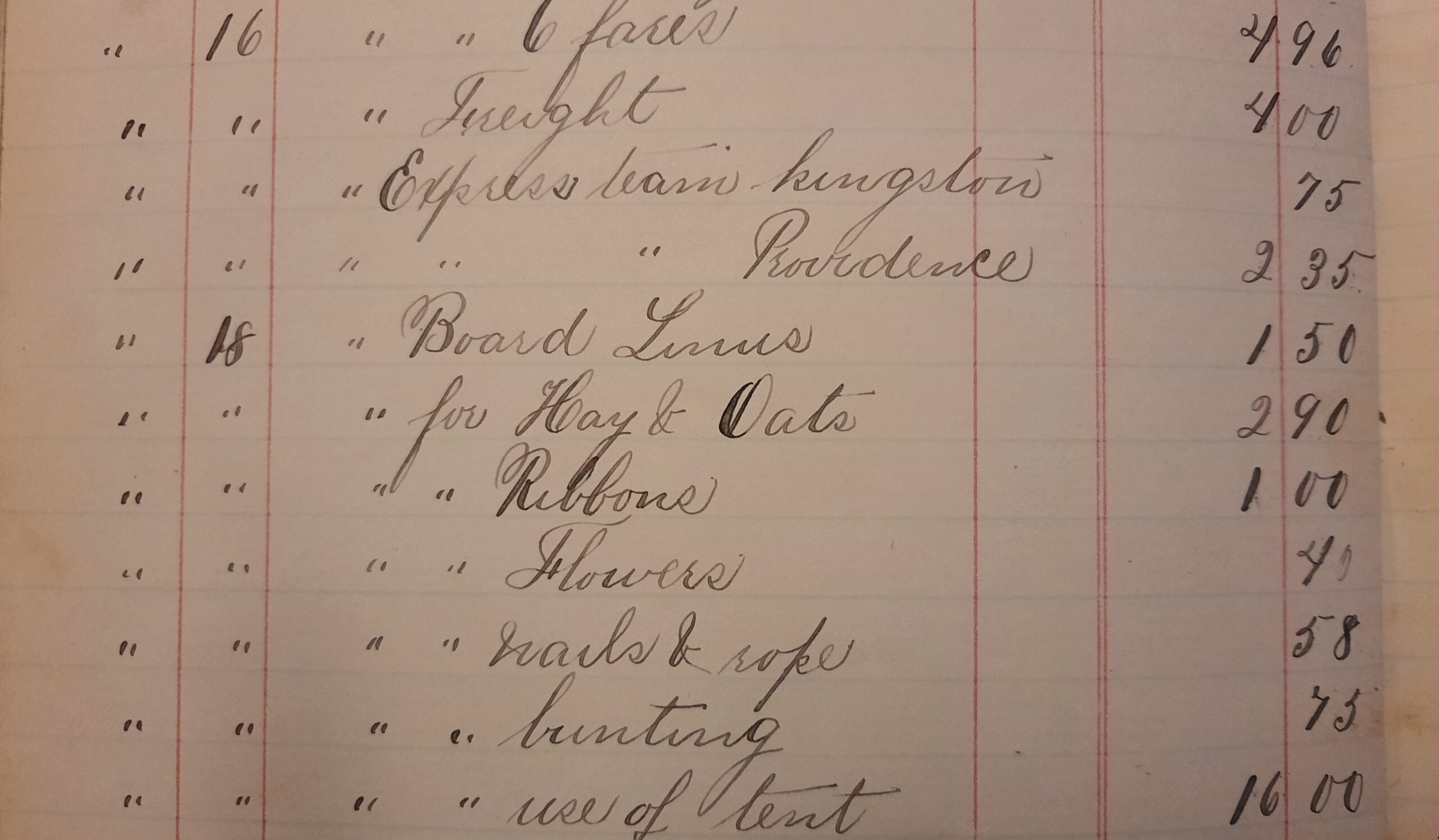 Ribbons, flowers, nails & rope, bunting, and rental of a tent are among the expenditures for Linus in September 1893.
As always, primary sources inspire questions and inspire curiosity.  Who is the man standing with Linus in the portrait? Charles? Herbert? The "Frank" who labored to care for him? 
What can we discover about the logistics of transporting an animal like Linus, clearly very large as seen in the photo, with recorded payments for different modes of transport in the account book? 
How was Linus treated or ill-treated as an animal in captivity? And of course, where does Linus' story fit into the larger picture of horses, animal treatment, entertainment, business, sideshows and exhibitions, transportation, accouterments of fashion, and more in the late-19th-century United States?
 Moreover, what can these documents do to expand, verify, or revise what we already know about these subjects? We look forward to researchers utilizing these materials for their scholarly or creative projects!
— Cheney J. Schopieray
Curator of Manuscripts