The Clements Library is pleased to announce that the following collections are now described online. These materials may be requested for use in the reading room when we are able to resume library services. Before planning your research visit, please contact us to verify in advance if our normal open hours for researchers have resumed.
* * *
Mélange de Toutes les Couleurs Propres au Dessein du Plan manuscript ([1750-1800]) – Processed by Meghan Brody
This 32-page manuscript notebook, dated to the second half of the eighteenth century, is an instruction manual for the systematic use of color in mapmaking. Though the writer and exact date of publication are unknown, it is assumed that the writer was a master mapmaker and that this notebook was meant to be distributed to students who were learning how to make maps. An English translation of the notebook is published in "Coloring Manuscript Maps in the Eighteenth Century," Clements Library Occasional Bulletin 4 (January 2017): 5-11.
Arithmetic copybook ([19th century]) – Processed by Jayne Ptolemy
This arithmetic copybook was compiled by an anonymous student in the nineteenth century. It includes rules and examples for addition, subtraction, multiplication, and division, as well as practical examples relating to money and weights and measures.
Ira James Titus poetry and commonplace book (1840-1844) – Processed by Sara Quashnie
This collection is a single bound volume containing poems and essays copied by Ira James Titus of Detroit, Michigan, in 1840. Several subsequent entries are by members of the Barlow family.
Mary Frances Grant Cramer letters (1866-1869) – Processed by Cari Griffin
Mary Frances Grant Cramer sent these three letters to her school friend Susie while traveling in France, Germany, Czechoslovakia, Austria, Italy, and Switzerland between 1867 and 1869.
Samuel G. Drake Manuscript, Additions and Corrections ([ca. 1866]) – Processed by Meghan Brody
The Samuel G. Drake Additions and Corrections manuscript is comprised of 121 pages of corrections, revisions, and notes Drake compiled around 1866 while he edited a new edition of Francis Baylies's 1830 book An Historical Memoir of the Colony of New Plymouth.
Edwin Stone, Rhode Island in the Rebellion subscription book (1863-1884 (bulk 1864-1867)) – Processed by Cari Griffin
This volume contains a record of subscriptions for the publication Rhode Island in the Rebellion from 1863-1884. Detailed entries across thirty-six pages include the names of subscribers, number of copies requested, and prices of the publication's two editions.
Hill family papers (1841-1915, bulk 1864-1907) – Processed by Sara Quashnie
The Hill Family papers are made up of the personal correspondence, diaries, scrapbooks, and photographs of the family of Alice Hale Hill, her husband U.S. Senator from Colorado Nathaniel Peter Hill, and their three children Crawford, Isabel, and Gertrude. The bulk of the material consists of letters dating from 1864 to 1907.
Hoit family papers (1803-1918 (bulk 1803-1873)) – Processed by Cheney J. Schopieray
The Hoit Family Papers are made up of correspondence, diaries, documents, financial papers, photographs, and other items related to the family of New Hampshire state legislator Daniel Hoit (1778-1859) and Sally Hoit (1786-1837); their children Julia Maria, Eliza Flanders, portrait painter and artist Albert Gallatin, and Reverend William Henry Harrison Hoit; and their children-in-law Ira A. Bean, Susan Ann Hanson Hoit, and Enoch P. Sherman. The family was based in Sandwich, New Hampshire.
Charles Brewster Ross collection (1874-ca. 1909) – Processed by Cari Griffin
The July 1, 1874, kidnapping of four-year-old Charles Brewster "Charley" Ross from a sidewalk in front of the family home in the Germantown neighborhood of Philadelphia, Pennsylvania became the first nationally publicized kidnapping for ransom case in the United States. This collection contains three items: handwritten notes, a pencil sketch portrait of Charley, and an undated newspaper clipping related to the continuing investigation of the child's abduction, ca. 1909.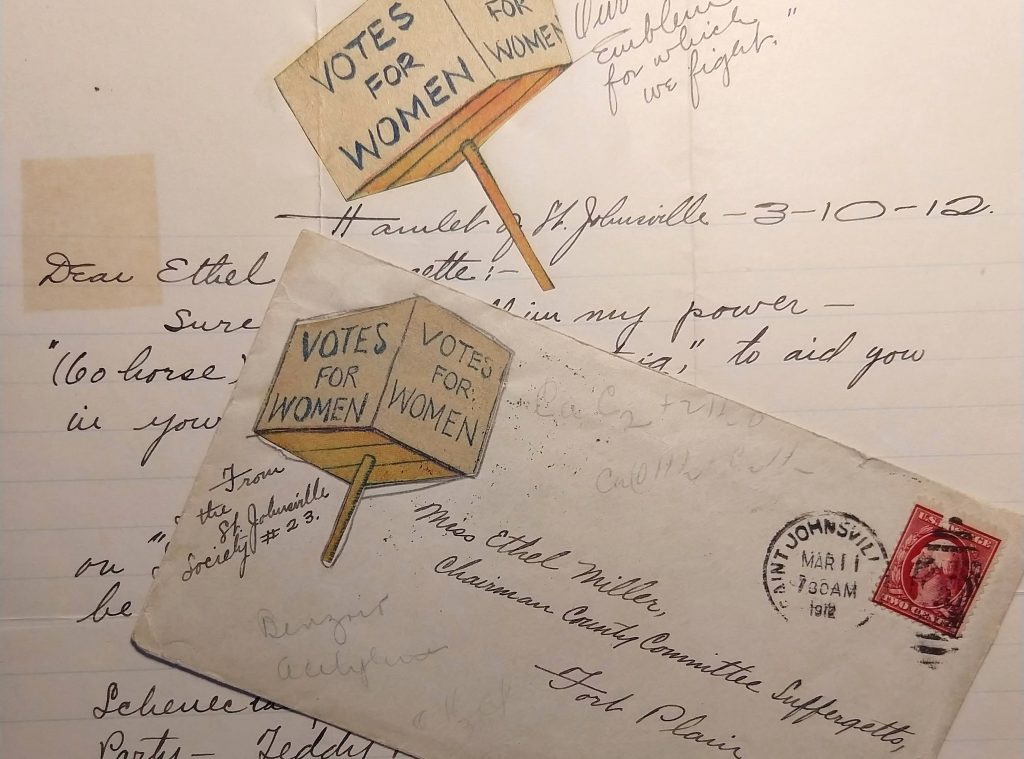 Women's Suffrage letterhead collection ([after 1895]-[1917]) – Processed by Sara Quashnie
This collection of 22 items bearing printed letterheads from various women's suffrage organizations. A portion of the collection is blank stationery. The correspondence relates to expenses, event planning, donation solicitations, and advocacy efforts. The majority originated from organizations based in Boston, Massachusetts. One letter has an anti-suffrage tone.
Lancisco Hill collection (1905-1911) – Processed by Jakob Dopp
The Lancisco Hill collection consists of one full-length studio portrait of Pima Indian Lancisco Hill as well as three letters sent by Hill to a white American woman named Frances W. Anderson Gillette between April 1908 and July 1911.
Archie Shields papers (1916-1918, 2007, bulk 1916-1918) – Processed by Sara Quashnie
This collection is made up of 71 items, including 28 letters written by Archibald "Archie" Shields of Detroit, Michigan, to his parents and sisters while serving in the Canadian Expeditionary Force during World War I. Shields served in France on the Western Front and, while on leave, visited friends and family in Scotland. The remaining materials include documents, ephemera, photographs, printed items, and one VHS tape.