The William L. Clements Library continues to acquire and process collections to help tell the diverse story of the American past. The 43 new finding aids listed below provide a sampling of these efforts. Here you will find manuscript materials that speak to women's lives — from a Confederate woman's diary, a hair album with clippings from friends and family — or collections that speak to women's relationships to music, translations, or friendship. Several recent acquisitions expand our holdings on incarceration, including papers on financial and administrative aspects of Mount Pleasant Prison/Sing Sing Prison, and an account book of a clothier who utilized the labor of convicted women.
Documents relating to slavery and manumission are also represented in this batch, including an account book from a slaveholding Jamaican family in the late 18th century and documentation of free African Americans in Ohio in the early 19th century. Whether it be account books, diaries, scrapbooks, or letters, a wide variety of 'new' sources are now at the disposal of researchers, who may come explore them as they work to enrich our understanding of the past.
*   *   *
A Pleasant Excursion or a Trip to Niagara manuscript (1825)
This slim volume contains a partial account of a trip from New York City to Niagara Falls in August 1825, with entries cutting off abruptly at Lockport, New York. The currently unidentified writer traveled on the incomplete Erie Canal aboard the safety barge Lady Clinton and by road on the last leg of their journey. The author included descriptions of scenery, geographic features, towns, and canal systems they passed. Within the volume are calligraphic headings, pressed leaves, and a color illustration of two birds and flowers.
Ella Dillard Bates diary (1862)
Ella Dillard Bates, originally of Alabama, kept this diary from January to April 1862 while residing in the "upper country" of Georgia, likely in Bartow County. She wrote of domestic affairs, tending to her infant son, Horace, relationships with neighbors, gardening, her husband's travel and visits to plantations, and interactions with "servants," likely enslaved men and women. Occasional references to Civil War events also appear in the volume, as well as brief references to conflict with the likely enslaved "servants."
Emily Hockaday Blair collection (1888-1894)
This collection consists of letters, manuscript maps, embroidery, and a photograph and calling card produced by or relating to the young Emily Hockaday Blair of Columbia, Missouri. The bulk of the collection is comprised of letters Emily wrote to her parents, Frank and Florence Blair, often addressed using nicknames "Faver" and "Murgee" or "Mudgie," and sent to them at various places like New York, Illinois, Missouri, and Indian Territory (present-day Oklahoma). In addition to commentary about Emily's daily experiences, hopes for visits, education, and acknowledgment of gifts, the letters also demonstrate her evolving handwriting.
Joseph W. Brown account book (1822-1858)
This account book contains financial documentation of Joseph W. Brown's activities from 1822 to 1858 in Whitingham, Vermont. His records principally relate to his apple orchard, cider mill, and agricultural pursuits, but the broad exchange of goods and labor present in the volume provide a glimpse into the activities and relationships of a nineteenth-century rural community.
Lydia Brown penmanship and commonplace book ([early 19th Century])
Lydia Brown compiled this notebook of copied poems, principally religious and moral in nature, sometime in the early nineteenth century. She often drew calligraphic titles and other embellishments, including borders, flowers, and leaves. Several times throughout the volume, Lydia Brown includes included "A E 12" after her name, possibly an abbreviation for the Latin phrase "aetatis," indicating she may have been 12 at the time of writing and the volume could have served as an educational exercise for learning penmanship.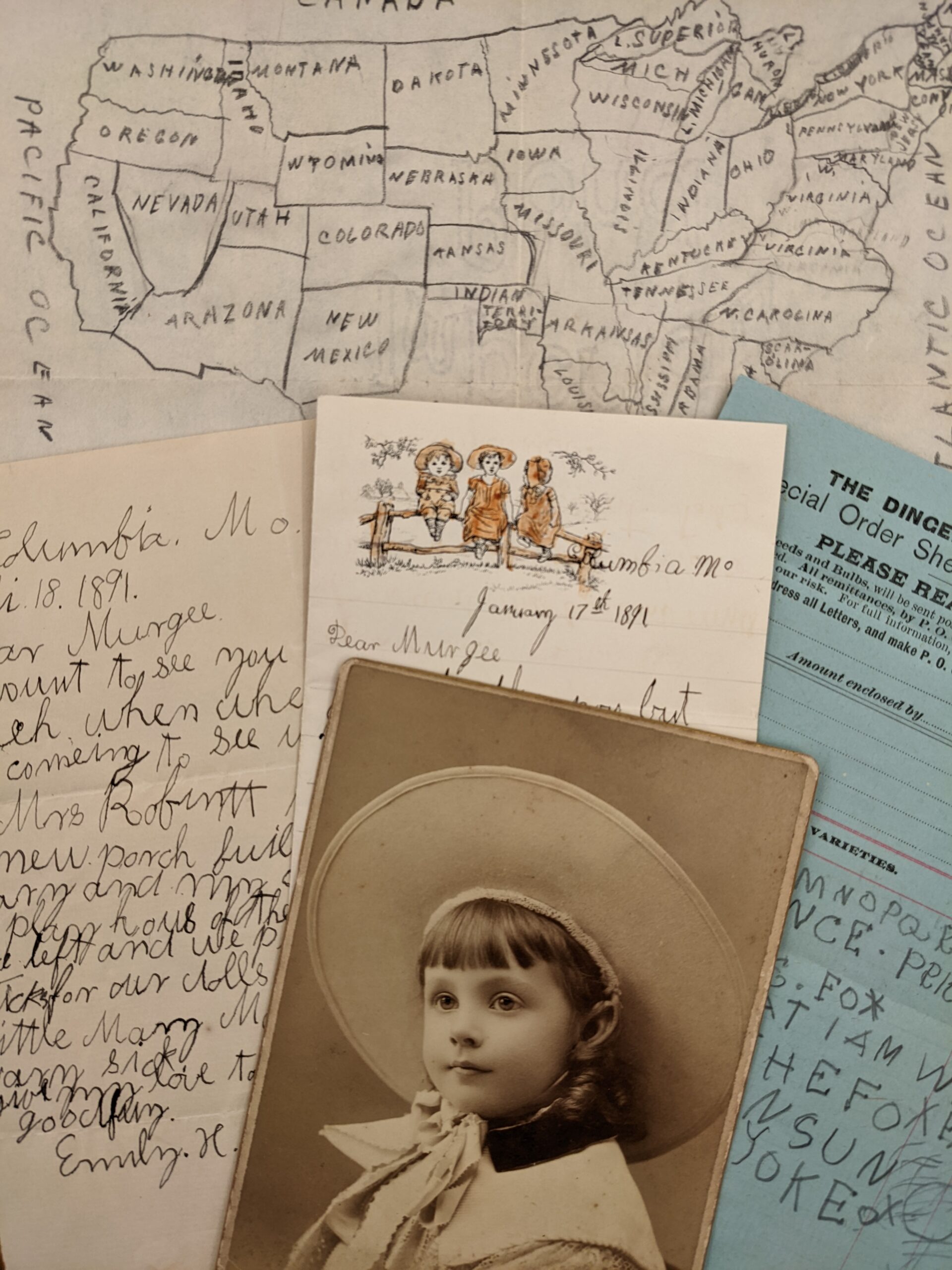 The Clements Library holds many 19th century children's letters and drawings. The Emily Hockaday Blair Collection includes not only letters written by the young Emily, but also some of her schoolwork and embroidery, with her photograph and calling card, giving a special glimpse into her world.
James L. Burkhalter account book (1873-1875)
In this account book, James L. Burkhalter of Maquon, Illinois, recorded financial transactions for his building and contracting business from 1873 to 1875, with many appearing to relate to laborers on his projects. Occasional details hint at the types of projects and activities supporting them, like payments for work on bridges, stonework, hauling loads of stone and sand, working in quarries, and making deeds. Main projects appear to have been on Wolf Bridge and Court Creek Bridge. Several pages at the end of the volume include accounts of men getting liquor and whiskey and notes dates of when individuals got drunk.
Canedy Family Hair album (1863)
This small hand-made volume contains 24 locks of men and women's hair, some of them tied with ribbon, braided, or looped. While its creator is not indicated, internal evidence suggests that Maryette Canedy of Northfield, Minnesota, likely compiled the booklet in 1863, to document friends and relatives in Minnesota and Vermont. A pencil, colored pencil, and ink illustration of a woman holding a bouquet of flowers is pasted on the front cover. Its inscription includes "Miss Emely [Shurpy?] drawing," her residence in Northfield, Minnesota, and the date of January 25, 1863.
James Chaney account book (1820-1826, bulk 1820-1823)
James Chaney used this account book to record financial transactions with patrons of his general store in Salem, Massachusetts, from 1820 to 1823, with one account dating into 1826. The account book records credits, debts, and the items sold or exchanged with patrons. Chaney sold foodstuffs, household goods, and alcoholic beverages, and several accounts include lines of credit for exchanges in goods and services beyond cash payments, indicating a form of bartering may have been occurring. At least five women held accounts with Chaney.
Ina L. Cooper notebook (1889-1890)
Ina L. Cooper kept this notebook to record her notes on Physiological Psychology in the spring term of 1889 and on Language Method in the fall term of 1890, likely reflecting training she was receiving to become a teacher. The Physiological Psychology section includes information about different bodily processes and their impact on pedagogy and student learning. Some of the physiological concepts noted include the nervous system, digestion, the senses, apperception and reproduction, attention and interest, among others. In the Language Method section, Ina Cooper kept notes regarding methods for instruction, ethics, and particulars relating to spelling, botanical study, and grammar.
Charles H. Davey received this pre-printed daily pocket diary from his mother Ella Chamberlain Davey on Christmas Day 1901, at which time he was 13 years old. Davey kept daily entries throughout 1902, documenting his school attendance, almost daily reading (though he almost never mentioned book titles), visits to the library, and recreation such as skating on the river and swimming in the creek. He also documented his chores, which included sawing wood, cutting ice, planting, and harvesting. Laid into the back endpapers are one invitation to a gift-giving party, and three pencil illustrations of railroad engines and cars.
Laura L. Earl friendship album (1860-1932)
Laura L. Earl's friendship album includes material dating from 1860 to 1932, documenting her relationships across several geographic regions. Entries include poems, signatures, quotations, brief comments, and drawings of calling cards with signatures added. The volume includes engraved illustrations, several entries that feature artistic elements, and miscellaneous tipped in materials.
Charles Henry Eaton and Herbert Williams Eaton Horse Tour account book (1893-1894)
This account book of Charles H. and Herbert W. Eaton is a record of expenses for a tour of Linus, an "Oregon Long-Haired Wonder" horse, from Nova Scotia and New Brunswick, Canada, to Augusta, Georgia, between July 7, 1893, and January 8, 1894. They listed revenue as "cash" and "picture money" (presumably for the sale of photographs). The expenditures are for Linus' needs, transportation, advertising and costume items, practical needs of the touring persons, wages for unspecified work, telegrams and newspaper advertisements, and musicians.
Eighteenth-century cypher book (1793)
This currently unidentified student's cypher book contains mathematical rules and examples largely in the service of commerce. Entries relate to the addition of money, addition of Troy weight, addition of dry measure, subtraction, a numeration table, a multiplication table, the Golden Rule (i.e. the rule of three), and similar concepts. Currency in this volume is almost exclusively British coinage, but at least one problem references conversion of British pounds into the (newly created) U.S. dollar. The covers of the volume are (apparently re-used) canvas, possibly sailcloth. The cypher book was owned by the Higgins family of Cape Cod, Massachusetts, and it contains names of Higgins family members, but the author is yet undetermined.
Examination of Benjamin W. Greene scrapbook (1866)
This scrapbook, titled "The Examination of Benjamin W. Greene," contains clippings of three short articles published in the Hartford Courant newspaper of testimony given at the trial of accused murderer Benjamin W. Greene in early 1866. Greene was charged with the murder of Eunice North Greene, his wife, on November 5, 1865, and the court sought to determine whether the homicide (and Benjamin's subsequent suicide attempt) was due to insanity.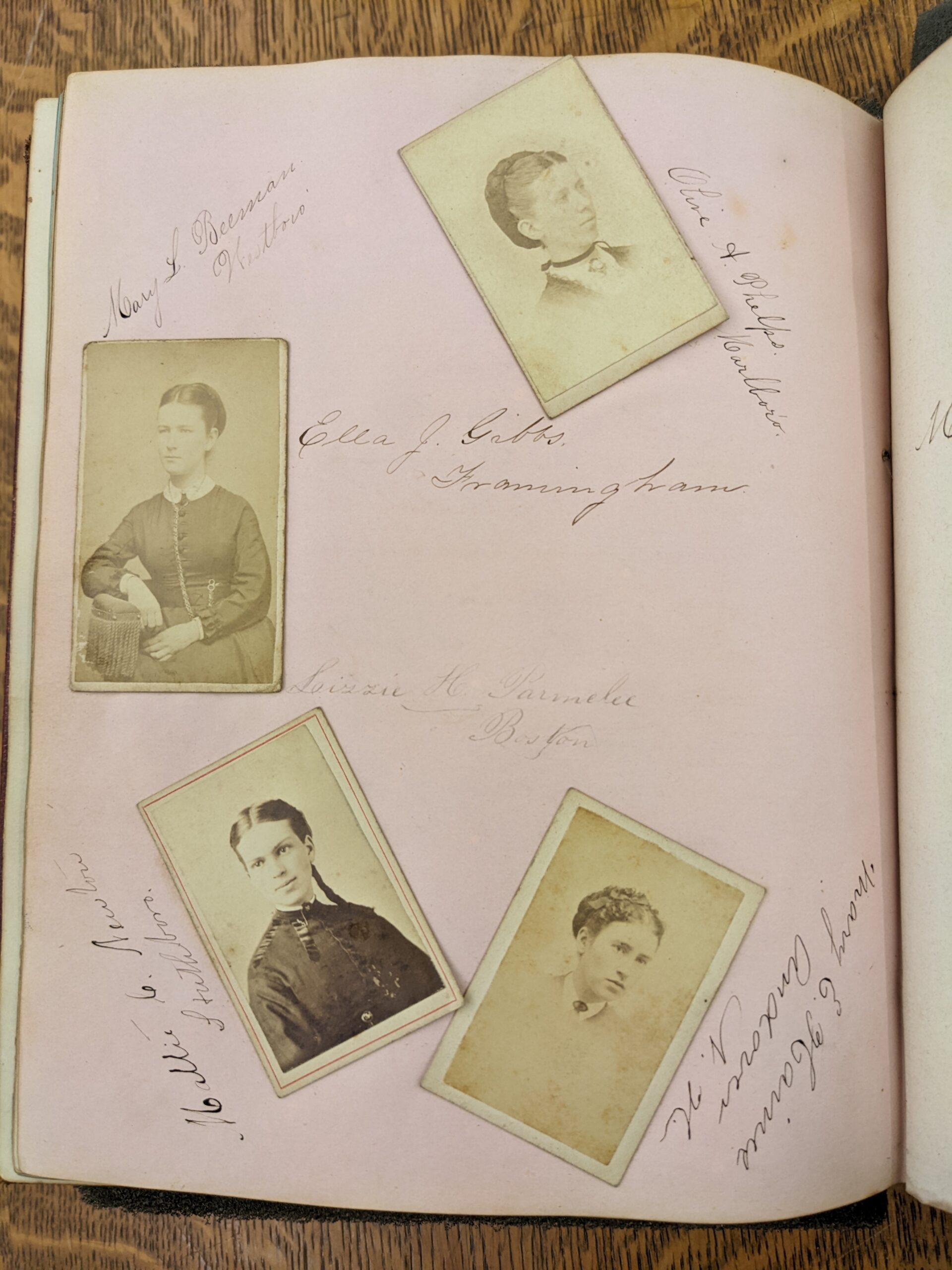 Among the Library's many commonplace books and memory albums is this unique example compiled by Edith A. Moore Frist, which includes photographs of some of the signers.
Edith A. Moore Frost commonplace book (1860-1893)
Edith A. Moore Frost's commonplace book includes material dating from 1860 to 1893, with signatures, poetry, and comments predominantly written by her classmates and teachers from Ashland High School in Ashland, Massachusetts, and the Massachusetts State Normal School in Framingham, Massachusetts. Acquaintances in Kansas wrote additional entries in the 1880s. Thirty-two photographs of signatories are pasted or tipped into the volume, along with other materials like a fabric swatch with a hair clipping attached, embellished paper, and a pressed leaf.
Andrew Robinson Giddinge diary, Duane Norman Diedrich Collection (1835)
Andrew Robinson Giddinge , a Pejepscot, Maine, innkeeper, kept this diary between January 1 and February 28, 1835. His descriptive entries pertain to everyday aspects of his life, such as household chores, Christian Bible reading, newspaper and periodical reading, hearing difficulties, trips to New Gloucester, and visits with friends and family. Giddinge filled the margins of this diary with numerous small sketches pertinent to their accompanying entries.
George Gilbert diary (1848-1862)
George Gilbert kept this volume from 1848 to 1862, writing diary entries and other documentation relating to his work as an itinerant teacher, primarily in Pennsylvania and Maryland. He also recorded various financial transactions, including matters relating to agricultural labor in Massachusetts.
Christian Hoffman, Aus Erlesene Gedichder Nebstselbst Geistliche Gedichder commonplace book of poetry (1857)
Christian Hoffman, of Cincinnati, Ohio, and Newport, Kentucky, compiled this 201-page book of poetry, largely in the German language, with eight poems in English. Hoffman's selections include poems or poem fragments by Henry Kirke White, Lord Byron, Agnes Franz, Friedrich Rückert, Christian Hoffmann von Hoffmannswaldau, Friedrich von Sallet, August Henrich Hoffmann, and others. Christian Hoffmann apparently included several original spiritual poems, such as "Des Kinder schwingender Geist" (pages 18-24) and "Die Absched des Prindes Gottes" (pages 169-170). Several blackletter script titles, decorative initials, and illustrations are present. The three illustrations include an urn with flowers (page 69), an angel with a harp (page 168), and a vignette of three maidens holding a banner with the words "O laube", "Liebe und" and "Hoffman" (page 76).
Howard County (Mo.) Circuit Court documents (1818-1857)
This collection is made up of 43 documents produced or filed by the Howard County, Missouri, Circuit Court between 1818 and 1857. It includes depositions, summonses, subpoenas, bonds, financial records, itemized accounts, and other items. The cases pertain to wolf and large cat bounties (1818); local elections (1821); unpaid labor and lumber accounts (1840); the sale of Green, an enslaved teenager (sheriff's announcement, 1846); an estate dispute on the ownership of named enslaved women and men (1849); unpaid mill labor (1852); Ben, an enslaved man permitted to act as a free man and hire himself out for work (1855-1856); unpaid labor for the construction of a tobacco house (1856); unpaid labor for blacksmithing (1857); and money owed for purchases by a "fancy liquor store" (1857).
Illustrated scrapbook (1850s-1870s)
This scrapbook includes clipped articles and images, original drawings, and written entries within the pages of a 1850s blankbook of receipts. Contextual clues indicate that individual(s) added to the volume at later dates, pasting clippings over used pages, and internal evidence suggests at least one compiler may have lived in Maine.
Original drawings primarily center on themes of violent encounters between scouts and Native Americans, romantic entanglements, and conflict. Sometimes illustrated newspaper and magazine clippings are pasted throughout the volume, many relating to themes of marriage, love, women, family, and memory.
Several pages were used to copy a portion of an undated letter, an essay, and a manuscript poem.
Brig Kitty logbook (1785-1787, bulk 1785)
The Brig Kitty logbook spans April 9 to August 19, 1785, detailing the merchant ship's voyage from the port of Piscataqua, likely near Portsmouth, New Hampshire, to the West Indies and back to the region near Cape Cod, Massachusetts. The bulk of the brig's daily entries are recorded in columns to notate the hour of the day, knots and half-knots for speed, the brig's course, the direction of the winds, and general remarks. Most of these remarks relate to weather, sea conditions, handling of sails, and latitude observations. The volume also includes a "Harbour Logg" kept from May 22 to July 22 at the "Lee Cayes [Cays]", recording the unloading of staves, boards, and shingles while the Kitty was at its destination in the West Indies, as well as molasses taken on board for the return voyage.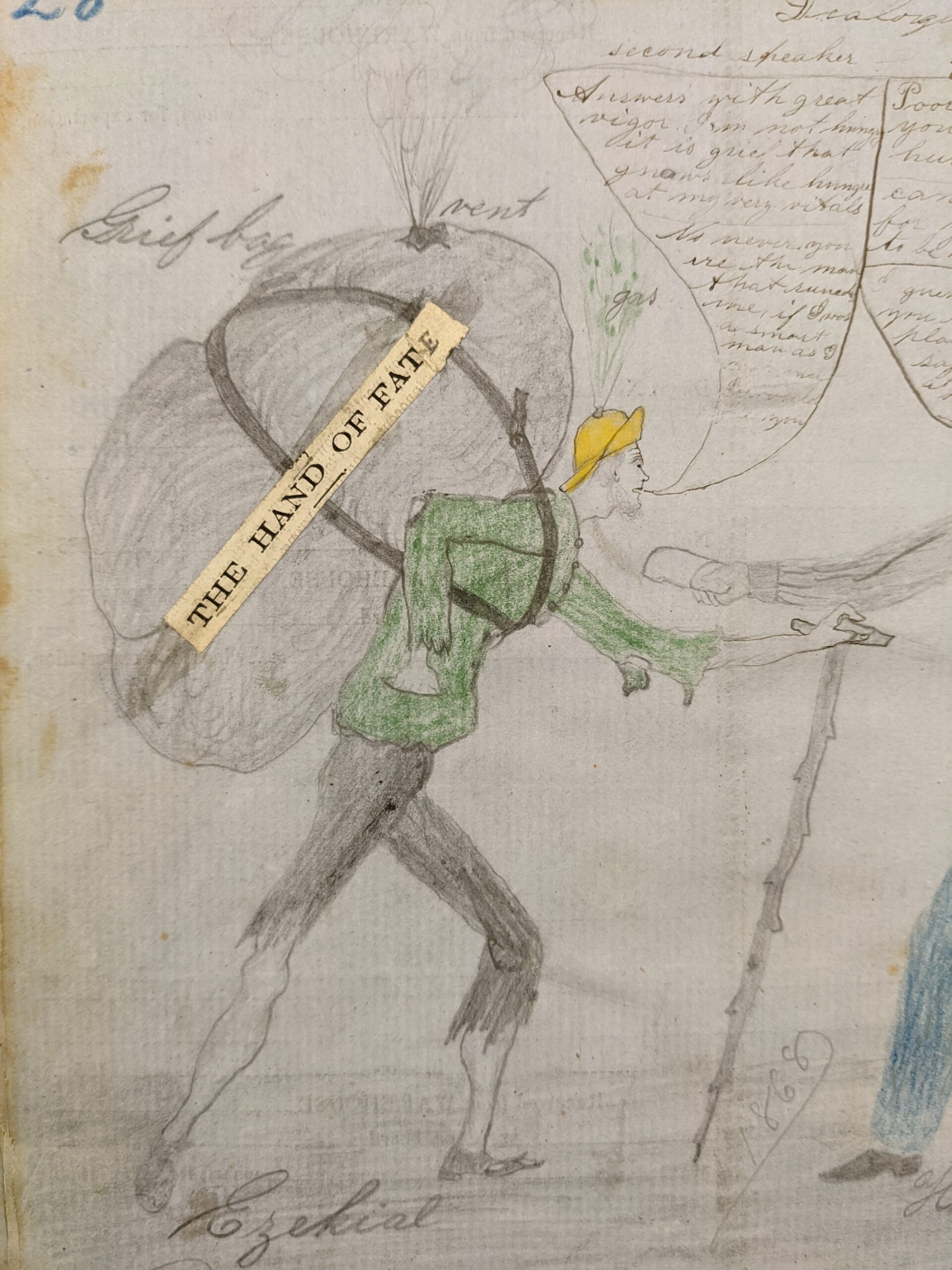 The newly processed Illustrated Scrapbook includes evocative mid-nineteenth-century sketches, including this one where the fictional character Ezekial carries a "Grief bag" and the "gas of hope" spews out from the crown of his head.
Rd. Kraker, Little Girl's Own Book manuscript (1864)
Rd. Kraker created this 20-page handwritten booklet titled "Little Girl's Own Book," with an introduction dated April 1, 1864. The manuscript was "Brilliantly Illustrated by Darling" and identified as a first edition in the "1st Series of Confederate Primers," "printed" by the "Southern Emesis Book and job Printing Office." The booklet contains a story, with added notes on proper behavior. According to Kraker's introduction, the content was gleaned from conversations in the "Lager Bier Saloon of Hanns Kroftler" and its earnestness and sentiment was adapted to the "comprehension and bias of mind of the female children of the south." The author told the story of a Northern and a Southern girl, in which the girl in the north became tired of living on a farm and eating onions, so decided to travel to the warmer climate of the south and visit her friend. Upon arriving by train, she witnessed a battle and fell in love with a Confederate soldier. After he returned to the battlefield, she gained solace from her southern friend, through listening to music, by singing and writing, and by seeking treatment for sadness from a physician.
Lycoming County (Pa.) Court of Oyer and Terminer and Quarter Sessions documents (1881-1907)
This collection is made up of 81 documents produced or filed by the Pennsylvania Court of Oyer and Terminer at Lycoming County between 1881 and 1907. It includes warrants, subpoenas, summonses, legal transcripts, financial papers, and other documentation. The defendants in these cases were all women, including at least one teenager. They were accused of crimes including theft of milk, larceny, obtaining goods under false pretenses, poisoning of animals, sexually explicit swearing, public intoxication, assault and battery, perjury, bigamy, arson, and others.
Jonathan W. Marshall account book (1857-1868, bulk 1858-1867)
Jonathan Wesley Marshall kept this account book from 1857 to 1868 to record financial transactions related to his work as a physician in Middle Granville, New York. Most accounts include only a brief note, such as "1 Visit & Medicine," who Marshall attended, and the associated fees. Throughout the volume, however, Marshall occasionally provided more details about the nature of the ailments, revealing that he was working with his patients for obstetrical cases and follow up care, extracting teeth, lancing and dressing various wounds and burns, setting broken bones, offering vaccinations, and handling common ailments like diarrhea, sore throats, sore eyes, and coughs. Most of the accounts were settled with cash, but credits are documented throughout the volume that suggest some bartering was occurring.
William McMullin, Register of Forfeited Estates account book (1780-1784, bulk 1780-1782)
This 10-page account book contains a register of forfeited Pennsylvanian estates formerly belonging to persons attainted of treason by the Supreme Executive Council of the Commonwealth of Pennsylvania. Benedict Arnold and Hugh Ferguson are among the estate owners in the volume. William McMullin received payments for the purchased estates largely between 1780 and 1782, with several transactions paid for using Continental currency. The register contains information about the size and scope of the estates, the date and amount of the sales, and to whom the forfeited estates were sold. A fragment from the February 13, 1779, issue of the Pennsylvania Packet newspaper was pasted to the inside covers of the volume.
P. H. Miller docket book (1869-1887, bulk 1869-1870)
H. Miller, Justice of the Peace for Warrick County, Indiana, maintained this docket book from 1869 to 1871 to record legal cases that came before him relating to debt, assault and battery, property disputes, and one case relating to mental illness. Additional financial documentation relating to the cases dates to 1887.
Mount Pleasant Prison receipts (1833)
This collection is made of nine receipts for payments made to agent and principal keeper of Mount Pleasant Prison Robert Wiltse for payments made and received by the facility between April 1, 1833, and June 30, 1833. The receipts document payments for pardoned convicts ("expenses" owed to "place of conviction"); cartage of limestone, boxes, locks, sundries, and railroad blocks; "36 sides upper" leather; postage; old copper; casks of winter oil; 25,300 convict rations; and prison personnel (signed by each man, with their positions and pay identified). NB: Mount Pleasant Prison was located at Sing Sing, New York, and decades after these receipts, the institution took the name Sing Sing Prison.
Newington (N.H.) account book (1870-1880)
This volume contains nine pages of accounts, beginning with the purchase of "Brewster Farm" at Newington, New Hampshire, in September 1870. Scattered accounts document the sale of a portion of the farm to L. L. De'Rochement, annual rentals of pastureland, and the sale of pears, apples, cider, and hay. The document concludes March 30, 1880. The bookkeeper recorded his entries in a slim blank book with printed covers, sold by Cutter Tower & Co. Stationers, No. 89 Devonshire Street, Boston. The front cover bears the title "Writing Book" and an illustration of a hand holding a steel pen. The back cover shows a multiplication table and chart.
New York (State) Farmer's diary (1852-1855)
This diary was kept by a farmer, likely in Saratoga County, New York, from 1852 to 1855, detailing his agricultural work, accounts with laborers, and local news. The diarist recorded weather as well as his work planting, harvesting, and tending to various crops, orchards, and livestock. The writer noted the local hired laborers who worked for him, and several times he used disparaging remarks about their Irish heritage. The writer also wrote about local events, including church affairs, social events like marriages and deaths, correspondence with family and friends, and notable occurrences like fires, fairs, and attending a séance. The writer identified as a Whig and recorded political events like election days, the death of Daniel Webster, the inauguration of Franklin Pierce, a lecture by Horace Greeley, and the Crimean War. The writer also took a trip to New York and the State Fair at Saratoga Springs, and included ongoing comments about the travels and jobs undertaken by his son, Augustus.
James O'Hara record book ([after 1798])
Informally titled "Schedule of Titles to the real property of James O'Hara West of the Allegheny Mountain", this volume contains 12 pages of O'Hara's Pennsylvanian real property transactions in Westmoreland, Washington, and Allegheny Counties, and "Western Territory." The entries include summary information about specific patents, grants, indentures, deed polls, bills of sale, releases, articles of agreements, and land warrants. In addition, the volume includes seven untitled property maps showing numbered lots in and around the confluence of the Monongahela and Allegheny Rivers, Pittsburgh and Allegheny. The most robust map includes scattered names of owners and renters in Pittsburgh. The volume may have been compiled over a period of time, but the latest portion appears to date after 1798.
Ohio Court of Common Pleas (Jackson County) Manumission Documents and Register of Justices of the Peace (1816-1854)
The first portion of this volume dates from 1816 to 1854 and contains records on African Americans registering with the Jackson County, Ohio, Court of Common Pleas, in accordance with the state's restrictive Black Laws. The bulk of the entries are copies of evidence used to prove free status with brief notes about the officials who attested to the information in the originating state and recorded the information in Ohio. Occasionally the entries provide physical descriptions of the registrants, including general age, skin tone, height, hair, and scars or marks on their bodies. The second portion of the volume primarily contains copies of the commissions for Jackson County justices of the peace from 1816 to 1842. Occasional justices' resignations appear as well as documentation of ministers authorized to solemnize marriages.
Jane Patton Manuscript Sheet Music collection ([19th century])
This volume contains pre-printed music staves, on which Jane Patton wrote musical notes and lyrics for compositions ranging from light opera to popular songs. Most of the works are instrumentals, but a number of vocal pieces are present. Some of the titles include "Hewitt's Quick Step" by T. Rebhun, "Listen to the Convent Bells," "La Poule," Kathleen Mavoreen," and "Oh! Dinna Ask Me," as well as a few pieces by Thomas Haynes Bayley, such as "Isle of Beauty, Fare Thee Well." Some tunes have manuscript notations such as "from Harriet Taylor" or "from Harriet Scott." The printed pages are marked "ORRS' IMPROVED."
Protestant Hymns and Songs manuscript ([1850s?])
A currently unidentified writer copied six Protestant Christian hymns and songs into this volume sometime around the 1850s. The 16 pages of text include "Montgomery", "The Romish Lady", "The Orphan's Song", "Gloom of Autumn", "Remember the poor; or, the Widow's Prayers" (by Rev. H. G. Barrus), "Dying Hymn" (by Alice Cary). The copyist wrote the hymns and songs in a slim blank book with blue-green covers. The front cover bears a printed decorative border at the center of which is an armored prince with sword and shield, standing before a seated Clio with two books and holding out a quill pen to him. Surrounding text explains the relationship between history and "men's great actions." The back cover bears a printed multiplication table and advertising information for Benjamin B. Mussey & Co., Publishers, Booksellers, and Stationers, 29 Cornhill, Boston (including a list of popular books and music books published by Mussey, and types of stationery supplies).
Providence (R.I.) Pen-and-Ink caricatures ([19th century])
This nineteenth-century album contains 46 once-bound pen-and-ink caricatures on heavy card stock, each card with or formerly with metal eyelets on one short edge. A pencil inscription at the back of the volume reads, "Mr. Albert L. Briggs, Providence, RI," and internal references to Providence, Rhode Island, further suggests that either Briggs or another local resident may have produced the artwork. The figures represented in the volume vary widely and some are more sympathetic or more disparaging than others. The illustrator relied heavily on exaggerated features, stereotypes, and jokes directed at people's physical appearance to provide social commentary especially on race, ethnicity, gender, and class.
Tristram Ractcliff family account book (1775-1786)
This account book documents the financial transactions of the Ractcliff family of Vere, Jamaica, from 1775-1786, as they managed sugar plantations, enslaved laborers, and estate disputes. The Exeter Plantation is the principal nexus of activity, but the volume also relates to Greenwich Plantation and Harmony Hall, all in Vere. The Ractcliffs also had accounts with Rockland Farm, Tom King's Plantation, and Carver Plantation. Information relating to inheritance and estates from the Read and Ractcliff families is also present.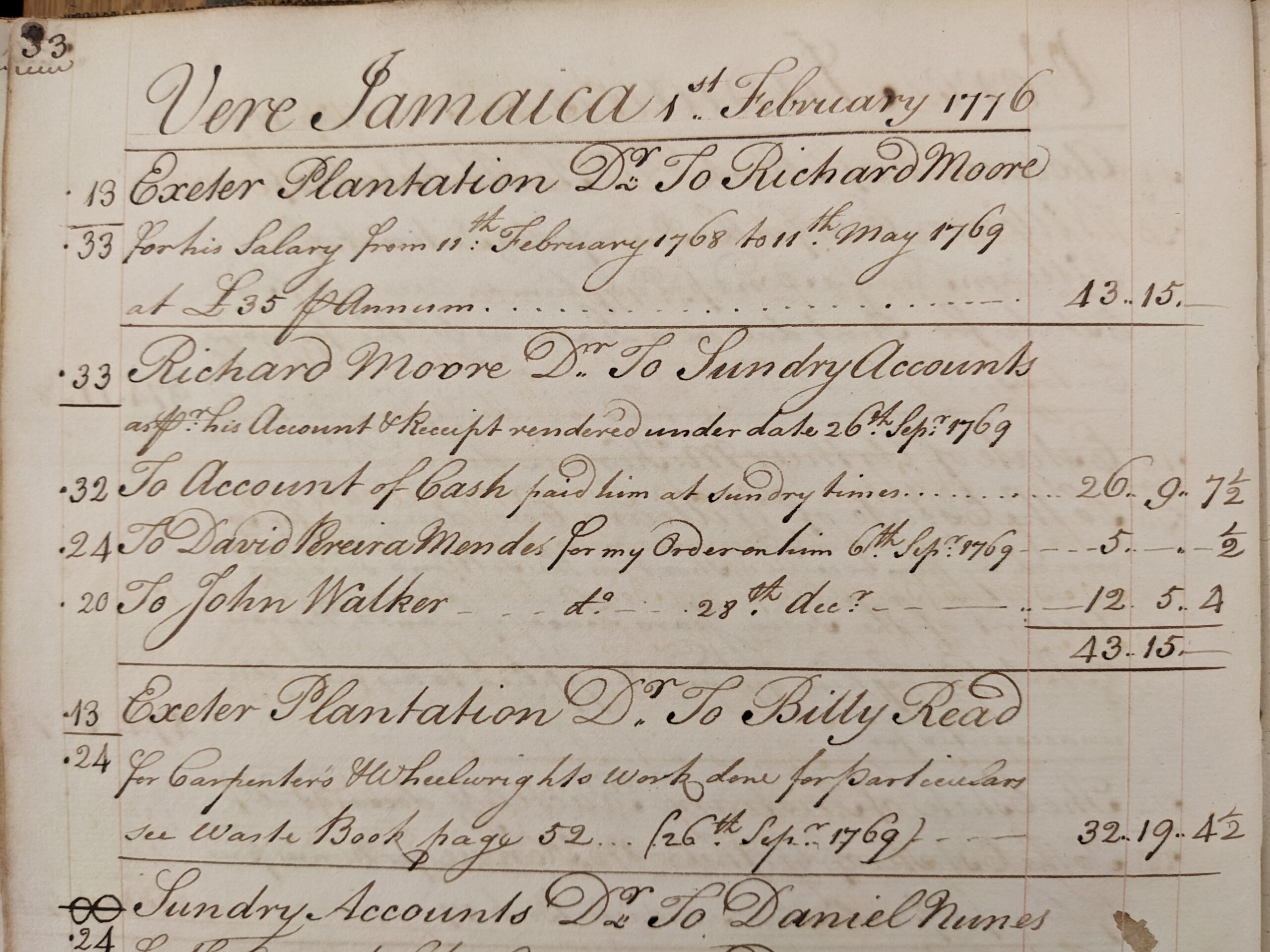 The Clements has strong holdings relating to the 18th-century Caribbean, and the Tristram Ractcliff Family Account Book helps tell part of that story by relaying the detailed financial affairs of a slaveholding family managing sugar plantations in Vere, Jamaica.
Jacques-Henri Bernardin de Saint-Pierre, Paul and Virginia manuscript translation (1824-1825)
Sarah Hitchcock began this English translation of Jacques-Henri Bernardin de Saint-Pierre's Paul et Virginie in 1824, and Gaunnetta Grigg took over the project in 1825. The volume features a calligraphic title page with the title, "Paul and Virginia By James Bernaedian Saint Pieere. Translated from the French By Sarah Hitchcock On the 20th Oct. 1824. New York." Additional notes at the end of the volume read, "From the word flow , page 82 the translation was finished by Gaunnetta Grigg on the 28th of November in the year of our Lord 1825. Since this translation there has been a sequel published in the french language." The text is neatly written, indicating this was likely copied as a final version, but there is still evidence of erasures and corrections within the volume.
J.M. Schermerhorn Penmanship collection (1857-[1870s?])
This collection is made up of two blank books, apparently by students of penmanship instructor J. M. Schermerhorn; a sheet bearing the name J. M. Schermerhorn in handwritten block letters; and a printed advertisement for J. M. Schermerhorn's penmanship lessons (and hand-written visiting and wedding cards). The blank books, apparently kept by Devillo W. Northrup and Owen J. Lewis of Utica, New York, are filled with penmanship exercises. Their work is largely repetition of city names, but also includes some personal names and other text. The cover inscriptions include significant flourishes and illustrations of quill pens.
Elizabeth H. Schuh composition notebook (1891-1893)
Elizabeth H. Schuh ("Lizzie"), possibly of Lime Rock, Pennsylvania, kept this composition notebook as a 12-14 year-old student, between 1891 and 1893. The volume includes short essays on etiquette and behavior, nature-related topics (such as bees and oranges), natural science, and geography. A portion of the notebook focuses on forms of correspondence and financial receipts. Other essays focus on prominent figures in the history of the United States, such as Andrew Jackson, Washington Irving, and Daniel Boone.
Cletus Setley sketchbook ([Civil War Era])
As a youth, Cletus Setley of Reading, Pennsylvania, kept this 31-page sketchbook around the period of the American Civil War. He created pencil doodles, pencil sketches, and pencil and watercolor illustrations of people, ships, caricatures (including anthropomorphic creatures), and a possible story narrative. One page is headed "1864 Members of Company," including Cletus Setley and other names organized by military rank. The volume has brown leather wrappers, and the cover reads, "No. 1 Meredith Henderson & Co."
Sing Sing Prison Board of Inspectors and of Inspector in Charge minutes (1865-1874)
This volume is made up of three sets of entries: reports of the inspector in charge of Sing Sing Prison, minutes of the Board of Inspectors of State Prisons, and a continuation of reports of the inspector in charge of Sing Sing Prison. The Board of Inspectors concentrated on inspections, facilities, maintenance, personnel, order, discipline, finances, convict labor according to the contract system, the female prison, prisoner transfers (including to Auburn Prison's asylum for mentally ill convicts), and other matters. The minutes and reports are typically brief, but taken as a whole they offer detailed insight into the workings or proposed workings of the State prison from the perspective of this administrative body.
Dennis Skehan tavern account book (1765-1772)
This account book contains financial records for customers' purchases from Dennis Skehan's tavern from 1767 to 1772, principally of alcoholic beverages though he also sold other items. Entries that note fees for boarding and food indicate that the tavern may also have functioned as an inn. A number of entries reflect the making or repair of clothing and shoes, suggesting some tailoring work may have also been happening in the family. In addition to cash, patrons also payed via goods and labor, indicating a barter system was operating. The exchange documented throughout for grains may relate to ingredients used for the production of alcohol.
Waynesboro (Va.) Printer's account book (1901-1904)
This 32-page account ledger documents sales made by an as-yet unidentified printer in or near Waynesboro, Virginia, from 1901 to 1904. Most entries include the date of purchase, the purchaser's name/business, quantity and type of items sold, prices, and occasionally markings indicating the receipt of payments. The types of items sold include circulars, envelopes, billheads, letterheads, notices, statements, ball invitations, memos, tickets, folders, booklets, blanks, notes, reports, printing jobs, and at least one typewriter. Quantities of sold items largely range from the low 100s to 1,000 pieces. Purchasers included the Henckels, J. A. Patterson, the Stuart Draft Mill Company, the Belmont Hotel, Blue Ridge Furniture Company, Bean's Photo Gallery, Basic Lithio Spring Company, Union Baptist Church, Union Sunday School, Presbyterian Church, Crimora Mine Company, F. M. White & Bro., and many others. In July 1901, the printer received orders of tickets and receipts for a Baptist bazaar.
Townsend Young daybook (1876-1877)
The Townsend Young daybook contains financial accounts for Young's business as a clothier in Sing Sing, New York. His clients were predominantly individuals, who paid cash for many types of clothing, cloth, tailor work, and sewing tools. He also rented Singer sewing machines. Each entry includes the customer name, goods purchased or rented, costs, and reference numbers. While Townsend Young held a work contract with Sing Sing's female prison during at least part of this period, no products in this daybook are specifically identified as the result of contract system labor.