Nestled in the Clements Library's Oliver Hazard Perry Papers are remarkable documents detailing the commodore's naval career, with some 200 pieces highlighting his service in the War of 1812. In September of 1813 he famously won the Battle of Lake Erie, a victory that secured American control of the Great Lake and ensured their claims to the surrounding region following the end of the war. Such an important naval battle garnered much recognition in the immediate aftermath, catapulting Perry to fame.
On September 15, 1813, just a few short days after the battle itself, Perry wrote to his wife, Elizabeth, to whom he'd been married only two years.
"My dear and beloved friend, you will easily conceive how constantly and entirely my time is occupied. I have hardly allowed myself to sleep since the action. Securing the prizes & prisoners, has required the greatest exertions… It is considered the war is nearly to an end in this quarter– nothing shall detain me from home, after I have seen every thing properly disposed of, it will take me some time however. — With what rapture shall I return to those domestic enjoyments, how I long again for that happiness that is only to be found at my home."
Weary from the battle, Perry longed for a reprieve. National interest in the dramatic event, however, would continue to demand his attention long after the affair was settled. Famed artist Thomas Birch stimulated public interest by producing impressive oil paintings of the Battle of Lake Erie, depicting British and American ships clashing amidst waving flags and the theatrical haze of cannon smoke.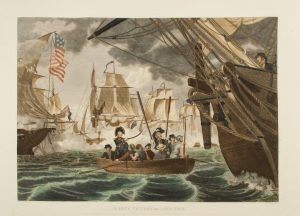 This nineteenth century print, Perry's Victory on Lake Erie, was engraved by Alexander Lawson after one of Thomas Birch's paintings of the battle. Joseph Delaplaine was a known publisher of this print.
Birch was already busily working on one canvas by early November 1813, as indicated by a letter in our Perry Papers. Joseph Delaplaine, Philadelphia publisher, wrote on behalf of Birch,
"I have already taken the liberty of writing to you on the subject of an intended representation of the victory on Lake Erie under your command, to be executed by Thomas Birch Esqr., who is confessedly the most eminent marine & Landscape painter in America. I am still without your reply.
The canvas is already prepared & Mr. Birch is engaged in the execution of the picture. Instead of having it Eight feet long by five feet and a half high as we originally intended, it will appear including the frame Thirteen and a half feet long, by Nine feet high. The top of the frame will be ornamented on a piece… to be gilt, on which Mr. Birch will paint trophies in Brown colour. The picture to rest on cannon Balls gilt."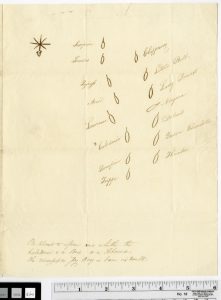 Delaplaine included a sketched map of the ships as they appeared during the battle, asking Perry to verify their positions to ensure Birch's painting (and the subsequent engraving of it that Delaplaine would publish) would be as historically accurate as possible. Delaplaine wrote again on November 20th, his fourth attempt to elicit a response from Perry on the matter. "I need not inform you that the picture in its progress excites public attention, and the Citizens of Philadelphia at large have expressed much desire to see its perfect completion which will be effected as soon as I am honored with a letter from you."
We do not have Perry's answer to these inquiries at the Clements, but his prolonged silence to Delaplaine's requests certainly speaks to the tension between a naval commander fighting a war and a newfound hero confronting his status as a public figure. The holdings at the Library give a fascinating glimpse into the Battle of Lake Erie and its impact on the commodore that orchestrated its victory.
Jayne Ptolemy
Assistant Curator of Manuscripts