The William L. Clements Library is pleased to announce that five of its manuscripts collections are digitized and accessible online. These collections mark the beginning of the Library's efforts to provide free and open digital access to its collections of handwritten early Americana. The digital versions are complete and presented in a manner that reflects their physical/intellectual arrangement.
Screenshot of a July 4, 1782, muster roll from the Clements Library's German Auxiliaries Muster Rolls collection.
At the Clements Library, our mission is to collect and preserve primary source materials, to make them available for research, and to create an environment that supports and encourages scholarly investigation of our nation's past. We acquire, preserve, and provide access to original historical materials and we believe very strongly in the educational and emotional value of interacting directly with them. Notwithstanding, the digital versions of our holdings provide an especially important service to scholars and other researchers who are unable to travel to Ann Arbor or who may not have the time to complete their research in our Avenir Foundation Reading Room.
The Clements Library's manuscripts holdings are extensive and our priority lists for digitization projects are varied. We selected these first five collections based on a variety of criteria, with a particular eye toward testing the format and display of the digital versions. The selections therefore include examples of single and multi-series collections, oversize manuscripts, and a mixture of bound and loose-leaf items. We also took into consideration patron use, size (the initial collections are all small), and digitization funding. The digitization of the Samson Adams Papers, for example, is thanks to funding from the University of Michigan's Diversity, Equity, and Inclusion initiative.
The five selected collections will serve as proofs of concept for future grant proposals for larger, time- and labor-intensive projects, such as the digitization of our American Revolutionary War collections, women's diaries, Civil War collections, or others.
Digitized Manuscripts Collections:
German Auxiliaries Muster Rolls, 1776-1786 (bulk 1781-1783), comprised of 70 muster rolls and 15 additional letters and documents of the German regiments employed by the British to fight in the American Revolutionary War. Digital collection located at: https://quod.lib.umich.edu/g/germanaux/
Jonathan Chase Papers, 1775-1797, made up of letters and documents relating to the services of Colonel Jonathan Chase, of the 13th and 15th New Hampshire Militia regiments, during the Revolutionary War. Digital collection located at: https://quod.lib.umich.edu/c/chase/
Samson Adams Papers, 1767-1794, comprising the estate and business documents of Adams, a free man of African descent living and working in Trenton, New Jersey, in the late 18th century. Adams worked as a carpenter and laborer, and produced and traded in a variety of items, including soap, milk, corn, and construction materials. Digital collection located at: https://quod.lib.umich.edu/a/adams/
Samuel Latham Mitchill Papers, 1801-1829 (bulk 1801-1813), made up of over 500 letters from the U.S. Congressman to Catharine Mitchill, his wife. These important letters touch on a wide variety of topics, including domestic politics and foreign affairs; relations with European powers; the Barbary Wars and other naval matters; the Aaron Burr conspiracy; Washington, D. C., society; Mitchill's scientific endeavors and sample collection; and his family life and travel plans. Digital collection located at: https://quod.lib.umich.edu/m/mitchill/
Elizabeth Camp Journals, 1819-1825, documenting her time spent with the Mahicans at Stockbridge, Massachusetts, as a schoolteacher and unofficial Congregationalist missionary. Digital collection located at: https://quod.lib.umich.edu/c/campe/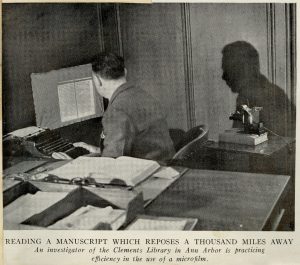 This image of Clements Library Director Randolph Adams making use of a microfilm projector in 1938 poignantly illustrates the value of distributable facsimiles of primary source materials. The Michigan Alumnus 54, no. 13 (January 29, 1938): 234.
These online manuscripts collections are a new addition to the Clements Library's digitization program, which also includes the addition of printed materials to HathiTrust and of individual images to the Clements Library's Image Bank. The Clements Library would like to express its appreciation to the many people involved in the manuscripts digitization process and metadata creation. They include, but are not limited to, Chris Powell and the University's Digital Library Platform & Services (DLPS), DEI-funded interns Allie Scholten and Amelia Fuller, Joyce Bonk Assistant Corey Schmidt, Garrett Morton, and others.
Cheney J. Schopieray
Curator of Manuscripts