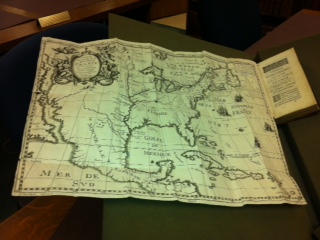 In 2012, the Clements Library received a generous gift from Charles and Julia Eisendrath, with an appraised total value of $150,000. The gift includes a page from the Gutenberg Bible and a first edition set of Premier Établissement de la Foy dans la Nouvelle-France, written by Chrétien Le Clercq and published in Paris in 1691.
Le Clercq was a 17th century Catholic missionary to the Micmacs of the Gaspé Peninsula. His two-volume work documents the establishment of Roman Catholicism in the French colonies of North America. This set is exceptionally rare, with only one copy having come to auction in the last 30 years. The newly acquired copy is particularly noteworthy, as it includes the original folding map found in few copies. The map, "Carte Generalle de la Nouvelle France ou est compris La Louisiane Gaspesie et le nouveau Mexique avec les Isles Antilles," has been called "fundamental to North American cartography." The Library's other Le Clercq volumes, from the personal collection of William L. Clements, have the map only in facsimile.
The Clements has an outstanding selection of books describing the early histories of European colonies in the Americas. Many of these discuss religious matters and missionary activities among the native peoples of America. The LeClerq set is an excellent addition to the Clements book collection, and will be helpful for instruction sessions with University classes on topics such as the history of exploration in North America, the history of missionaries and religion in the Americas, France in the New World, and early North American cartography.
The Eisendraths' gift is featured in the Clements Library's current exhibit, Recent Acquisitions: Building on the Clements Collections.