The William L. Clements Library is pleased to announce that the digitized Rochester Ladies' Anti-Slavery Society Papers are now fully text searchable. Each digitized page is accompanied by a complete transcription, which will transform the way researchers interact with the collection, streamline research, and assist scholars who have difficulties reading the at-times challenging handwriting.
When library staff started working from home in mid-March, we quickly upgraded our demo version of the crowdsourcing software FromThePage to allow staff and student employees to transcribe the manuscripts and printed annual reports of the Rochester Ladies' Anti-Slavery Society Papers. This allowed students to finish their work hours for the semester remotely and has given staff a useful project to supplement their other work. During this time away from the library building, it has been helpful to have a project that immerses us virtually in the collections and can be worked on in shorter chunks as time allows.
View of the FromThePage transcription site. Letter from Frederick Douglass to Maria G. Porter, January 11, 1860.
Between March 16 and April 21, library staff and students transcribed and edited 557 pages of text in the collection. The eight participants spent a total of 1128 hours working on the project.
Once the transcriptions were completed and proofread, the University of Michigan Library's Digital Content & Collections Department incorporated them back into the existing digital collection. Researchers may now search the full text of the collection.
The transcription for each page now appears below the original digital image on every page of the collection. Users can easily scroll between the two to compare them and search the transcribed text to look for specific keywords.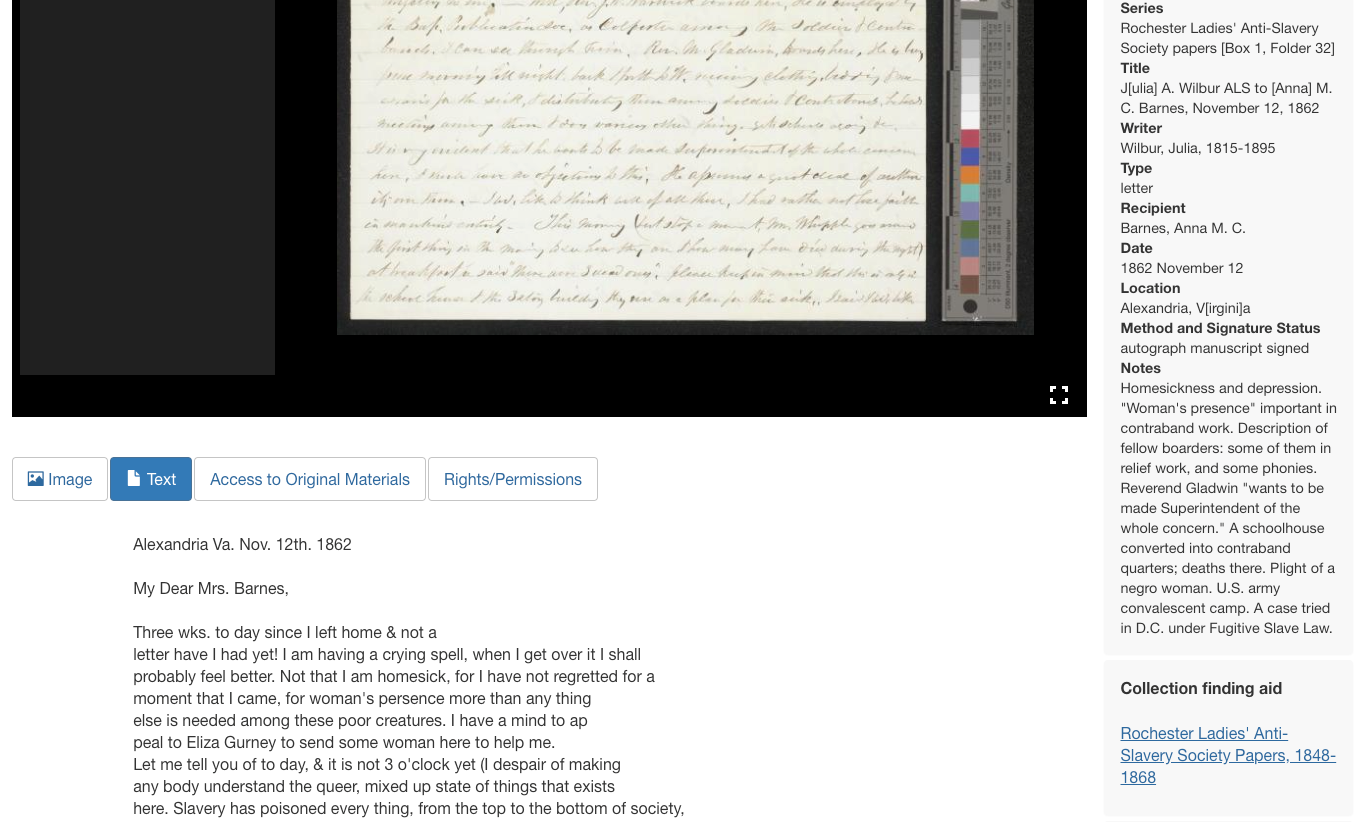 Image and transcription combined in the digital collection. Letter from Julia Wilbur to Anna M. C. Barnes, November 12, 1862.
The following example suggests the exciting and timesaving benefits yielded by the transcriptions. Julia Wilbur traveled to Alexandria, Virginia, on behalf of the Society to assist freedmen during the Civil War. She wrote regular letters back to Rochester about her activities, including close work with Harriet Jacobs, formerly enslaved and author of Incidents in the Life of a Slave Girl. Researchers can now search the digitized Rochester Ladies' Anti-Slavery Society Papers for "Jacobs" and quickly identify 14 letters and 3 printed annual reports containing references to Harriet Jacobs. View the search results list.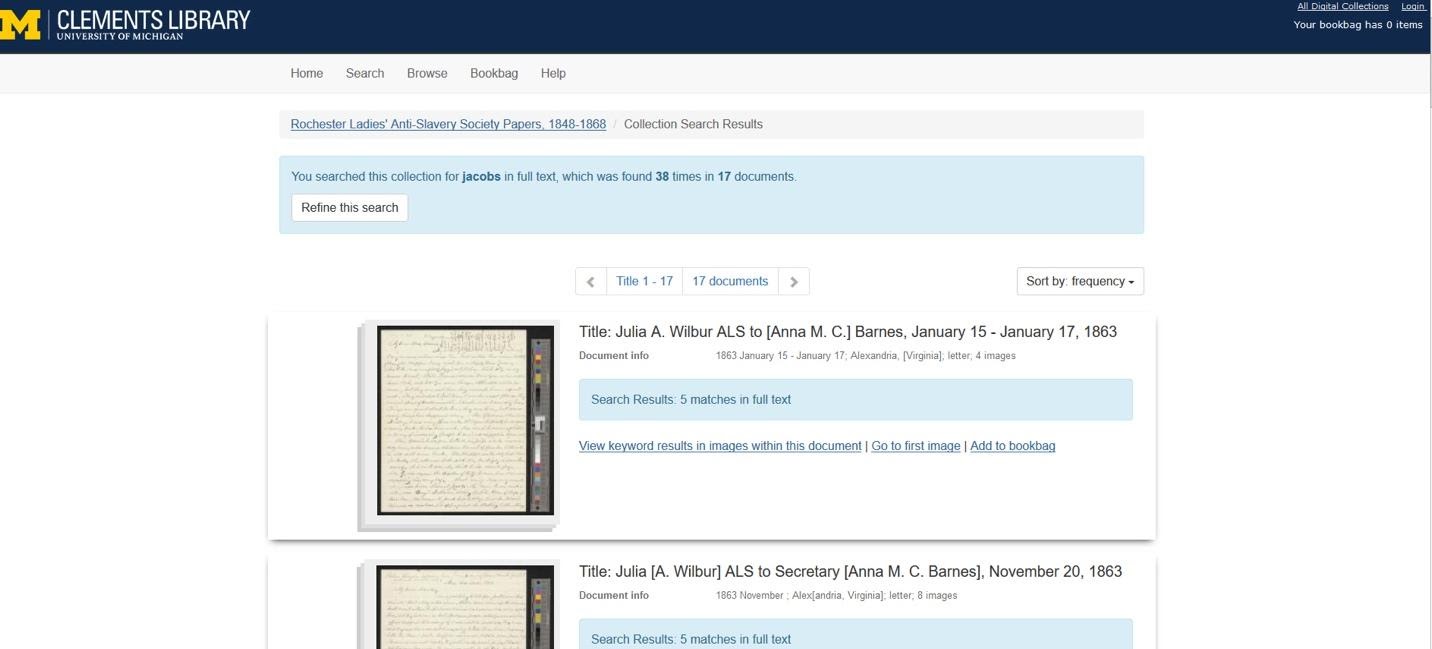 * * *
With the successful completion of our first transcription project, library staff continue to work on transcribing more manuscript collections at home. For our second project, we are joined by several colleagues from the University of Michigan Library who have volunteered their help during the stay-at-home situation. Later this year, we plan to open up the transcription projects to outside volunteers who are interested in joining us. More information will be forthcoming as we finalize the details.