Guest post by Morgan McCullough, Clements Library 2019 Price Fellow
In the American Science and Medicine Collection a small slip of paper lies safely nestled in a folder, a recipe "for Susy's Breast."[1] Undated, with author, recipient, and Susy the patient unidentified, this recipe holds many secrets. Despite these mysteries this recipe also reveals much about breastfeeding, a physical and often painful moment in many women's lives. Details of early American women's bodies and body care, like breastfeeding, are found throughout the William L. Clements Library's collections. Men illustrated and discussed women's embodied labor in map cartouches and letters to family. However it is only with this recipe for Susy that we can begin to understand the material and physical nature of women's history.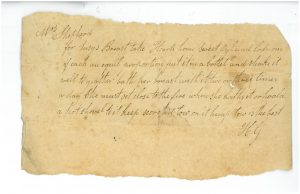 In the recipe "for Susy's Breast" the author, H.G., instructed a woman called Mrs. Shepard how to care for Susy's unidentified complaint. She was to gather equal portions of hartshorn, sweet oil, and laudanum, then mix them well. Hartshorn was a powder, made from boiled and crushed deer antlers. Laudanum was a pain reliever containing opium, and sweet oil, a carrier, bonded the ingredients together. This mixture was to be used to "bathe" Susy's breast two or three times a day. Yet simple application of this medicine would not be enough. Heat was the last necessary ingredient. The author stated that Susy "must set close to the fire" when the medicine was applied, or else a "hot shovel" should be held close to keep her breast "scorch'd."  
Susy's sensory experience during this time would have been multifaceted. The whole process would have begun with the original pain which prompted the recipe's creation. Susy or Mrs. Shepard likely would have applied the slippery oil-based medicine to the affected breast. Susy would have felt the heat of the fire or warming pan. When exposed to heat, the hartshorn would have released a smell similar to ammonia. In this setting Susy and Mrs. Shepard sought to relieve the pain of Susy's breast.[2]  
Although this recipe is not dated, it is similar to other eighteenth- and early-nineteenth-century recipes for women's breast conditions. The need for breast care often arose during breastfeeding. Breast abscesses, engorgement, blocked ducts, milk fever, and mastitis were just a few of the medical issues that nursing women faced. Medical solutions, like the recipe for Susy's breast, were aimed to relieve these often painful issues women regularly endured. Although we don't know whether the recipe was authored by a man or woman, it is clear that the measuring, mixing, and administering of this medicine was done by two women: Mrs. Shepard and Susy.[3]  
Breastfeeding was a necessary but often medically fraught time for women. Images of breastfeeding disguise the often painful realities of breastfeeding and breast care. In the cartouches of many maps European illustrators portrayed Indigenous women breastfeeding. In a circa 1719 French map a Native American woman sits breastfeeding a child while looking up at two well-dressed European men. Similarly in a 1764 map of the Ohio Country, an Indigenous woman and child stand outside a tent where a meeting between Indian and English leaders took place. These breastfeeding Indigenous women placed alongside male decision makers frame colonial maps of empire. Indigenous women's bodies were powerful symbols of fertility. However, the realities of women's experiences were much more complex than these images reveal.[4] 
For example, in the Fyffe Family Papers, a 1756 letter between William Fyffe in South Carolina and his sister in Scotland shows the difficulties of breastfeeding but passes over the material and painful nature of it. William wrote that his wife Nancy had recently given birth. However, "the Child scarce alive came into the World; and for sometime we daily expected its Death" because Nancy "had no milk." While William provided no details about his wife's particular breastfeeding problem or how Nancy felt during this period, she likely turned to recipes, doctors, or other women searching for a solution to her breastfeeding problem. Whatever medical interventions Nancy might have tried, nothing apparently worked. The Fyffe family leased an enslaved woman to nurse their child. Yet this woman also had difficulty getting the infant to eat. The Fyffes eventually switched to a second wet nurse, who William Fyffe, at least, found satisfactory. Breastfeeding was not easy nor simple, as the difficulties encountered by Nancy Fyffe and the two wet nurses illustrate. Yet to understand the physical aspects of breastfeeding we must turn to the recipe for Susy's breast.[5]
This particular document struck me for many reasons, not least of which was the many unknowns it held. We don't know what exactly was wrong with Susy's breast, nor do we know where she lived, her race, or her age. We don't know if she had a living child or had lost her own infant and was laboring as a wet nurse in someone else's household. In some ways it is surprising that this small slip of paper, with its ownership now lost, has come to reside in the collections of the Clements. Yet it has survived, thanks to the work of archivists and curators. With this recipe, the other documents about breastfeeding in the Clements collections can be read in a more material way. Images don't show the pain of a blocked duct, and William Fyffe did not dwell on his wife's physical experiences as she attempted to breastfeed.  
In the context of the other documents pertaining to early American women's breastfeeding at the Clements, the recipe for Susy's breast forces us to consider the physical and painful aspects of women's breast care. I was able to come to the Clements Library thanks to a Jacob M. Price fellowship, and during my time there I was able to examine many documents with information about women's embodied histories. These references to women's bodies are rarely the focus of records, yet breastfeeding and breast care was an important physical moment of many women's lives. The recipe for Susy's breast forces us to confront the physical history of women's material bodies.  
Morgan McCullough
Jacob M. Price Fellow
* * *
[1] G.H. AMs to Mrs. Shepherd, undated, American Science and Medicine Collection, William L. Clements Library, The University of Michigan.
[2] G.H. AMs to Mrs. Shepherd, undated, American Science and Medicine Collection, Clements Library; "Hartshorn," The Oxford Companion to Food, ed. Alan Davidson and Tom Jaine (Oxford University Press, online ed. 2014).
[3] Marylynn Salmon, "The Cultural Significance of Breastfeeding and Infant Care in Early Modern England and America," Journal of Social History 28:2 (1994), 247–269.
[4] Carte générale de l'Amérique Septentrionale, et principalement des colonies Françoises qui s'y trouvent avec les armes de la Compagnie Françoise des Indes Orientales et Occidentales, (Paris: c.1719), William L. Clements Library Image Bank; Thomas Hutchins, A topographical plan of that part of the Indian-country through which the army under the command of Colonel Bouquet marched in the year 1764 (Philadelphia: 1765), William L. Clements Library Image Bank.
[5] William Fyffe to Elizabeth Fyffe, March 24, 1756, Fyffe Family Papers, William L. Clements Library, The University of Michigan.