The William L. Clements Library is pleased to announce the availability of a digitized version of the William Howe Orderly Book, 1776-1778. This volume of orders for the British Army under General Howe, covering around two years of the American Revolution, is a treasure of the Clements Library. The volume contains copies of orders dating from March 9, 1776, to May 1, 1778, reflecting the progress of the British Army under Howe from their embarkation at Portsmouth, England, through New York and New Jersey, to the end of their occupation of Philadelphia. Included are general orders from a moving headquarters, standing orders, brigade orders, regimental orders, morning orders, after orders, and memoranda. We are delighted to make the volume available for research online. The Clements Library would like to recognize the people involved in the manuscripts digitization process and metadata creation. They include, but are not limited to Chris Powell, Jackson Huang, and University of Michigan Library's Digital Content and Collections (DCC) department, as well as Clements Library digitization technician Chris Ridgway.
William Howe Orderly Book, 1776-1778:
Digital Collection
Finding Aid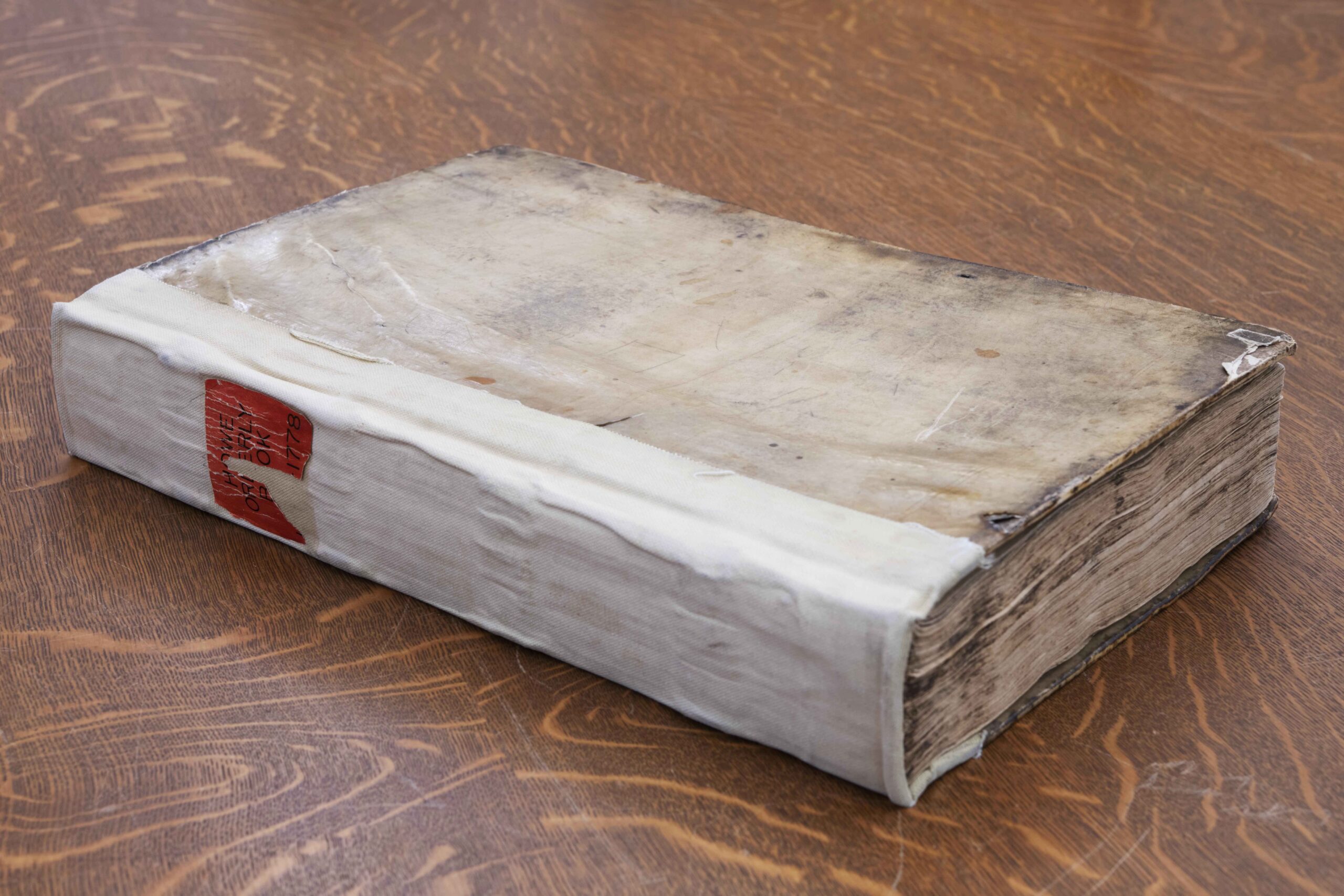 The William Howe Orderly Book, 1776-1778. William L. Clements acquired this vellum-bound manuscript from New York bookseller George D. Smith in 1920.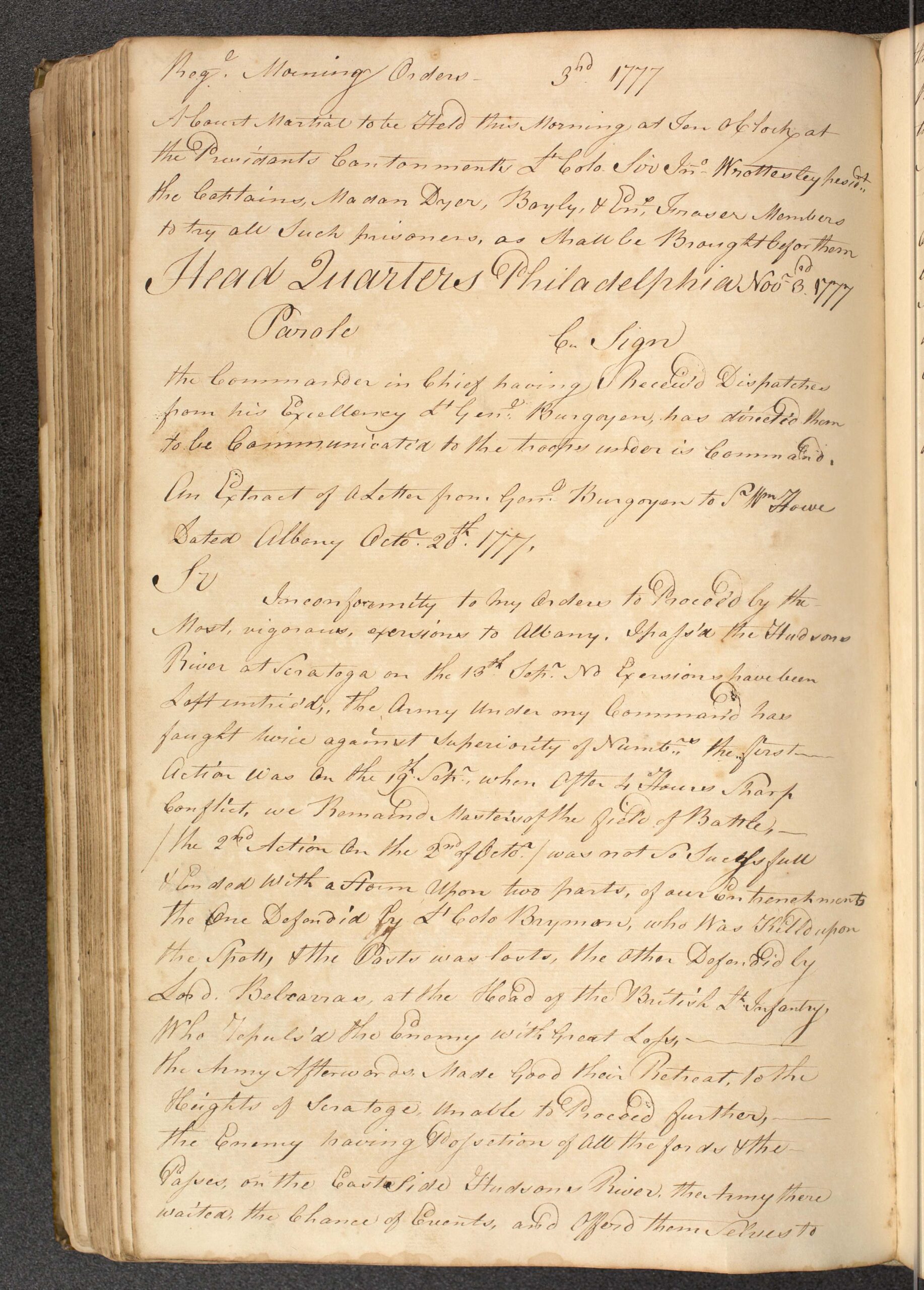 The rich content of the orderly book includes periodic copied correspondence, including this November 3, 1777, letter from John Burgoyne, describing the Battle of Saratoga, his surrender to Horatio Gates, and details about the articles of capitulation.
The troubling fate of the papers of General William Howe, and his brother Admiral of the Fleet Richard Howe, has had a significant impact on the study of the American Revolution and many other subjects.
In the 1920s and early 1930s, William Clements sought out the papers of the British Commanders in Chief of the British Army in North America between 1763 and 1783. They were papers of Generals Thomas Gage, 1763-1775; William Howe, 1775-1778; Henry Clinton, 1778-1782; and Guy Carleton, 1782-1783. Mr. Clements came to agreements with descendants of these officers for the purchase of the papers of Gen. Gage and Gen. Clinton, but (as outlined in the bibliography below) he was unable to secure the Carleton Papers. The manuscripts of both Gen. William Howe and Admiral Richard Howe were not available for anyone to acquire, because they were apparently accidentally destroyed around 100 years earlier.
How did this unfortunate accident occur? Louisa Catherine Howe, daughter of Richard Howe, Earl Howe, Admiral of the Fleet, and Mary Hartopp, married John Denis Browne, 3rd Earl of Altamont, who was later honored as the 1st Marquess of Sligo. The couple spent considerable time at the Marquess' family home, the Westport House, in County Mayo, Ireland. On John Browne's death in 1809, his son Howe Peter Browne inherited his title. After the death of the Marchioness of Sligo in 1817, the 2nd Marquess and Lady Hester Caroline de Burgh, his wife, made additions to Westport House. One of these efforts included the construction of a south wing between 1819 and 1825, consisting of a two-tiered library to house the family's books and papers. According to a 1910 letter by Lord Arthur Browne (1867-1951), as quoted by James Holden in his 1911 book The Campaign of 1758, the Howe family's papers arrived at the Westport House around the time the library was completed. The papers, still untouched in their trunks, were apparently in the library when a fire broke out in 1826. Most likely the result of a heating malfunction, the blaze consumed the south wing, the library, and the papers.
Though we mourn the loss of those trunks and those papers, a few manuscripts survived. The Marquess of Sligo and Jasper More put a number of important Richard and William Howe items up for auction at Christie's in 1958. The Sligo family papers remaining at the Westport House were calendared in Analecta Hibernica, No. 33 (1986): 17-46. Letters and documents of the brothers Howe survive in the papers of their correspondents and not all of them have yet found an institutional home. A group of over a dozen letters from Admiral Richard Howe to the 1st Earl Clarendon between 1775 and 1778, for example, turned up at Sotheby's London in 2016, from the property of the Villiers family. Other miscellaneous Howe documents, notes, and letters sporadically surface in private collections, auction houses, and rare book shops. The William L. Clements Library continues to dedicate resources to accumulating Howe family manuscripts whenever possible and we add them to our Richard and William Howe Collection (Finding Aid).
There are those of us who dream about the possibility that the greater 18th century Howe papers were miraculously spirited away from the Westport House fire and will yet turn up in some unlikely place. Stranger things have happened and hope springs eternal, though I do not hold my breath.
The Many Orderly Books of William Howe
No complete publication exists for the various orderly books of William Howe's headquarters and no diligent comparison of variant texts appears to have been conducted. For interested readers and researchers, the so-called Orderly Books of William Howe currently identified by the Clements Library at different institutions include (in chronological order by first date):
Orderly Book of General Howe, June 17, 1775-May 26, 1776

, Guy Carleton, 1st Baron Dorchester Papers, PRO 30/55/106-107. The National Archives, Kew (UK). It is this manuscript that Benjamin F. Stevens edited and published in 1890 (Benjamin Franklin Stevens, ed. General Sir William Howe's Orderly Book at Charlestown, Boston and Halifax June 17 1775 to 1776 26 May… London: Benjamin Franklin Stevens, 1890). William L. Clements would have loved to acquire the papers of British Commander in Chief of the Army in North America, Guy Carleton, in which this set of orders lives. At over 10,000 manuscripts in 107 volumes, they would have been an important companion to the papers of Thomas Gage and Henry Clinton at the Clements Library. Unfortunately, for Mr. Clements, when Abraham S.W. Rosenbach secured the papers in 1929, he sold them to John D. Rockefeller who gave them to the recently developed Colonial Williamsburg in 1935. In 1957, the United States presented the Carleton papers to Queen Elizabeth II as a gift to Her Majesty from Colonial Williamsburg, and in the National Archives at Kew they will remain.

Orderly Book of Stephen Kemble, November 15, 1775-July 5, 1778

. The Gilder Lehrman Collection, Gilder Lehrman Institute of American History. These orderly books were published in Collections of the New-York Historical Society for the Year 1883. New York: Printed for the Society, 1884.

William Howe [British Adjutant's] Orderly Book, January 6, 1776-September 4, 1777

. The Gilder Lehrman Collection, Gilder Lehrman Institute of American History. This appears to be the manuscript offered for sale at Sotheby's between June 11 and 12, 1973.

William Howe Orderly Book, March 9, 1776, to May 1, 1778

. William L. Clements Library, The University of Michigan. William L. Clements acquired this (recently digitized) volume as part of a private transaction with famous New York bookseller George D. Smith in 1920.

"General Howe's Orderly Book", June 30, 1776-October 5, 1776

. Morristown National Historical Park, Morristown, New Jersey. This volume appeared in the Francis A. MacNutt sale of 1929, at Anderson Galleries, New York. It made its way to the private collection of Lloyd W. Smith of Madison, New Jersey, who gave the volume to the National Historical Park (See American Heritage magazine, v. 6, no. 5., August 1955).

General Orders &c., August 14, 1776-September 20, 1776

. HM 615, The Huntington Library, San Marino, California. Kept by Maj. Matthew Dixon of the Corps of Engineers and aide-de-camp to William Howe.

William Howe's British Headquarters in New York Orderly Book, September 26, 1776-June 2, 1777

. New-York Historical Society Museum & Library. This manuscript, kept by Capt. Henry Knight, was sold by Sotheby's on June 25, 1929. On November 20, 1931, Maj. M.V. Hay sold it at the Anderson Galleries and it ended up in the hands of antiquarian book dealer Charles F. Heartman. It was offered to William L. Clements, but he declined because of the orderly book already in his possession.

Book of General Orders: Manuscript, 1777

. New York State Library, Albany, New York. This volume covers General Howe's orders from January 29, 1777, to June 20, 1777.

Stephen Kemble's Orderly Books Containing Copies of William Howe's Orders, October 4, 1777-October 24, 1778

. New-York Historical Society Museum & Library.
—Cheney J. Schopieray
Curator of Manuscripts