The earliest published African-American composer in the United States is Francis "Frank" Johnson (1792-1844), whose international musical career first flourished in Philadelphia, the city of his birth. Johnson lived through the era of slavery and gradual emancipation in Pennsylvania. During this process, African Americans began to congregate and form societies, churches, and schools. This included religious and musical societies, which helped the Philadelphia music scene blossom.
In his youth and young adulthood, Johnson studied instruments such as the violin and later the Kent bugle (also called the "cornet" or "keyed bugle"), for which he would later become famous. His bugle teacher may have been Richard Willis (d. 1830), a Scottish immigrant who would go on to lead the West Point Military Academy band. Not only is Johnson reported to have been a gifted horn player–he was also a successful composer, publishing by the 1810s. On October 6, 1818, he posted a notice in Philadelphia's first daily newspaper, Poulson's American Daily Advisor, advertising the sale of his compositions and promoting his band for "assemblies, public, and private balls." That same year on November 7, A Collection of New Cotillions by F. Johnson was published by noted music publisher George Willig in Philadelphia. An example of an early Johnson musical score from the Clements collection is Johnson's New Bird Waltz, arranged for piano, from 1819.
New Bird Waltz full musical score (PDF)

Listen to New Bird Waltz 
Performed by Bernard Tan
Many early 19th century brass bands were associated with militia units as the music encouraged enlistment and discipline. In 1821, Johnson was leading the band of the State Fencibles, a civilian military unit. Johnson also performed with the Washington Guards Third Company sometime before 1823, and may have stayed with the group past that date. The demand for cotillions, waltzes, and other dances composed by Johnson increased with his reputation for band leadership.
Though Johnson and his fellow Black band members faced racial prejudice, Captain James Page of the State Fencibles kept him associated with the group for years to come. Initially, the Fencibles were a group of four, comprised of one bugle (Johnson playing), one fife, one bass drum, and one small drum but would grow to become a larger band. In performance, they were described as unmatched in skill and gained popularity across the city and beyond. With the Fencibles, and also as "Johnson and his band," Francis Johnson toured nationally, gained international recognition, eventually playing for Queen Victoria of England in November 1837.
In 1839 Johnson was invited to perform in Detroit's July 4th celebration with the Guards of Buffalo, New York. At this time Johnson's group had between 7 and 16 members, and the Buffalo Guards about 90! This performance was publicized nationally, and people came from across Michigan to join the celebration. Johnson composed a piece especially for the occasion, the Buffalo City Guards Parade March. The performance was very well-received, and left the public wishing Johnson and his band could stay in town a bit longer and give a concert. Johnson's success kept the band on a tight schedule and they left for their next gig in Cleveland only a few days later.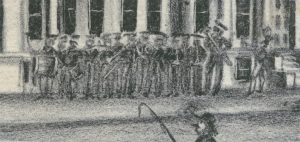 The only known image of Johnson's band is this detail of a lithographed sheet music cover. Johnson himself is likely the figure on the right. From Planter's House Assembly Waltz (1844), Clements Library.
Unfortunately, none of Johnson's original band orchestrations survive today, including the Buffalo City Guards Parade March. The published versions of his compositions were mostly written for amateur musicians looking to socially perform the popular music of the day on the pianoforte, the most common domestic parlor instrument of the time. The Clements sheet music collection does include the Buffalo City Guards Parade March as a piano score, published in 1839.


Buffalo City Guards Parade March full musical score (PDF)

Listen to Buffalo City Guards Parade March
Performed by Bernard Tan
Johnson's band was considered one of the best, if not the best, in the nation at the time, which enabled them to move between racial social circles to some degree. Nonetheless, they certainly experienced prejudice, even in northern states. At the time of their Detroit visit, Michigan had only become a state two years prior, and had discluded Blacks and Native Americans from most of the rights of citizens in the state constitution. Black people were not welcome at white social events, and were often forced to meet in secret for their own assemblies.
The newly formed Second Baptist Church, a Detroit African-American congregation, had recently decided that since they were not fully included in the commemoration of independence on July 4th, they would instead celebrate the liberation of slaves in the British West Indies on August 1st. It has been reported by musicologist and historian Arthur LaBrew that Johnson may have encountered this discussion, though we do not know for sure. What we can reasonably guess is that Johnson's visit made a lasting impression on Black communities in the Detroit area and may have inspired many subsequent celebrations with lavish dinners and musical performances.
***
Let me introduce myself. I am an intern for Diversity, Equity and Inclusion at the Clements Library and an undergraduate vocal performance student in the University of Michigan School of Music, Theatre and Dance. My background is in performance, but I have spent the past few months scanning and cataloging sections of the Library's historical sheet music collection. The Clements' sheet music holdings come from many sources with some of the Francis Johnson pieces coming from Detroit musicologist Arthur R. LaBrew (1930-2015), who was a familiar face in the Clements reading room. Much of my own research has come from his Captain Francis Johnson: Great American Black Bandsman, self-published in 1994. LaBrew was a leading scholar on Black musicians from around the world. His research spanned centuries, in an effort to track every early Black musician who had created something, performers, bandleaders, teachers, and composers alike. LaBrew's book is an in-depth collection of data and analysis of Francis Johnson's life, and it is a fascinating read. Johnson was an amazing musician, and his success clearly inspired LaBrew. Even though it is a scholarly textbook, the story is exciting to read. I highly recommend it to anyone looking to learn a little about American music history.
Since I am primarily a singer, I wanted to perform one of Johnson's pieces myself. In this recording, pianist Bernard Tan and I are performing Oh turn away those mournful eyes from 1824. He didn't compose for the voice often, and there isn't much information about this piece, so I wonder if Johnson had anyone in mind when we wrote it (he was married to Helen Appo, sister of fellow bandmate William Appo). The lyrics, which I have printed below, are by a mysterious "Miss M. A." and, to me, they suggest that the singer is somehow barred from returning feelings of love from an admirer with "mournful eyes" and "deep drawn sighs." I invite readers to share their own interpretation of the text, or continue the conversation about Francis Johnson in the comments.
– Alexandra Brassard
Student Intern
Oh turn away those mournful eyes full musical score (PDF)
Listen to Oh turn away those mournful eyes
Bernard Tan, piano & Alex Brassard, soprano 
Oh, turn away those mournful eyes,
That ask the love I can't bestow;
In pity check those deep drawn sighs,
For I congenial anguish know;
In pity check those deep drawn sighs,
For I congenial anguish know.
As if reflected in a glass,
My agony by thine is shown,
And when thou look'st or sigh'st alas!
Thy hapless fate recalls my own.
And when thou look'st or sigh'st alas!
Thy hapless fate recalls my own.
My faded check I see in thine,
In thine my blighted youth I view,
A heart devoted, fond as mine,
And ah! I fear as faithful too;
A heart devoted, fond as mine,
And ah! I fear as faithful too.