Most of the 18th and 19th century American newspapers in the Clements Library collections have bindings that are functional rather than artistic. Many volumes have been rebound in 20th century olive green cloth and either green paper or plain gray boards.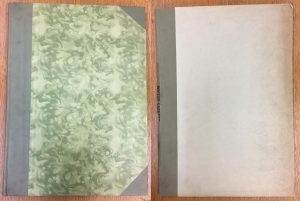 The older leather bindings are often much-repaired, showing evidence of their heavy use over the years. In some cases, layers of glue and tape are all that hold the spines together.
While a number of our newspapers bindings include lovely marbled papers, their beauty tends to be subtle rather than ostentatious. It is only once they are pulled off the shelf that their colors and patterns are revealed.
Among the vast array of green cloth and worn leather bindings, one volume leaps to the eye midway down the shelves. Volume three of The Pennsylvania Chronicle and University Advertiser (January 23, 1769-January 15, 1770) is bound in non-contemporary red morocco leather, tooled in gold and decorated with flowers.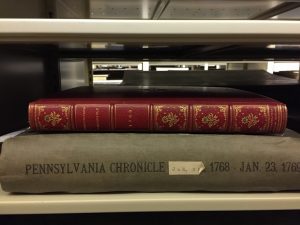 This newspaper was published by William Goddard in Philadelphia from 1767 to 1774. His mother and older sister, Sarah Updike Goddard and Mary Katherine Goddard, were also involved in the printing trade. Mary Katherine Goddard became Baltimore's first postmaster and famously published the second printed edition of the Declaration of Independence, also known as the Goddard broadside.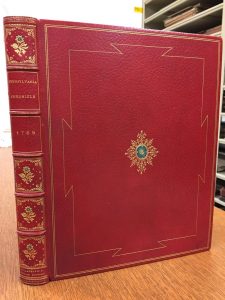 As you can see in the above photo, volume two of the same newspaper is in the standard olive green cloth binding, making this item particularly striking by contrast.
The cover is decorated with a green leather onlay tooled in gold and the spine is similarly decorated with flowers.
The binder's name is stamped in tiny letters in the upper left corner of the front flyleaf: "J. MacDonald — Binder, N.Y." James MacDonald was a Scottish bookbinder who came to the United States in 1873. He worked with the famous American binder William Matthews and then established his own binding business in New York in 1880. His listing in the New York Times Book Review described the company as the "Finest equipped bindery in America; (Purchaser of the "Club Bindery"). Special bindings for collectors. Extra fine binding for private libraries. Solander and slip cases of every description."  (November 5, 1922).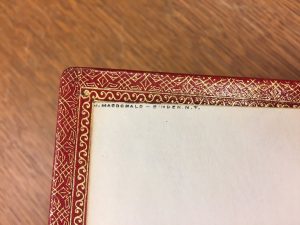 This volume was originally purchased by William L. Clements and donated with the rest of his books to the Clements Library in 1923. We do not know whether he commissioned the binding himself or purchased it that way from another source.
Although the binding style is unusual for the newspaper collection, it does resemble many other bindings found in our Rare Book Room collection. Mr. Clements did not collect decorative bookbindings for their own sake, preferring to focus on the subject matter of Americana, but many of his books were nevertheless beautifully-bound in brightly-colored leathers by Riviere, Pratt, Matthews, Sangorski and Sutcliffe, Zaehnsdorf, and other notable bookbinders.
He may have purchased this newspaper and had it rebound to match his other books, before realizing that rebinding every newspaper in the same way would quickly become impractical. Or perhaps another collector treasured this volume and paid for the binding before it came into the Clements collection. Either way, it remains a lovely surprise among the drab bindings in the newspaper shelves, and is sure to delight any researcher who requests this newspaper volume in the reading room.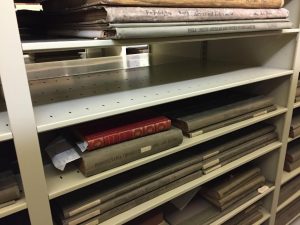 Emiko Hastings
Curator of Books