Guest post by Molly Malcolm, Clements Library volunteer
Today is National Chocolate Cake Day, and although it is not an officially recognized holiday, the Clements Library is celebrating it by offering a short history of the evolution of chocolate cake in the United States – and by trying our hand at cooking a chocolate cake recipe from our culinary collection.
Until the 1830s or 40s in America, chocolate was consumed primarily as a beverage. Cakes as we think of them today did not yet exist in this country. In fact, what was popularly understood as "chocolate cake" was in fact a white or yellow cake to be eaten while drinking a chocolate beverage. Although chocolate began to be used in sauces and frostings, the primary understanding of chocolate as a liquid treat continued into the beginning of the 20th century.
This picture of drinking chocolate is from an advertisement for Bensdorp's Cocoa, instructing people to enjoy the cocoa, which they called "the food of the Gods." The advertisement, which appeared in 1898, accompanied an announcement that the World's Fair Columbian Exposition in Chicago of that year recognized Bensdorp as its official cocoa sponsor. The fair organizer's ordered thousands of pounds of Bensdorp's Cocoa to be served to guests.
This is one of the earliest printed recipes for chocolate cake in America. The recipe comes from the cookbook The Hostess of To-Day by Linda Larned (1899), and although it is in fact a cake made with cocoa, it is quite different from modern chocolate cakes. Early chocolate cakes were much lighter in color than modern cakes, because they used significantly smaller amounts of sugar and cocoa. They also often used more flour than we are currently accustomed to, making them fluffier and more akin to what we would today call a breakfast bread.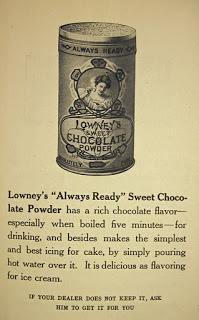 Lowney's "Always Ready" Sweet Chocolate Powder advertisement, from Lowney's Cook Book (1912).
By the time this advertisement appeared in Lowney's Cook Book in 1912, chocolate cakes were becoming a more commonplace food. However, drinking chocolate and chocolate used for sauces, icings and frostings were still the most standard uses for cocoa. This ad shows how marketing campaigns began to capitalize on shifting tastes and consumer trends by promoting cocoa powder as useful in all three arenas: drinking, baking and decorating.
By 1940, Hershey Chocolate Company had become so commercially successful that baking with chocolate was a staple in most American households. This image is an example of the times, depicting a young, stylish woman holding a beautifully iced chocolate cake, emphasizing how fashionable it was to bake with chocolate. By this time in the 20th century, chocolate cake recipes were becoming more rich and decadent, calling for larger quantities of cocoa and sugar than they had in previous decades. Cake recipes were transitioning into the type of cake we all think of as "chocolate cake" today – an early predecessor to the decadent "death by chocolate" cakes of modern tastes.
This is the chocolate cake that we made and ate here at the Clements in honor of National Chocolate Cake Day. The recipe is from Mrs. Bennett R. Wheeler of the Chancel Chapter of Grace Cathedral in Topeka, Kansas and was printed in a cookbook from 1916 entitled Good Things to Eat. Mrs. Wheeler's recipe was spot-on and the cake turned out wonderfully – light, fluffy, not too sweet and great to eat with coffee or tea! This was a perfect way to celebrate National Chocolate Cake Day and bring history to life, both in our kitchen and in our stomachs!
Further reading:
The True History of Chocolate, by Sophie D. Coe and Michael D. Coe (1996).