The William L. Clements Library collections exist to be used.
Nothing makes the staff of the Clements Library happier than to see the Avenir Room full of researchers using the collections. At any given moment, the tables may host innovative work on topics as varied as gender in 18th-century Yucatan (the topic of Alfred A. Cave Fellow Samantha Davis' project) to the spatial politics of sheet music (as exemplified by the project of Jacob M. Price Fellow Colin Anderson), just to name only two.
We are proud to announce that the Clements will continue to prioritize its research support program in 2022-23 by offering a slate of long-term, short-term, week-long, and digital fellowships. Applications for these visiting research opportunities are now open. While descriptions of each fellowship are listed on the Clements website, applicants do not need to specify a particular fellowship in their application. The selection committee will match each candidate's project with the award for which it is best suited. We encourage applications not only for our familiar collections, such as the Thomas Gage and Henry Clinton Papers and the Weld-Grimké collection, but for less-used resources from across our four divisions (books, manuscripts, maps, and graphics). In order to be considered for a fellowship, applicants must submit their materials by January 15, 2022.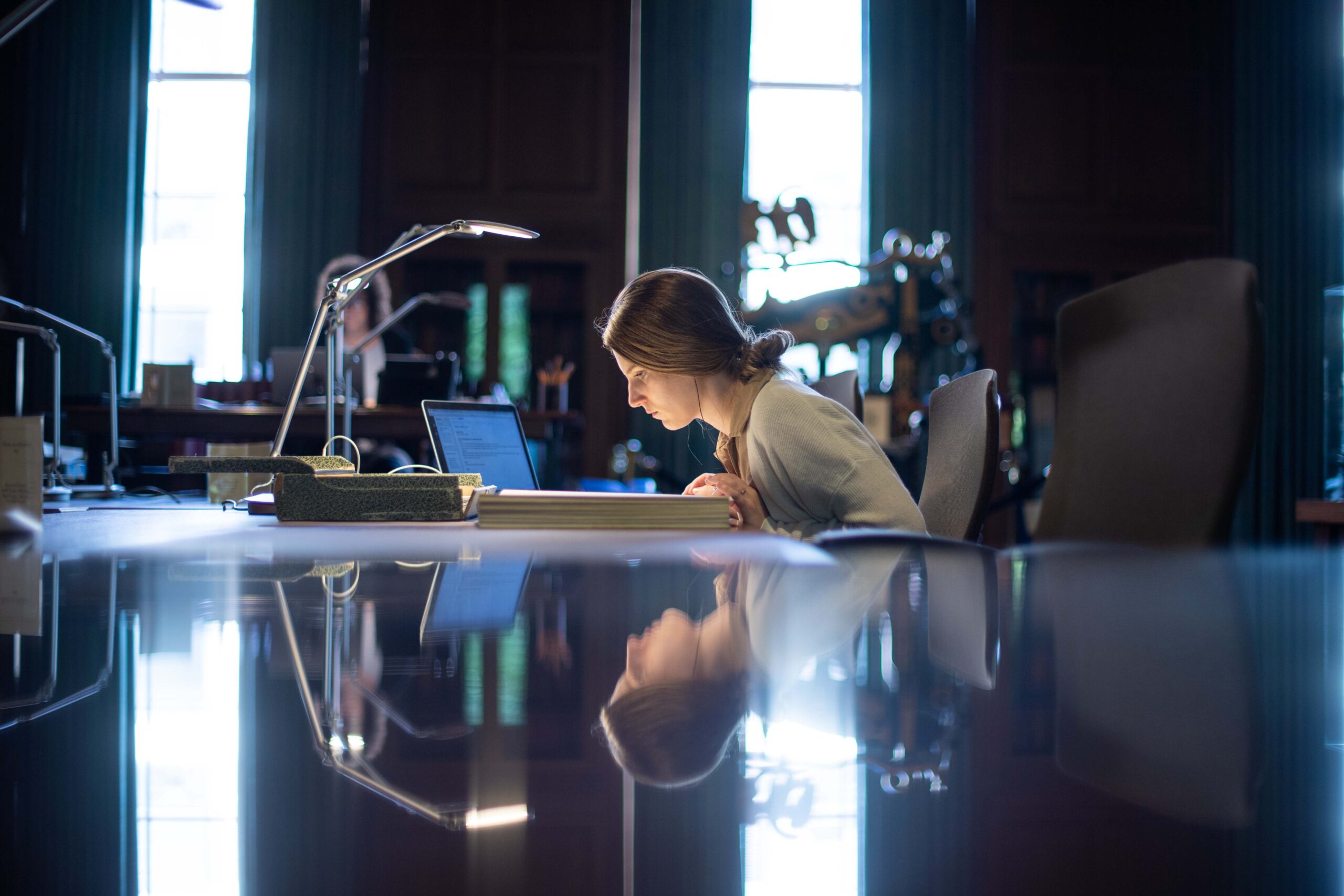 Past Jacob M. Price Fellow Morgan McCollough at work in our Avenir Foundation Reading Room in 2019. She shared a glimpse into her findings on the Clements Library Chronicles Blog.
Moreover, these opportunities welcome researchers from various disciplines and career stages: With a few exceptions, all Clements Library fellowships are open to doctoral candidates, faculty, independent researchers, and scholars in public history institutions. We support research for books, articles, dissertations, creative projects, and digitization projects, among others. With special offerings like the Forty-Three Foundation fellowship, even undergraduate students in Ohio, Michigan, or Indiana can receive funding to research any topic supported by the collections.
Earlier this year our inaugural Digital Fellow, Lauren Davis, a doctoral candidate at the University of Rochester's History Department, talked to us about her project and the power of remote historical research.
In addition to the vast and valuable resources available in the Clements reading room, fellows will be met with a supportive community of library staff and other Clements researchers. Fellows are encouraged to present a brown bag talk or write a guest blog post related to their research, and all fellows join the staff before their visit to draw on collective institutional knowledge of Clements materials that might be relevant to their work.
The Clements welcomes any inquiry, large or small, and encourages anyone with questions to email clements-fellowships@umich.edu. We are excited to support the work being done in our beautiful Avenir Foundation reading room.
—Maggie Vanderford
Librarian for Instruction and Engagement