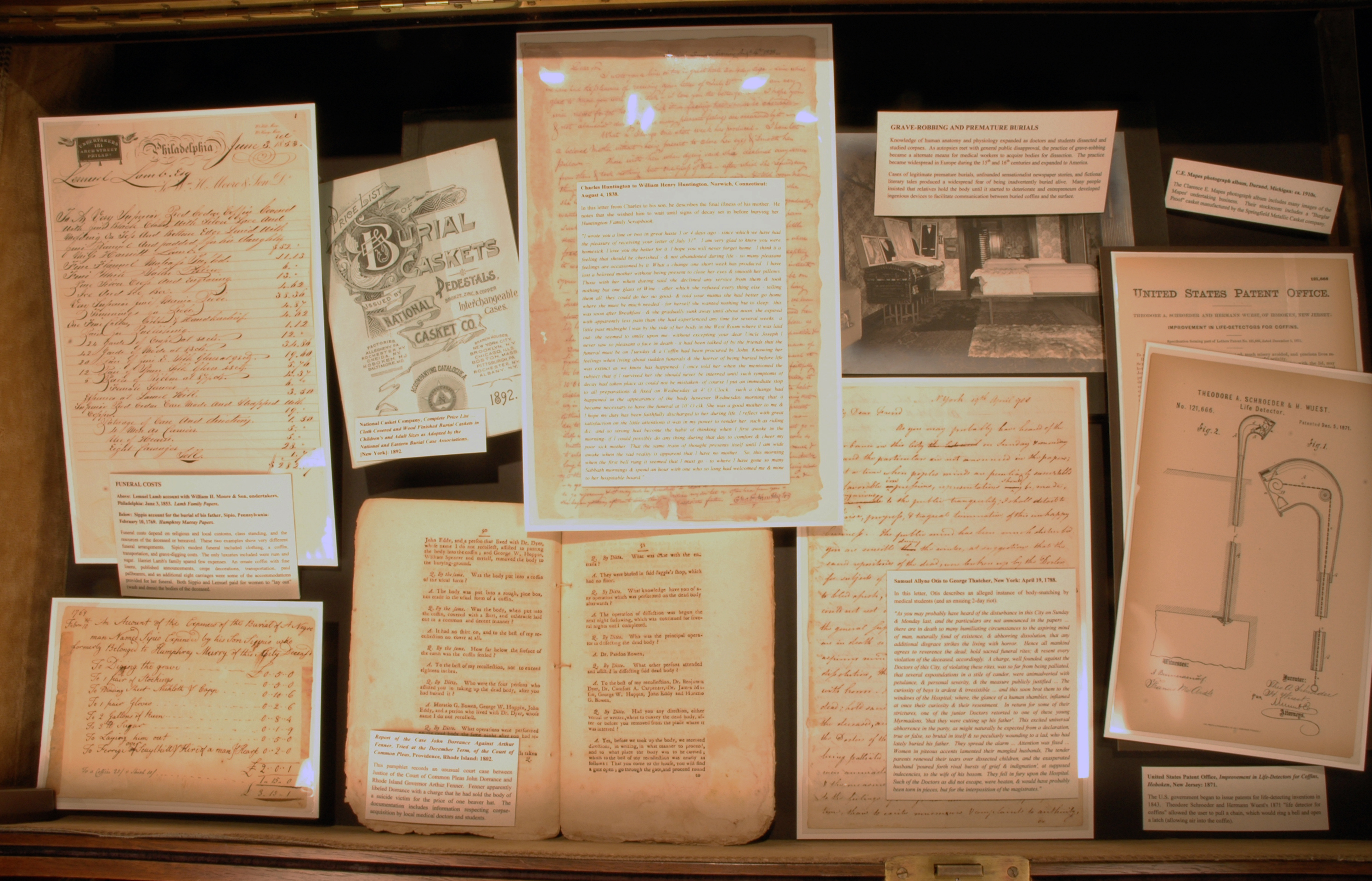 Funeral Costs
Funeral costs depend on religious and local customs, class standing, and the resources of the deceased or bereaved.  The following two examples show very different funeral arrangements.  Sipio's modest funeral included clothing, a coffin, transportation, and grave-digging costs.  The only luxuries included were rum and sugar.  Harriet Lamb's family spared few expenses.  An ornate coffin with fine linens, published announcements, crepe decorations, transportation, paid pallbearers, and an additional eight carriages were some of the accommodations provided for her funeral.  Both Sippio and Lemuel paid for women to "lay out" (wash and dress) the bodies of the deceased.
Sippio account for the burial of his father, Sipio, Pennsylvania: February 10, 1769. Humphrey Morrey Collection.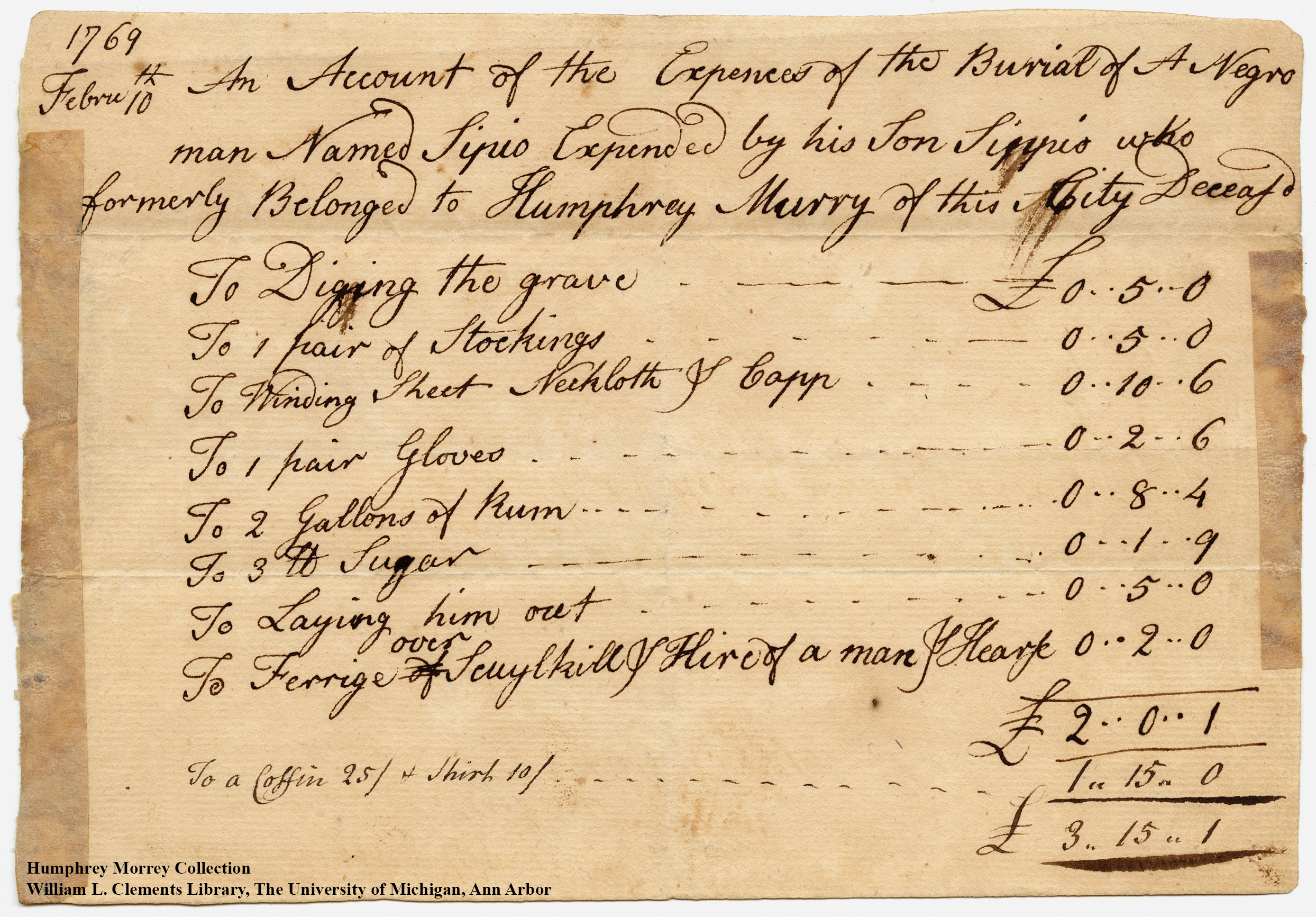 ---
Grave-Robbing and Premature Burials
Knowledge of human anatomy and physiology expanded as doctors and students dissected and studied corpses. As autopsies met with general public disapproval, the practice of grave-robbing became an alternate means for medical workers to acquire bodies for dissection. The practice became widespread in Europe during the 15th and 16th centuries and expanded to America. Cases of legitimate premature burials, unfounded sensationalist newspaper stories, and fictional literary tales produced a widespread fear of being inadvertently buried alive. Many people insisted that relatives hold the body until it started to deteriorate and entrepreneurs developed ingenious devices to facilitate communication between buried coffins and the surface.
---
C. E. Mapes Photograph Album, Durand, Michigan: ca. 1903-1930. Mark A. Anderson Collection of Post-Mortem Photography.
The Clarence E. Mapes photograph album includes many images of the Mapes' undertaking business. Their stockroom includes a "Burglar Proof" casket manufactured by the Springfield Metallic Casket company.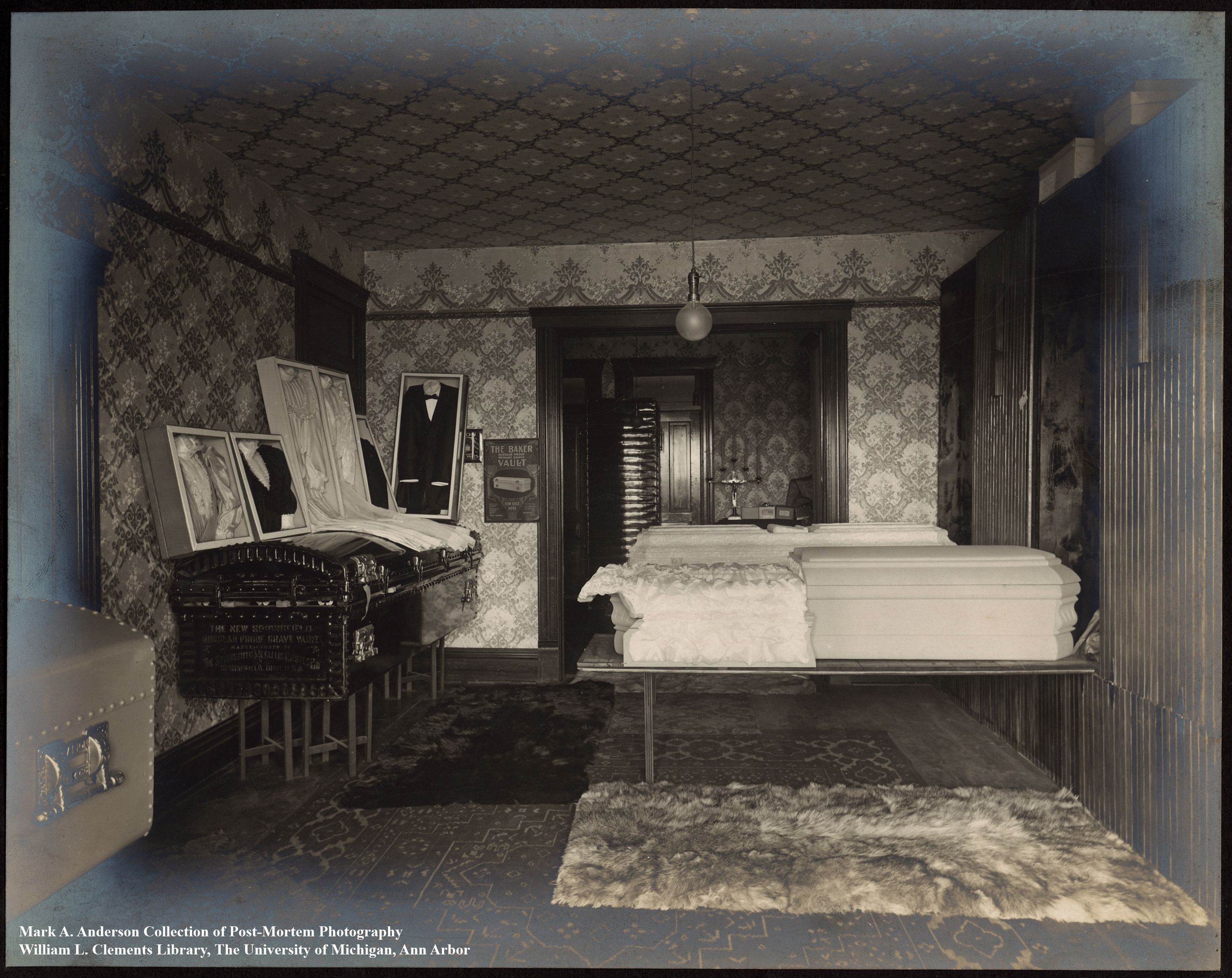 ---
Samuel Allyne Otis to George Thatcher, New York: April 19, 1788. American Science and Medicine Collection.
In this letter, Otis describes an alleged instance of body-snatching by medical students (and an ensuing 2-day riot).
"As you may probably have heard of the disturbance in this City on Sunday & Monday last, and the particulars are not announced in the papers … there are in death so many humiliating circumstances to the aspiring mind of man, naturally fond of existence, & abhorring dissolution, that any additional disgrace strikes the living with horror. Hence all mankind agrees to reverence the dead; hold sacred funeral rites; & resent every violation of the deceased, accordingly. A charge, well founded, against the Doctors of this City, of violating these rites, was so far from being palliated, that several expostulations in a stile of candor, were animadverted with petulance, & personal severity, & the measure publicly justified … The curiosity of boys is ardent & irresistible … and this soon brot them to the windows of the Hospital; where, the glance of a human shambles, inflamed at once their curiosity & their resentment. In return for some of their strictures, one of the junior Doctors retorted to one of these young Myrmadons, 'that they were cutting up his father'. This excited universal abhorrence in the party, as might naturally be expected from a declaration, true or false, so brutal in itself & so peculiarly wounding to a lad, who had lately buried his father. They spread the alarm … Attention was fixed … Women in piteous accents lamented their mangled husbands, The tender parents renewed their tears over dissected children, and the exasperated husband 'poured forth rival bursts of grief & indignation', at supposed indecencies, to the wife of his bosom. They fell in fury upon the Hospital. Such of the Doctors as did not escape, were beaten, & would have probably been torn in pieces, but for the interposition of the magistrates."
---
Report of the Case John Dorrance Against Arthur Fenner, Tried at the December Term, of the Court of Common Pleas, Providence, Rhode Island: 1802. 
This pamphlet records an unusual court case between Justice of the Court of Common Pleas John Dorrance and Rhode Island Governor Arthur Fenner. Fenner apparently libeled Dorrance with a charge that he had sold the body of a suicide victim for the price of one beaver hat. The documentation includes information respecting corpse-acquisition by local medical doctors and students.
---
United States Patent Office, Improvement in Life-Detectors for Coffins, Hoboken, N.J.: 1871.
Mark A. Anderson Collection of Post-Mortem Photography.
The U.S. government began to issue patents for life-detecting inventions in 1843. Theodore Schroeder and Hermann Wuest's 1871 "life detector for coffins" allowed the user to pull a chain, which would ring a bell and open a latch (allowing air into the coffin).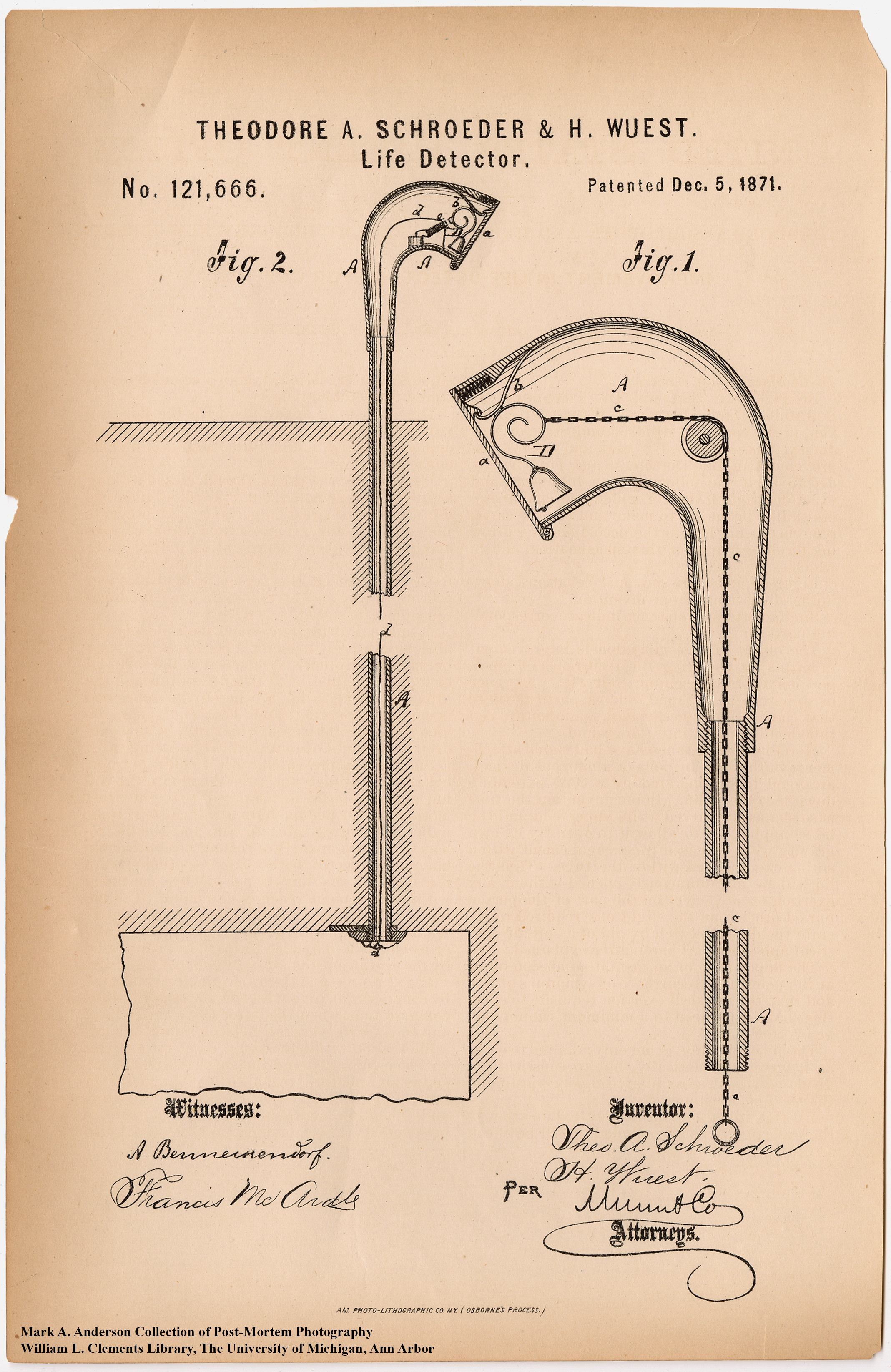 ---
Charles Huntington to William Henry Huntington, Norwich, Connecticut: August 4, 1838. Huntington Family Scrapbook.
In this letter from Charles to his son, he describes the final illness of his mother. He notes that she wished him to wait until signs of decay set in before burying her.
"I wrote you a line or two in great haste 3 or 4 days ago – since which we have had the pleasure of receiving your letter of July 31st. I am very glad to know you were homesick. I love you the better for it. I hope you will never forget home. I think it a feeling that should be cherished – & not abandoned during life – so many pleasant feelings are occasioned by it. What a change one short week has produced. I have lost a beloved mother without being present to close her eyes & smooth her pillows. Those with her when dyeing said she declined any service from them & took nothing but one glass of Wine – after which she refused every thing else – telling them all, they could do her no good- & told your mama she had better go home where she must be much needed – for herself she wanted nothing but to sleep. this was soon after Breakfast – & she gradually sunk away until about noon, she expired with apparently less pain than she had experienced any time for several weeks. a little past midnight I was by the side of her body in the West Room where it was laid out- she seemed to smile upon me- without excepting your dear Uncle Joseph I never saw so pleasant a face in death – it had been talked of by the friends that the funeral must be on Tuesday & a Coffin had been procured by John. Knowing her feelings when living about sudden funerals & the horror of being buried before life was extinct as we know has happened- I once told her when she mentioned the subject that if I survived her she should never be interred until such symptoms of decay had taken place as could not be mistaken- of course I put an immediate stop to all preparations & fixed on Wednesday at 4′ O Clock. such a change had happened in the appearance of the body however Wednesday morning that it became necessary to have the funeral at 10′ O clk. She was a good mother to me & I hope my duty has been faithfully discharged to her during life. I reflect with great satisfaction on the little attentions it was in my power to render her, such as riding &c. and so strong had become the habit of thinking when I first awoke in the morning- if I could possibly do any thing during that day to comfort & cheer my poor sick mother. That the same train of thought presents itself until I am wide awake when the sad reality is apparent that I have no mother. So, this morning when the first bell rung it seemed that I must go – to where I have gone so many Sabbath mornings & spend an hour with one who so long had welcomed me & mine to her hospitable board."