We welcome new volunteers to join our ongoing transcription project on FromThePage. Three collections have recently been added and are available for transcription. In addition, the German Auxiliaries Muster Rolls are still awaiting further work, for those who like an extra challenge. Follow the links below to join the project:
Lydia Maria Child Papers: Personal letters written by Lydia Maria Child, a writer, abolitionist, and women's rights activist. They concentrate on the period of Child's distress with the institutional politics of antislavery, her editorship of the National Anti-Slavery Standard, her growing attachment to New York Bohemia, and the publication of "Letters From New York."
Louise Gilman Papers: Letters written by Louise Gilman while serving as a teacher at the Hampton Institute in Hampton, Virginia, a school established to educate freed slaves. The letters describe Gilman's activities as a teacher and her thoughts about the African American students.
James Sterling Letter Book: 175 letters written by Sterling, a fur trader, while at Fort Detroit. His letters provide a picture of the fur trade and the consumer needs of Native Americans, French civilians, and the British military, accounts of events during Pontiac's War, as well as the day-to-day concerns of a prominent trader at Fort Detroit. Read more about this letter book in Jonathan Quint's series of posts on our blog: part one, part two, part three.
German Auxiliaries Muster Rolls: This collection includes muster rolls and other documents relating to the German regiments employed by the British to fight in the American Revolutionary War. This is a frequently-requested collection for which text-searching would be invaluable, since the documents contain many individual names and details of the Hessian soldiers. The material is in English, French, and German, and includes tabular data that needs additional markup.
2020 Clements Transcription Year in Review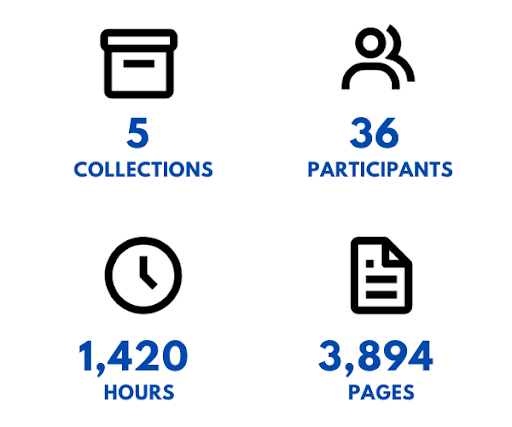 Thanks to library staff, student employees, and volunteers, the transcription projects this year have been an extraordinary success, far beyond our initial hopes!
We first launched the projects as a work-from-home initiative for Clements staff and students in March of 2020, later expanding to include University library staff and independent volunteers.
It has provided a great way for staff and supporters to stay connected to the collections during this time, and enhances our digital collections by making them more readable and searchable for users.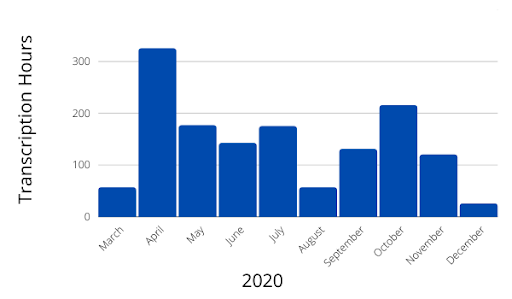 — Emiko Hastings
Curator of Books and Digital Projects Librarian