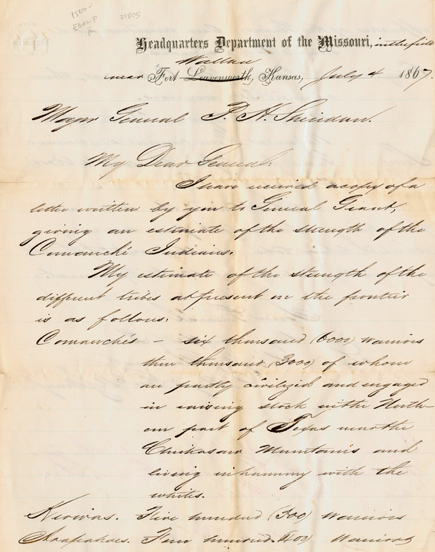 Headquarters Department of the Missouri, in the field
near Fort Wallace, Kansas, July 4 1867.
Major General P.H. Sheridan.
My Dear General,
I have received a copy of a letter written by you to General Grant, giving an estimate of the strength of the Comanchi Indians.
My estimate of the strength of the different tribes at present in the frontier is as follows:
Comanchis – six thousand (6000) warriors three thousand (3000) of whom are partly civilized and engaged in raising stock in the Northern part of Texas near the Chickasaw Mountains and living in harmony with the whites.
Kiowas.  Five hundred (500) warriors
Arapahoes.  Four hundred (400) warriors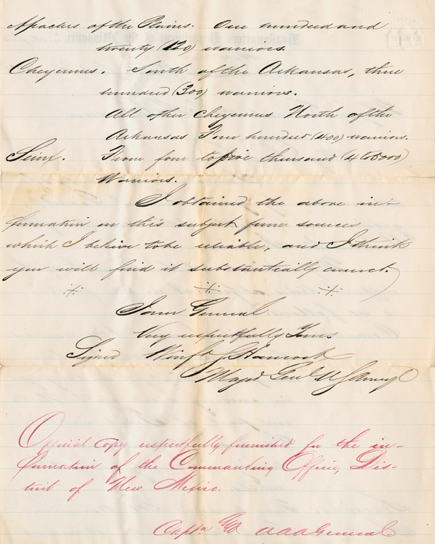 Apaches of the Plains.  One hundred and twenty (120) warriors.
Cheyennes.  South of the Arkansas, three hundred (300) warriors.  All of the Cheyennes North of the Arkansas Four hundred (400) warriors.
Sioux.  From four to five thousand (4 to 5000) warriors.
I obtained the above information in this subject from sources which I believe to be reliable, and I think you will find it substantially correct.
I am General
Very respectfully Yours
Signed Winfd S. Hancock
Major Genl. US Army
Offical Copy respectfully furnished for the information of the Commanding Office, District of New Mexico.
Captn. [ ] AAA General.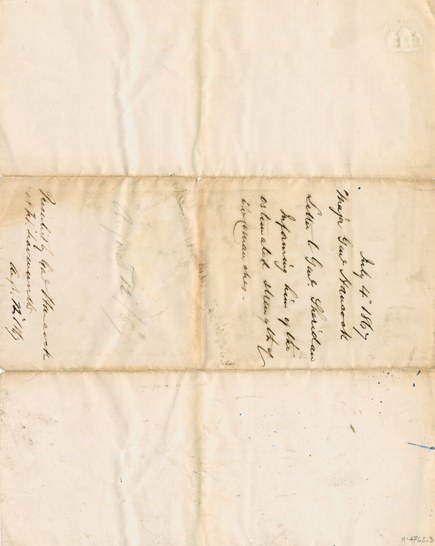 July 4th 1867
Major Genl Hancock
Letter to Genl. Sheridan
Informing him of the estimated strength of the Comanches.
Presented by Genl Hancock at Ft. Leavenworth
August 12th 1867