By 1862, Dakota tribes had surrendered roughly 28 million acres of land by treaties with the United States government, which removed them to small Minnesota reservations and assured them compensation in the form of goods and regular annuity payments.  In the summer of 1862, members of the tribes were starving on account of late annuity payments and corrupt government trading practices.  In August of 1862, following the murder of five whites by four natives, a council met at Little Crow's village and agreed to attack white settlements and drive the inhabitants from Minnesota.  After repeated requests to the President, the United States sent two regiments to quell the violence. 
Military tribunals tried over three hundred natives.  General John Pope and many of the citizens of Minnesota appealed to the president to have all 303 captives executed.  Abraham Lincoln approved the execution of 39 prisoners (one was later pardoned), shortening the list to the names of Indian soldiers accused to killing civilians.  The execution depicted in the print in this case was the largest mass execution in the history of the United States.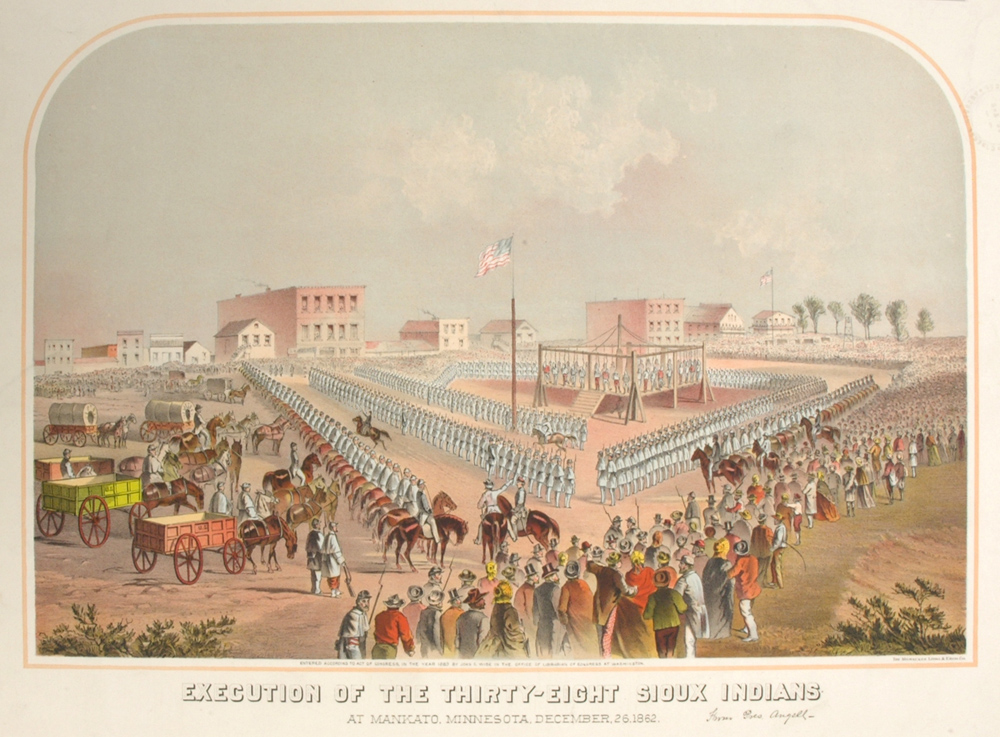 Execution of the Thirty-Eight Sioux Indians at Mankato, Minnesota, December 26, 1862, lithograph. Milwaukee Lithograph & Engraving Company, [1883].
Letter from Charlie to his sister, St. Paul, [Minnesota]. August 26, 1862.
This account offers news of the uprising, relating that Chief Aagpetu-Tokecha [John Otherday] has smuggled whites away from the area of conflict, and that white public sentiments toward Natives is violently negative.
From the Native American History Collection.
Letter from Emeline Foot Blood to her cousin, Cleveland, [probably Minnesota].  February 23, 1863.
Emeline Blood's letter provides an account of the Dakota war.  She describes the wounding of her son and her daughter-in-law's defense of their cabin near Green Lake, Minnesota.  The letter is an appeal for financial help from a relative, which may account for its particularly dramatic and graphic descriptions.
From the Native American History Collection.