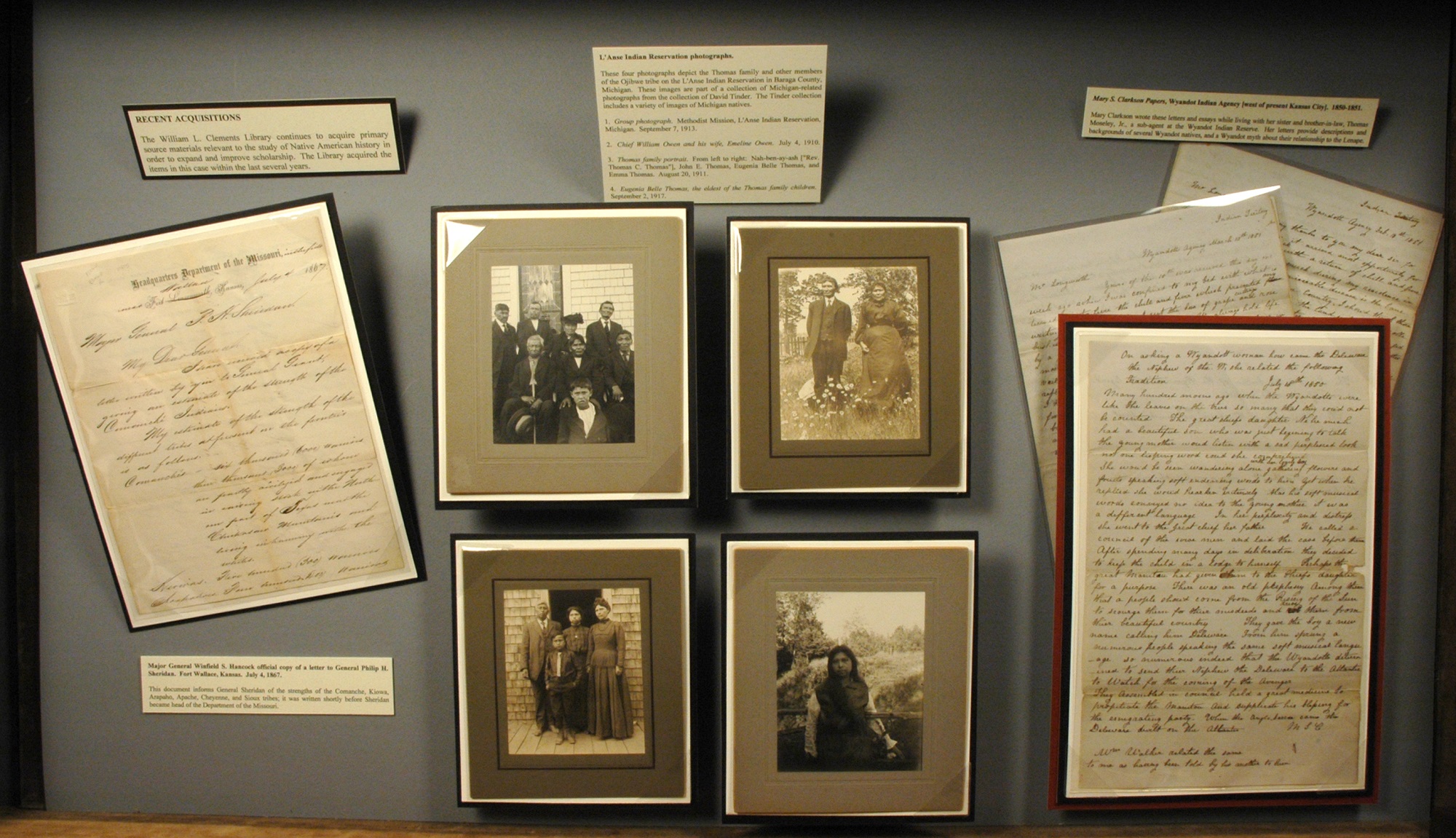 The William L. Clements Library continues to acquire primary source materials relevant to the study of Native American history in order to expand and improve scholarship.  The Library acquired the items in this case within the last several years.
Major General Winfield S. Hancock official copy of a letter to General Philip H. Sheridan.  Fort Wallace, Kansas.  July 4, 1867. 
This document informs General Sheridan of the strengths of the Comanche, Kiowa, Arapaho, Apache, Cheyenne, and Sioux tribes; it was written shortly before Sheridan became head of the Department of the Missouri.
Thomas family portrait.  From left to right:  Nah-ben-ay-ash ["Rev. Thomas C. Thomas"], John E. Thomas, Eugenia Belle Thomas, and Emma Thomas.  August 20, 1911.
L'Anse Indian Reservation photographs.
These four photographs depict the Thomas family and other members of the Ojibwe tribe on the L'Anse Indian Reservation in Baraga County, Michigan.  These images are part of a group of Michigan-related photographs from the collection of David Tinder.  The David V. Tinder Collection of Michigan Phography includes a variety of photographs of Michigan natives.
Mary S. Clarkson Papers, Wyandot Indian Agency [west of present Kansas City].  1850-1851.
Mary Clarkson wrote these letters and essays while living with her sister and brother-in-law, Thomas Moseley, Jr., a sub-agent at the Wyandot Indian Reserve.  Her letters provide descriptions and backgrounds of several Wyandot natives, and a Wyandot myth about their relationship to the Lenape.